It's Actually Incredibly Easy to Return Amazon Items to Kohl's
Returning Amazon items to Kohl's? Read this first.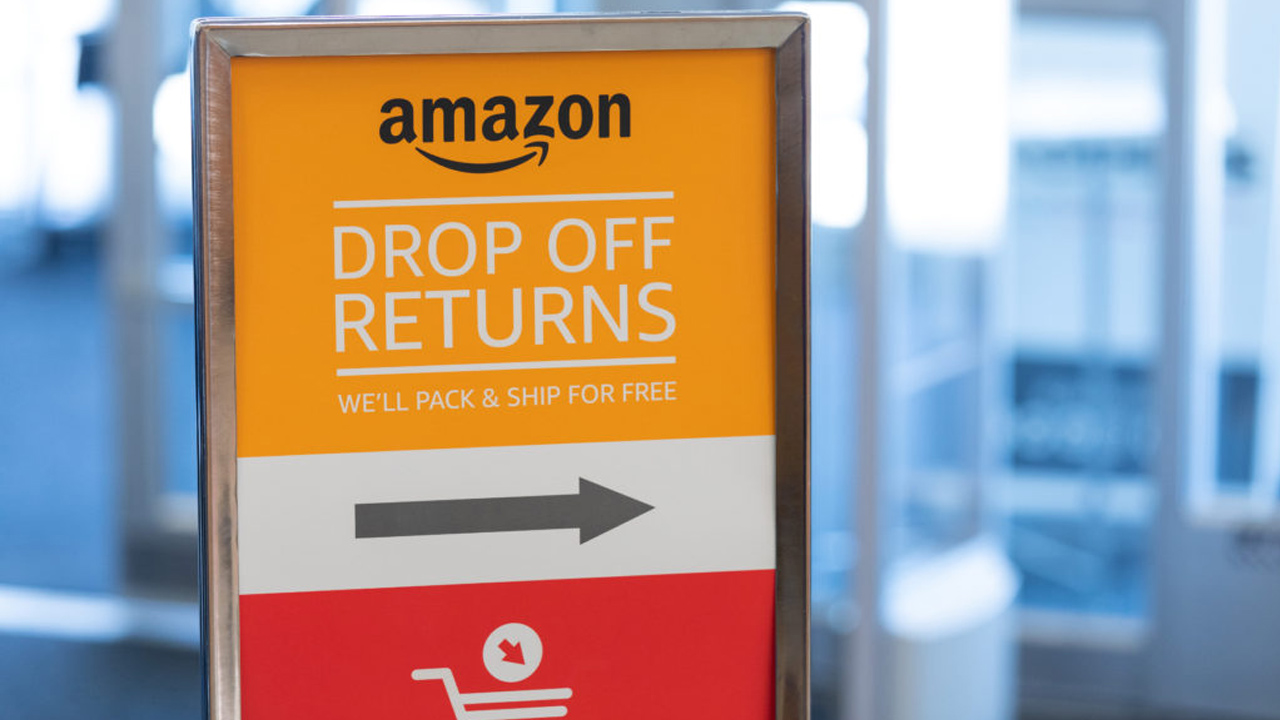 Attention, Amazon shoppers! Kohl's stores all across the country are now accepting Amazon returns. This service was only available in select cities prior to July, but almost every Kohl's store — 1,150 locations across 48 states — is now participating.
Kohl's Black Friday ad just came out, check it out here.
Wondering if it's a good option for you? Here's a first-hand look at the process:
[Editor's note: This article was not paid for or sponsored by Kohl's and/or Amazon. We just used the service and wanted our readers to know more about the process.]
How to Return Amazon Products to Kohl's: A Step-by-Step Guide

1. Begin your return at Amazon's Online Return Center
First, I initiated the return process at Amazon.com. To do this, just log in to your Amazon account and go to "Your Orders" under "Accounts & Lists."
Check the item you want to return — in my case, a large step stool to help dogs get in the car — and select "Return or Replace Items." Then, I chose the reason for the return from the drop-down menu.
2. Select "Kohl's Dropoff"
From there, I selected "Kohl's Dropoff" as the preferred method of return (other options include UPS Dropoff or UPS Pickup).
Just keep in mind that there can be some variance depending on what you're returning and the proximity of your local Kohl's. Some shoppers aren't given a Kohl's Dropoff option, simply because they don't live close enough to a location. Additionally, certain Amazon items are excluded altogether.
So @amazon announced that you can make returns at all Kohl's stores but didn't mention that only certain items can be returned to Kohl's 😒

— Petty White (@shoejunkiez) August 12, 2019
@Kohls @amazon why do I have to live within 8 miles to use Amazon return at Kohl's?

— Michele Wilson (@1ofshortysgirls) August 4, 2019
3. Get a QR code
With Kohl's Dropoff selected, I followed the steps to receive a QR code for my return. You can either print the QR code or present the code in-store via your smartphone. I'm not a huge fan of other people grabbing my phone, so I printed out the QR code from the confirmation email.
There's also an option to print your own shipping label if you want to pack the item yourself, but I don't see why anyone would do that. You can just bring the product to Kohl's without any packaging, and they'll find a new box to put it in.
Obtaining a QR code is a must, because the Kohl's Amazon return counter doesn't have any computers to help you access your account — only a simple scanner to read a QR code. In other words, Kohl's is just serving as an alternative to UPS or USPS. If you don't have that QR code, you're out of luck.
4. Bring your return to Kohl's
Once you have your QR code, just bring the item(s) you're returning to Kohl's. In my experience, the Amazon return counter was located in the very front of the store and was permanently staffed, so I didn't have to ring a bell or wait for someone to come.
I dropped off the item, got my QR code scanned and received my receipt (plus a Kohl's coupon for 25% off).
5. Kohl's packs, labels and ships your return for free

From what I could tell, Kohl's just collects everything first and then packs and ships your item later. You don't have to stand around and watch them pack it for you.
Once you've received your drop-off receipt, the process is considered "complete" for the customer. So, if you've made it to this point, you're all set!
I dropped off my Amazon return at Kohl's around 8 p.m. and received an email saying that my refund was processed within about an hour. Obviously, credit card processing takes longer. But in terms of Amazon's processing, it was complete.
You can always check your Amazon return at Kohl's tracking status on Amazon's Online Return Center.
What Amazon Items are Eligible for Returns?
According to Amazon, "You may return most new, unopened items sold and fulfilled by Amazon within 30 days of delivery for a full refund. During the holidays, items shipped by Amazon between November 1st and December 31st can be returned until January 31st." You can even return Amazon gifts as long as you have the order number, which is especially convenient.
Most returns "are fully refunded in 3-5 days" after being processed. That means that if you have second thoughts about that new TV or you simply don't like the smartwatch you bought, you won't have to wait weeks for the refund.
Ultimately, you'll know if an item is eligible for this return method if you're able to check the "Kohl's Dropoff" option on the return page.
Search URL: https://slickdeals.net/newsearch.php?firstonly=1&pp=20&sort=newest&rating=frontpage&filter%5B%5D=12029&forumid%5B%5D=9&hideexpired=1&r=1
The Pros & Cons of Amazon Kohl's Returns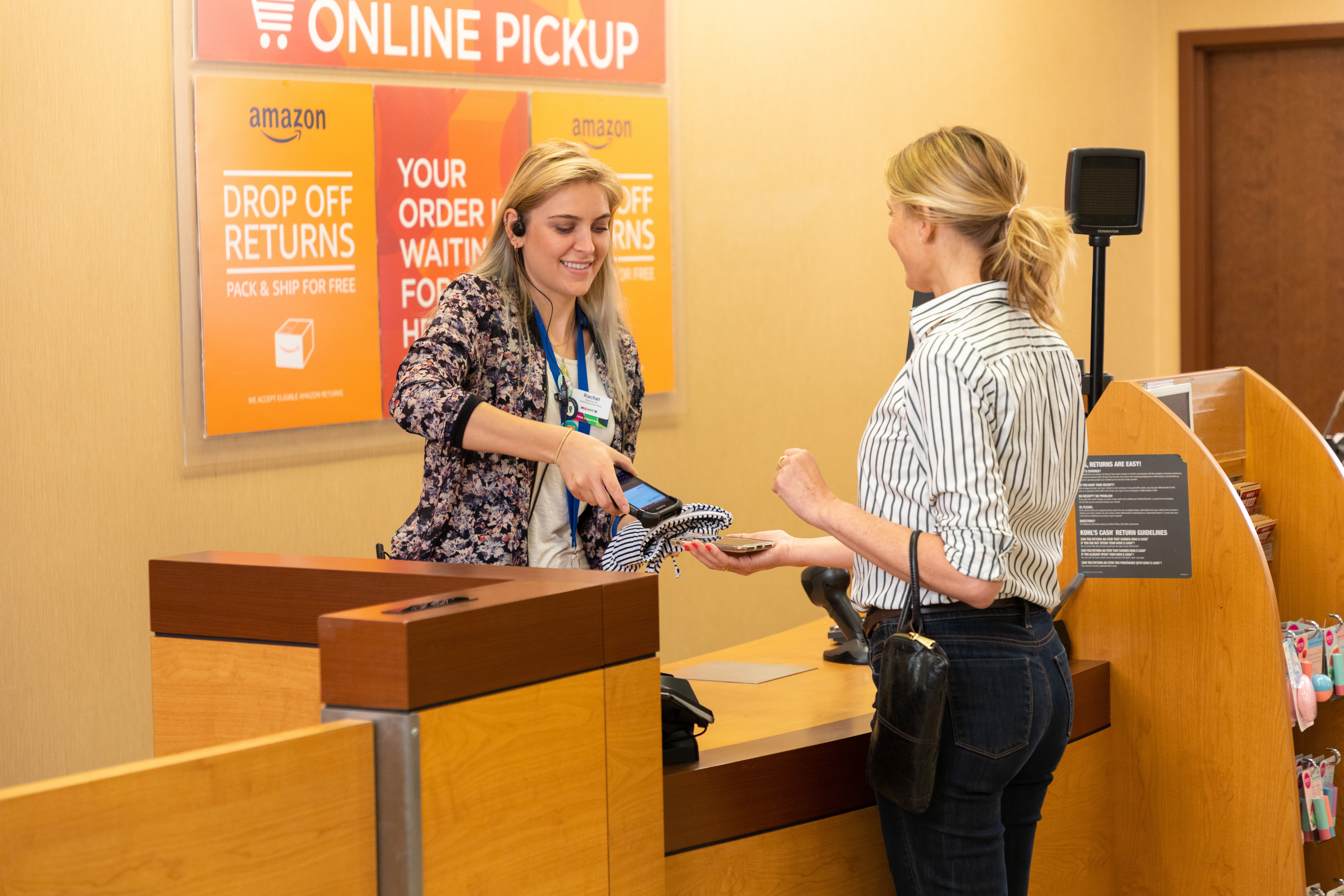 When it comes to returning Amazon items at Kohl's, the pros largely outweigh the cons:
Pros:
Convenience: I live one minute away from Kohl's, so going to the store was a breeze.
Efficiency: In my case, the entire in-store process took about 45 seconds.
Automated initiation: I didn't have to fill out any return forms by hand — just a few clicks on the computer got me the QR code I needed.
Fast processing: I received my return confirmation within the hour.
No packaging/labeling required: Kohl's did all of the packing, labeling and shipping for me.
Designated parking spots: Customers with Amazon returns get their own parking spots near the front.
Potential savings: Like many other customers, I scored a Kohl's coupon for 25% off just for making the return.
Cons:
Potential ineligibility: While all Kohl's stores now accept Amazon returns, not all Amazon items are eligible for this method of return. Certain customers may be ineligible, as well, due to their proximity to the nearest Kohl's.
Handling heavy returns: In order to return an Amazon item at Kohl's, you have to carry it inside — even if it's heavy.
Required travel: If you live close to a Kohl's store, dropping off your Amazon return shouldn't be a huge hassle. If not, it's probably not your best bet.
As far as I'm concerned, returning Amazon items at Kohl's is effortless and seamless. As easy as it is to drop something off at the UPS store, this was even easier.
My favorite part is that the refund process happens immediately, so you get peace of mind. When going through UPS or USPS, the item has to arrive at Amazon's facility before the refund happens. That means there's a possibility that it'll get lost in the mail, and it could take up to a week to arrive. This process is as good as walking into a brick-and-mortar Amazon store and getting your money back on the spot.
Of course, your experience will depend entirely on how close you live to a Kohl's. This service is incredibly convenient for some, but it's not for everyone.
That said, it's proved to be a lucrative business move for Kohl's. According to Business Insider, the latest data from inMarket shows that "shopper visits to Kohl's stores rose nearly 24% in the three weeks after it started accepting Amazon returns."
Went to @kohls to return my amazon package and walked out with $80 in clothes I don't need. Well played Kohl's.

— Jamie Hurst (@jamielynnhurst) August 24, 2019
Well played, indeed.
Images courtesy of Kohl's.
---
Any product or service prices/offers that appear in this article are accurate at time of publish, and are subject to change without notice. Please verify the actual selling price and offer details on the merchant's site before making a purchase.