Fake Amazon Reviews are Everywhere: Here's How to Spot Them
That 5-star review might not be exactly what it seems.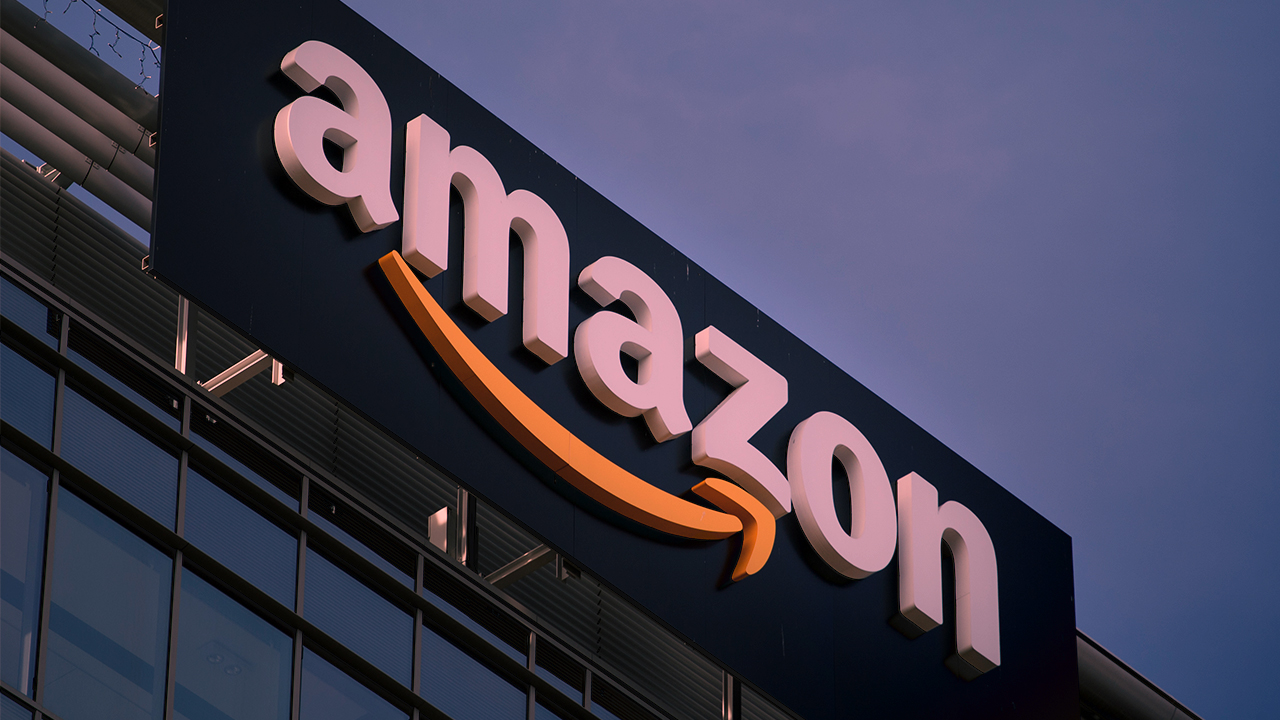 It's no secret that fake Amazon reviews continue to plague customers despite the retailer's efforts to eliminate them altogether.
We're taking a look at this frustrating issue and sharing some established methods to help you spot bogus reviews fast. In short, here's what you'll want to do:
Analyze Reviews With a Browser Extension
Beware "Review Hijacking"
Look Out For Language Patterns
Watch Out for Suspicious Behaviors
Don't Fall for Incentivized Reviews
Pay Attention to Timeframes
Look For "Amazon Verified Purchase" Reviews
Search for Product Reviews Elsewhere
Editor's Note: Slickdeals received no payment of any kind from the review analysis services mentioned in this article. We just think these are legitimately useful tools to help the community make smarter shopping decisions. 
 How Prevalent are Fake Amazon Reviews?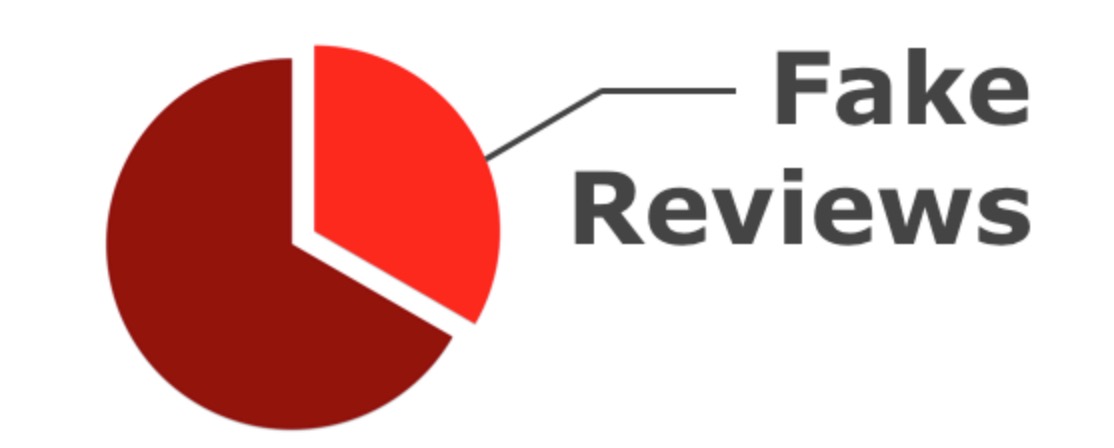 Amazon insists that inauthentic reviews make up "less than 1%" of all reviews on its site, although the retailer agrees that "even one is unacceptable." Still, that percentage only reflects the number of reviews Amazon has actually identified as fake. According to external research, most phony reviews fly under the radar.
While Amazon has taken steps to reduce incentivized reviews (which are created in exchange for free or discounted items), an investigation by The Washington Post showed that the "majority of reviews" in certain Amazon product categories are either fraudulent or paid for by sketchy sellers.
Fakespot, a company that analyzes the authenticity of online reviews, reached similar conclusions and found the highest concentrations of fake reviews in the following categories:
Consumer Electronics

Wireless headphones/earbuds
Phone cases and screen protectors
Smart watches
Phone charging cables
Third party accessories for established brands (Apple, Fitbit, GoPro, Garmin, etc.)

Beauty/Cosmetics

Makeup
Anti-aging creams
Hair-loss products

Clothing

Popular sneakers from Adidas or Nike

Supplements/Vitamins
What Do Fake Amazon Reviews Look Like?
Wondering how to spot a fake Amazon review in the wild? Sites like ReviewMeta are good at offering helpful visual aids.
For instance, here's an example of a "hijacked review." The reviewer left an iPhone 5 case review for an entirely different product:

And this review was left by an unverified purchaser with a long history of leaving 5-star ratings for the brand in question:

8 Tips for Spotting Fake Amazon Reviews
1. Analyze Reviews With a Browser Extension
The simplest way to guard against shilled products is to install a review analyzer like Fakespot or ReviewMeta. These free sites allow you to download browser extensions that automatically assess a product's reviews for authenticity.
One of the cool things about Fakespot is that you can just enter the product listing URL for a quick analysis when needed.
Fakespot gives the product reviews a letter grade, as seen below:

RELATED: Fakespot's Browser Extension Adds Grades to Amazon Pages
ReviewMeta adjusts the product's average rating by weighting reviews instead: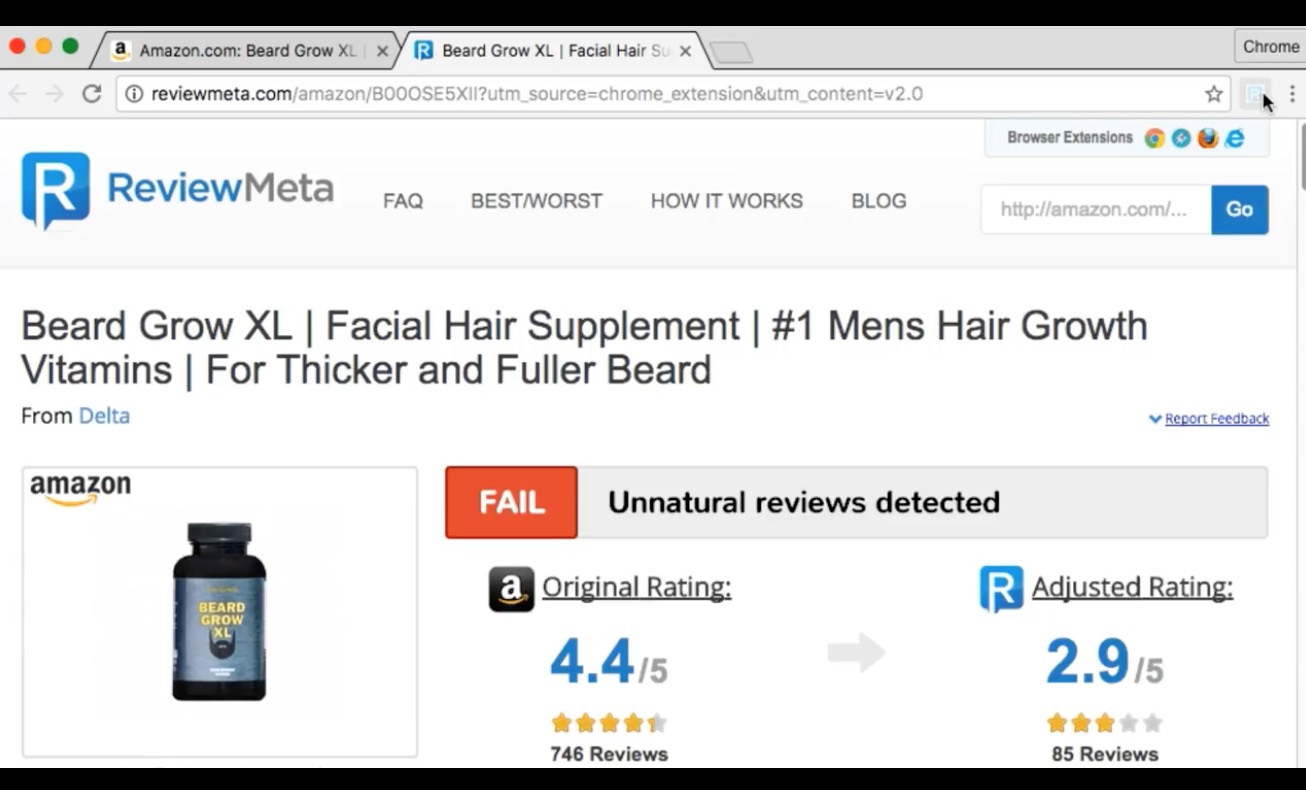 *****
2. Beware "Review Hijacking"
According to ReviewMeta, one increasingly common method companies use to acquire fake reviews is called "review hijacking." Essentially, sellers will recycle glowing reviews from other products to make new listings appear more enticing.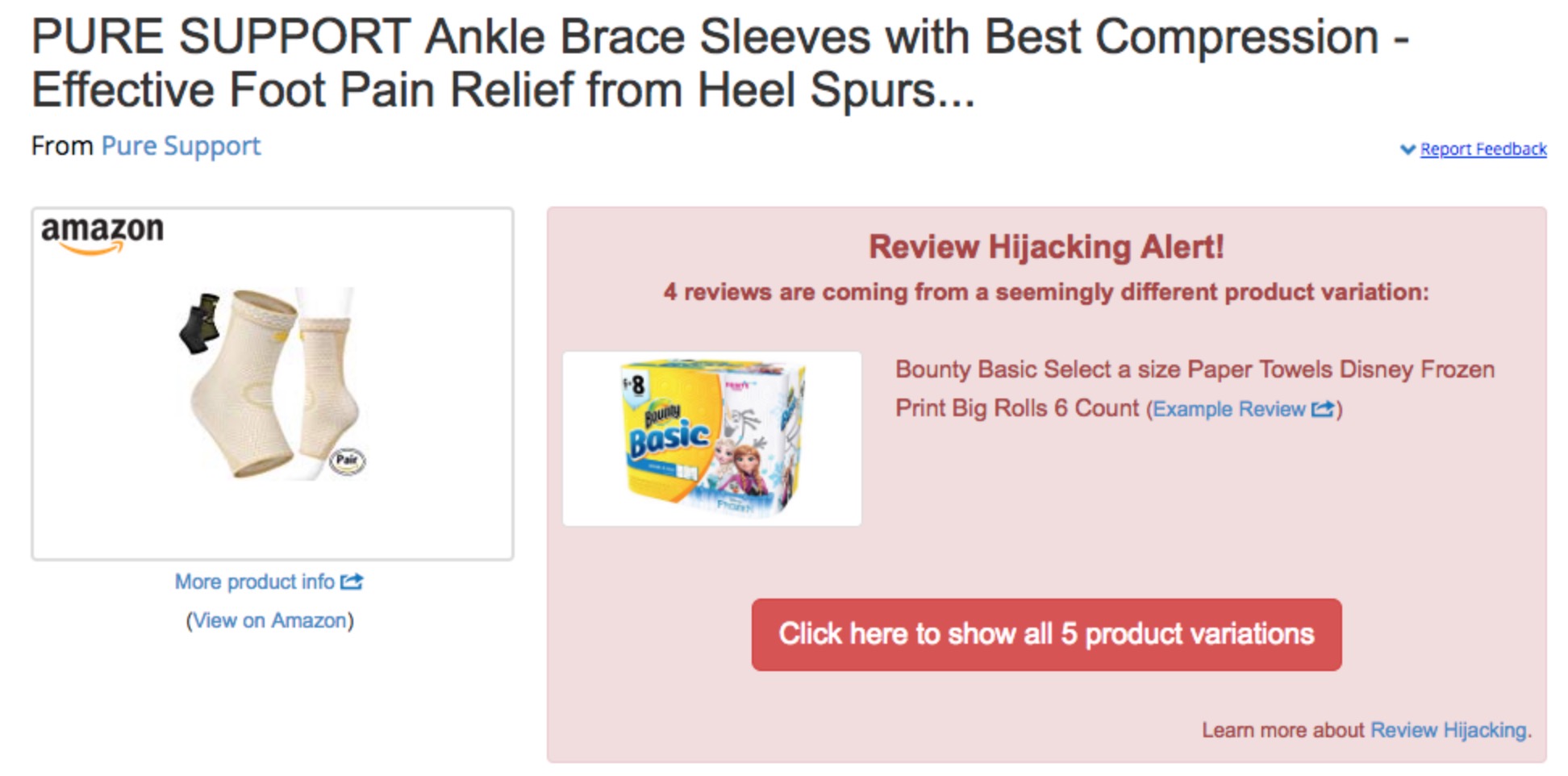 So you might see a positive review for a pair of earbuds while looking at an iPhone case. ReviewMeta takes this practice into account and now looks for mismatched terms with its algorithm.
Another way to spot them in the wild? Check out the suggested word cloud found right above the reviews: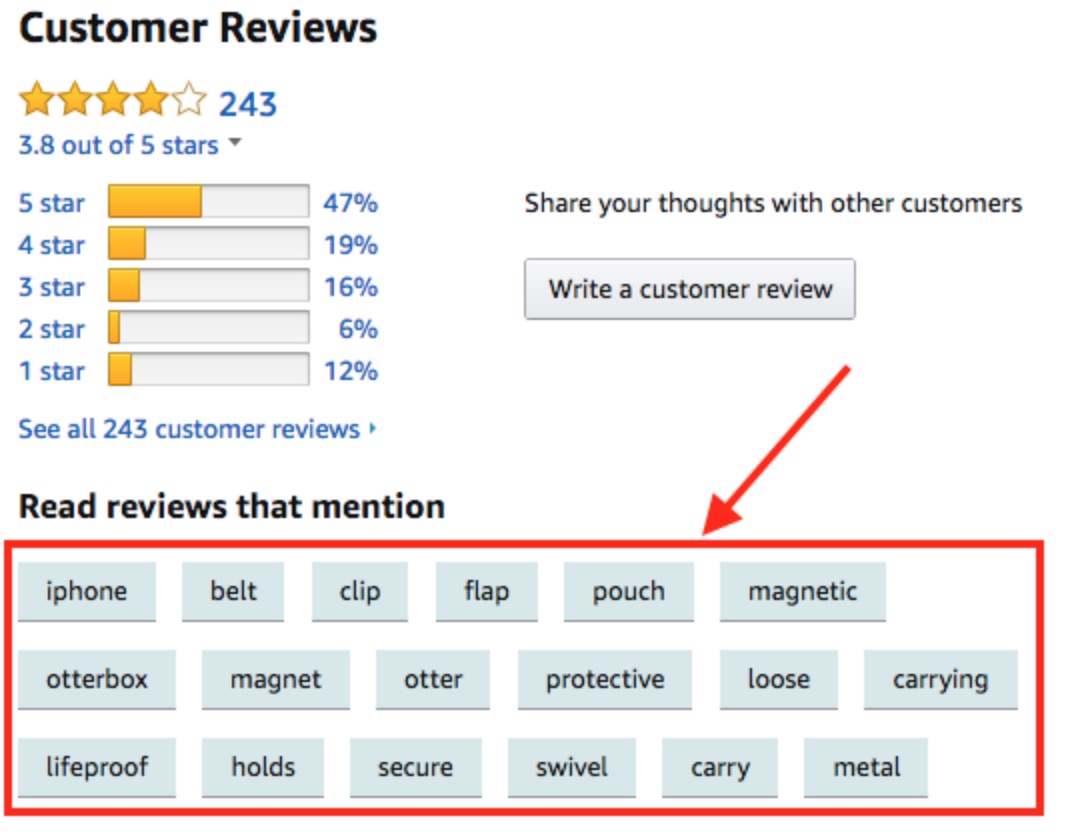 If the words don't relate to the specified product, there's a strong chance some reviews have been lifted.
*****
3. Look Out For Language Patterns
Fakespot and ReviewMeta both look for language repetition in Amazon reviews — and for good reason. It's highly unlikely for 10 different reviewers to all use the exact same phrases to describe a product.
Sure, short phrases like "great quality" are pretty standard, but longer ones are much more suspicious.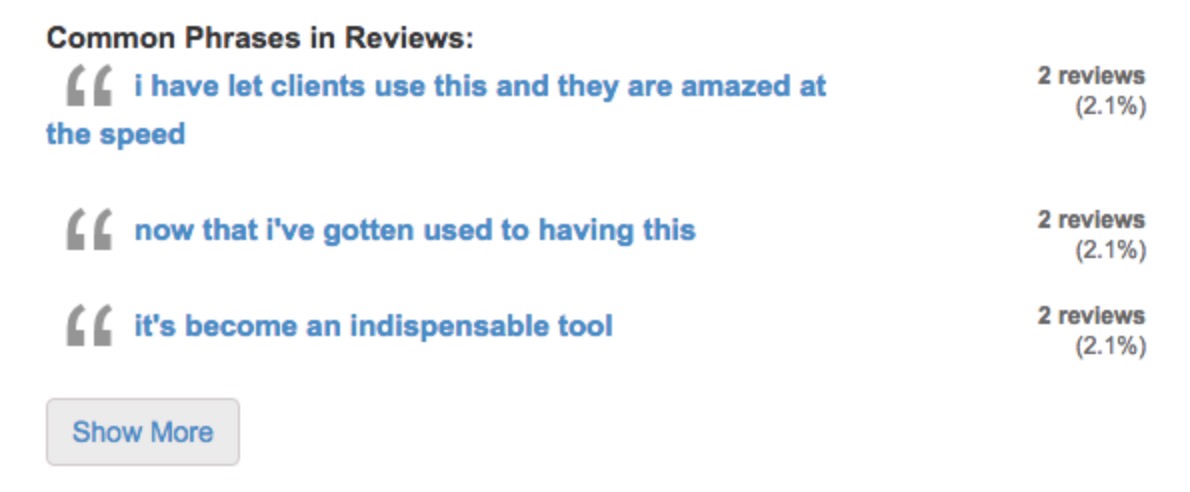 If you see identical terms throughout a listing's reviews, proceed with caution. Also, be on the lookout for repetitive mentions of the exact brand and product name.
Another tip? Slickdealer TofuVic says that "Before FakeSpot.com and ReviewMeta.com got more popular, I always searched through reviews using the keywords of 'exchange' and 'honest.'"
*****
4. Watch Out for Suspicious Behaviors
On the fence about a particular review's authenticity? Click on the reviewer's profile page. You may notice the reviewer in question only leaves feedback for one particular brand.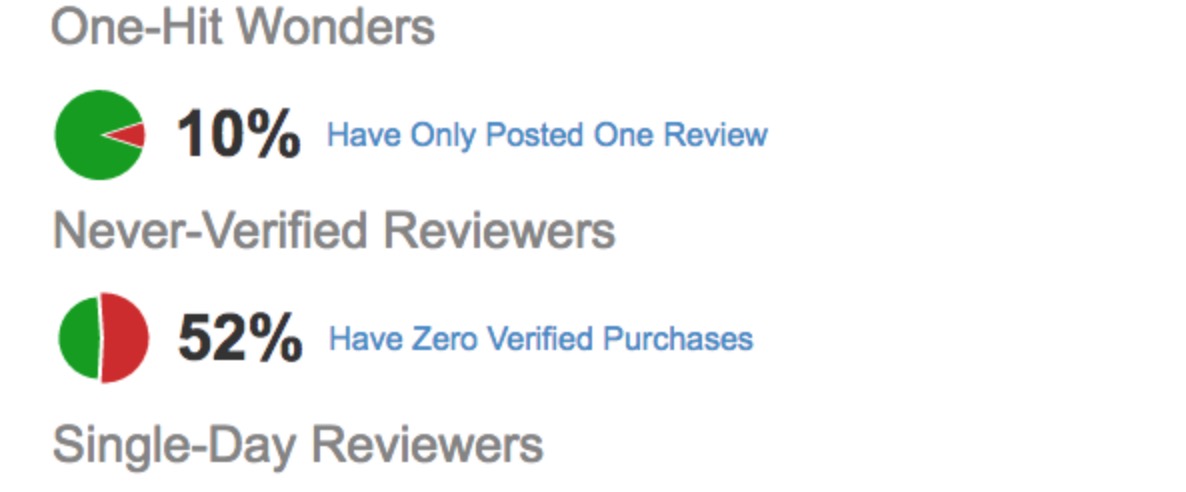 Maybe this is their first review, or they wrote about several products within just a few days. These behaviors don't prove that their reviews are fake, but they do throw up some red flags.
*****
5. Don't Fall for Incentivized Reviews
Despite Amazon's ban of incentivized reviews, several still remain on older product listings.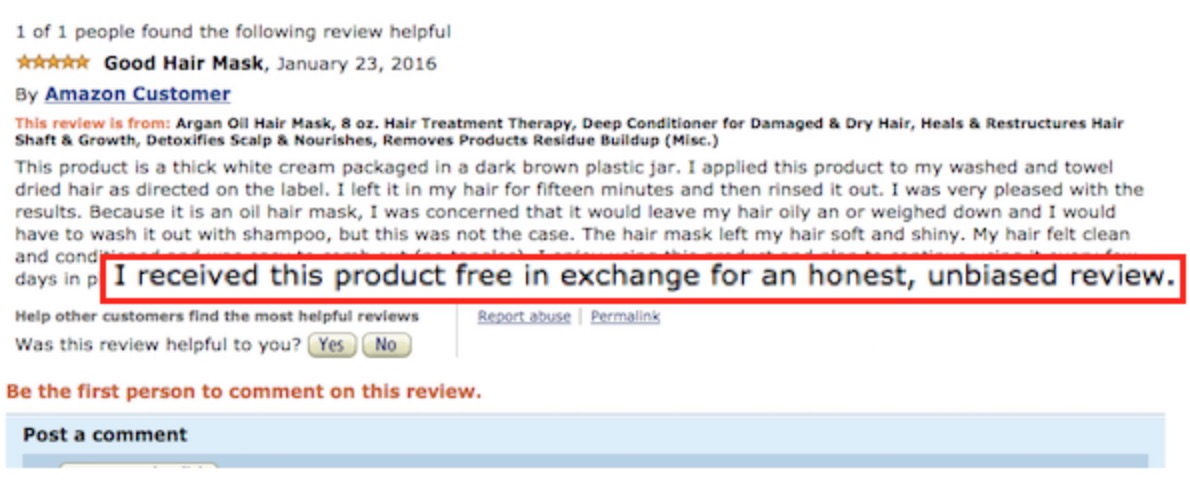 And even Amazon itself allows incentivized reviews via its Vine program. If you do happen to spot one, just keep in mind that it could be biased.
*****
6. Pay Attention to Timeframes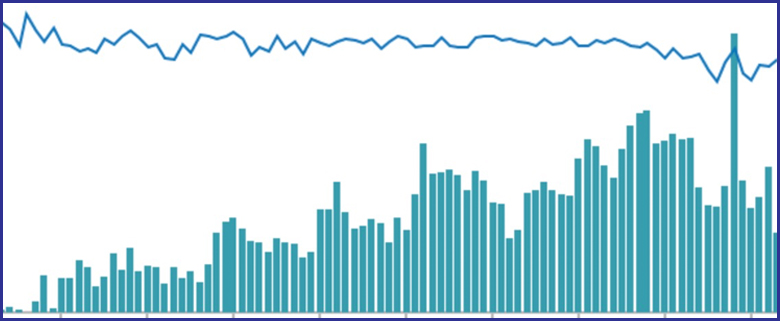 When you're reading Amazon reviews, be sure to look at the dates on which they were posted. If most of the 5-star comments popped up over the course of a day or week, that could indicate they were paid for by the seller.
*****
7. Look For "Amazon Verified Purchase" Reviews
Amazon touts its "Amazon Verified Purchase" reviews as a way to guard against being misled.
As the retailer explains on its website, a verified purchase simply means that Amazon "verified that the person writing the review purchased the product at Amazon and didn't receive the product at a deep discount."
*****
8. Search for Product Reviews Elsewhere
One of the easiest ways to spot fake Amazon reviews is by reading reviews found on competitors' sites. It's a quick and efficient way to double-check the authenticity of a product's overall rating.
If a product has five stars on Amazon and one star on Best Buy, something's probably amiss.
You can also check out the Reviews section of our blog if you're looking for something more critical.
*****
What is Amazon Doing to Combat the Problem?
When we spoke with Amazon directly, it assured us that it has "a special team called the Community Reviews team, which continuously verifies all the reviews posted by the customers or sellers who are posting false or paid reviews."
Additionally, "Amazon takes strict actions on those sellers and can also ban their account from posting the reviews or selling the items."
If you suspect that a review is inauthentic, you can always report it to Amazon directly using the "Report Abuse" button on the review in question.
You could also take the approach of Slickdealer lostime. They downvote every review that says, "I received this product for free in exchange for my honest review," because "the product doesn't have a real star rating when 35 out of 40 reviews say this and the other five have 1-3 stars."
User BMan2013 agrees, adding that "The discounted or paid reviews are a cancer to the Amazon review system. I quickly smash that unhelpful button when I see one." We can all do our part to make the internet a better place for deal hunters everywhere.
*****
Images courtesy of ReviewMeta.
Our editors strive to ensure that the information in this article is accurate as of the date published, but please keep in mind that offers can change. We encourage you to verify all terms and conditions of any product before you apply.