Turn Your Instant Pot Into an Air Fryer and Dehydrator With This Lid
Save space and let your Instant Pot double as an air fryer.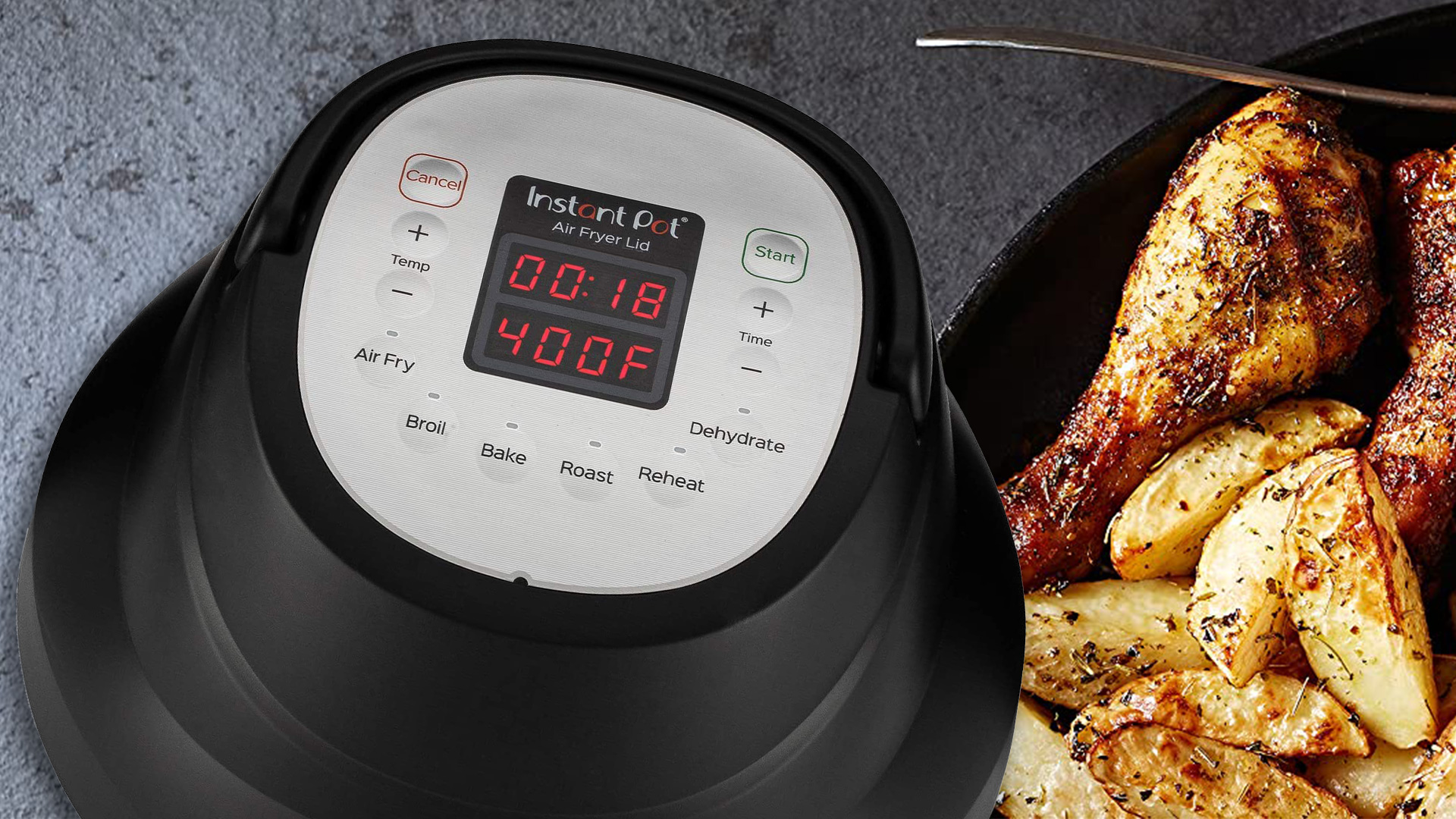 Have you been wanting to buy an air fryer but have run out of room to store yet another kitchen appliance? If you have one of those Instant Pot models from a couple of years back without a built-in air frying feature, you can easily turn it into a functional air fryer with an attachment lid. The lid will give you a whole new way of cooking without taking up a lot of pantry space. For a limited time, you can save space, time and money with a 6 in 1 6 Qt Instant Pot Air Fryer Lid on sale at Amazon (Sale Price: $49.95 | Reg. Price: $89.99).
Save $40 and Take Your Instant Pot to the Next Level With This Attachment Lid
These days its seems like everyone wants two things: an Instant Pot and an air fryer. Now you can combine the two most popular kitchen appliances with the Instant Pot fryer lid, which is most likely compatible with the Instant Pot you already own. Thanks to this innovative lid now your kitchen appliance has a whole new set of capabilities with one touch of a button. Key features include:
An air fryer lid that is easy to use and clean
Six different pre-set programs that include fry, bake, broil, roast, reheat and dehydrate
An interior air fryer basket and tray for broiling and roasting
Innovative Instant Crisp Technology that ensures all your fried foods will come out nice and crispy
Adjustable time and temperature settings such as a keep warm that will keep your food nice and hot until you're ready to eat
Buyers Love This Game-Changing Easy to Use Instant Pot Lid
If you've been on the hunt for an air fryer, this fryer lid won't disappoint. One Amazon customer who bought and used the accessory shared, "One hundred percent worth it. Bought it thinking it may not work – Nah. Comes with all the info and accessories you need, used it the first night for frozen fries, and came out tasting like a restaurant. You won't regret it." Another commented, "It worked amazingly well with the two batches of chicken wings and fries that I cooked. My instant pot is now my go-to and most used kitchen appliance!"
Read next: 
Dominate Halloween with Extra-Tall 12 Foot Inflatables
Football Home Items NFL Fans Need to See
Watch Pro Football Live for Free in Your Local Movie Theater
Let Our 12 Million Deal Hunters Find You the Lowest Prices on Anything
Slickdeals has the largest deal-sharing community in the world, so you never have to pay full price. Founded 20 years ago as a place for people to share and discuss deals online, the website has grown to include more than 12 million users.
New deals are popping up every day — so don't miss out. If you want to avoid constantly searching for low prices on anything (and we mean anything from coolers to circuit boards), it only takes a moment to set a free Deal Alert. Once you've set alerts for whatever is on your shopping list, we'll notify you as soon as a new deal is posted.
Our editors strive to ensure that the information in this article is accurate as of the date published, but please keep in mind that offers can change. We encourage you to verify all terms and conditions of any product before you apply.