Meet Nucleus: The 21st-Century Intercom
Turns out there's a reason intercoms have become a thing of the past.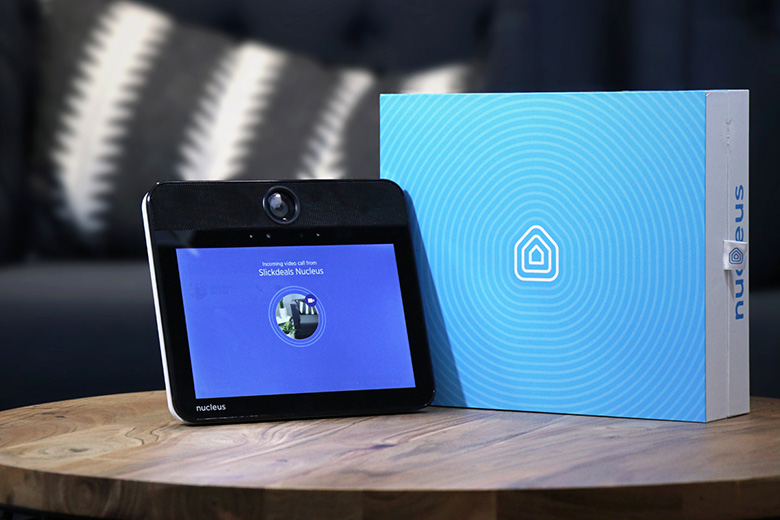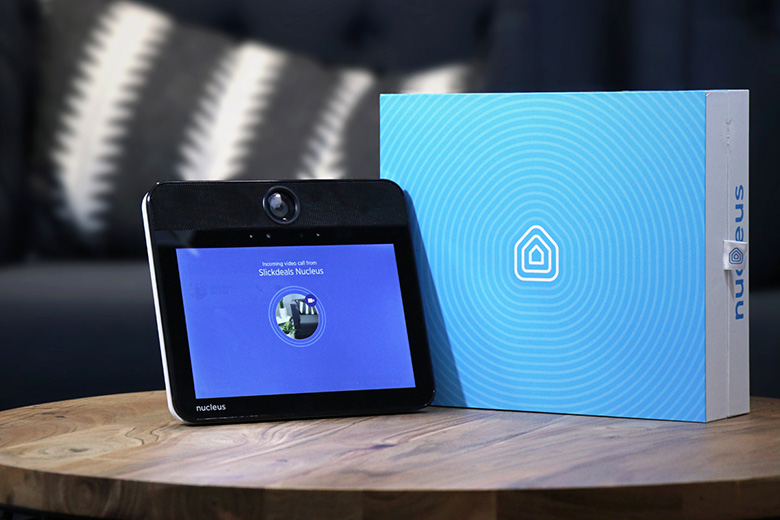 When my family moved to a new house in 1987, there was one perk we all were blown away by: intercoms in every room. For a solid month, we relayed every message with the push of a button. The novelty eventually wore off though, and my parents resorted back to shouting us to the dinner table every night.
Old-school intercom systems have largely become a thing of the past — until now. Meet Nucleus, an "anywhere intercom" that's being marketed as a modern family communication device. Sleek, compact and very tablet-like, it looks more like an iPad's distant cousin than an old-fashioned intercom.
We gave the Nucleus a week-long test run, revealing some pros and cons. Is it worth its steep price tag? Considering the cheaper and readily available alternatives, probably not, but we'll let you be the judge.
>>Related: Amazon Fire TV Edition Features Alexa, 4K, and DVR
How Does Nucleus Work?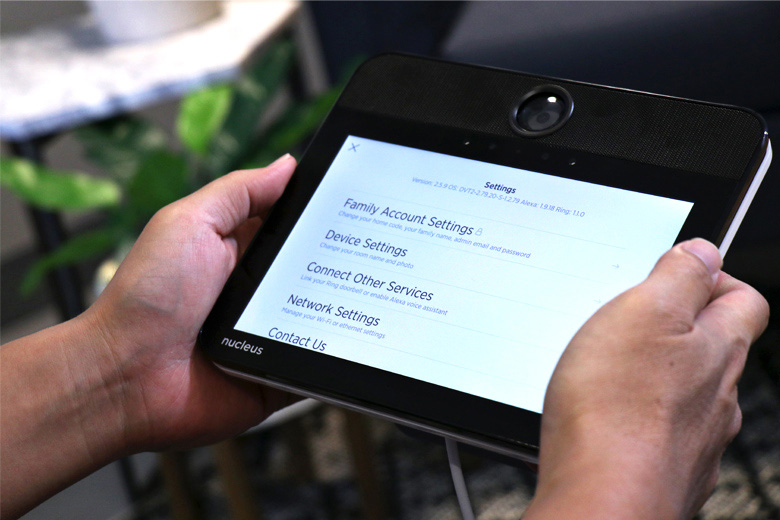 Nucleus is a 1-pound device that's a touch bulkier than your average tablet, but still very lightweight and portable. It features a built-in 5-megapixel camera and an 8-inch touchscreen with 1280 by 800 resolution. (To provide some context, iPads have a 2048 by 1536 resolution.)
It touts both room-to-room and house-to-house capabilities, making it easy to communicate with family members. We set up one unit in our house and the other with my parents, who live two miles away. The platform allows you to operate multiple devices under one account; separate icons coexist on each home screen. We were able to easily video chat with the simple tap of the touchscreen. Nucleus features auto-pickup, so you don't accept or decline calls. You do, however, have the option to activate privacy mode if you aren't keen on other callers dropping in on you unannounced.
Its biggest selling point is that it has Alexa capabilities. My Prime membership essentially turned my Nucleus into an Amazon Echo. With voice activation, I was able to get the Nucleus to tell me the weather, stream songs from my Amazon music library and play podcasts. The speaker quality is just ok though; not bad, but not great either. It might be a handy feature for Prime members who don't already own an Echo or Dot. Since I do, this tool was a little lost on us.
While in-home devices can either be mounted on a wall or propped up on a counter with a removable stand, Nucleus also offer a free mobile app that enables video calling on the go. Of course, you can also get video calling on the go from pretty much any smart phone or tablet through various — and often free — means (and without having to buy a whole new device.) So, again, Nucleus comes up a little redundant.
Finally, Nucleus just got in on the WiFi video doorbell game, teaming up with Ring so that you can virtually answer your front door with your Nucleus device. While certainly cool, I can't help but see this as a little redundant since Ring already has its own mobile app that does the same thing on your smartphone or tablet. This, to me, takes the allure out of the Nucleus integration.
>>Related: Get Started on Your Smart Home for Less than $100
How Much Does Nucleus Cost?
It all depends on where you shop. Nucleus begins at $249 per unit, but the price drops to $199 when you purchase two or more. Jet.com is selling individual units for $199, plus you can snag 15% off if you're new to the site with promo code SPRING15. Amazon's current price lands at $198.70 for each unit.
Is Nucleus Worth It?
At the current price point, I can't really recommend this product. While it might be a great tool for keeping tabs on older, non-tech-savvy family members, the technology itself already feels outdated. Amazon, which has been a key investor in Nucleus, also just debuted the Echo Show, a similar product that I don't really see a market for either.
In my opinion, FaceTime and Skype both offer better picture and sound quality. And for $60, you can get a 7-inch Alexa-enabled Fire Tablet with Skype for video chatting. As for its use as an in-home intercom, you would have to spend a ton of money to equip all of the major rooms in your house with a Nucleus, and for what? The novelty of not having to shout to your spouse or children? It just doesn't seem worth it. Plus, if you're looking for something to check in on your kids with, a two-way baby monitor will run you less than $150. Ultimately, knowing you'd need to spend nearly $400 on two of these to make it worth it, I just can't see this being a good buy for many folks.
What do you think about Nucleus? Cool innovation or huge waste of money?
---
Any product or service prices/offers that appear in this article are accurate at time of publish, and are subject to change without notice. Please verify the actual selling price and offer details on the merchant's site before making a purchase.