Nintendo Reveals New, Premium Switch Console With a $350 Price Tag
It's not quite what people had in mind, but it's still a powerful little console.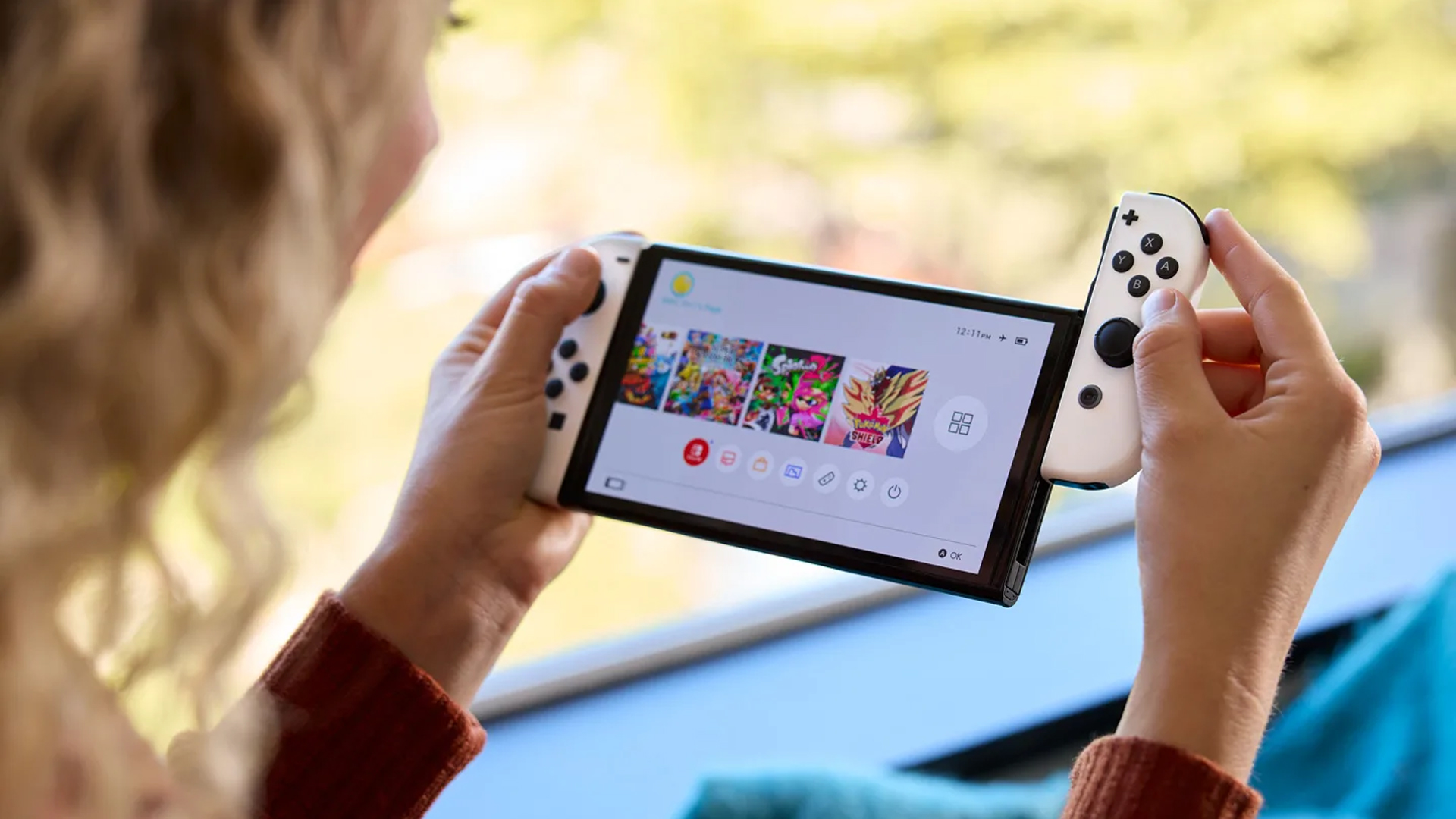 The long-rumored Nintendo Switch pro has finally been revealed. Its official name is Nintendo Switch OLED, and it features an improved 7-inch screen, ethernet port and wide adjustable stand for easy viewing — and will retail for $349.99 when it hits shelves on October 8th.
Check Out the Nintendo Switch OLED
Earlier reports had speculated that a new Switch model would feature several hardware upgrades — including a faster processor and 4K output — but that isn't the case with the Switch OLED. Instead of introducing a new CPU, adding more RAM or improving docked resolution, the upcoming Switch OLED focuses on improving its display and making portable gaming more efficient.
Here's everything new you'll get with the Nintendo Switch OLED:
7-inch OLED display
Wide adjustable stand for tabletop gaming
Dock with a wired LAN port
64 GB internal storage (Up from 32GB)
Enhanced audio
Is the Switch OLED Worth an Upgrade?
While there's no doubt the Switch OLED has a better stat sheet than the current Switch and Switch Lite, it's difficult to recommend as an upgrade for current owners. Its massive screen will almost certainly provide a better image than the original console, but it's still limited to a 1280 x 720 resolution. And — unlike the rumors that were swirling around the web — it won't be able to output 4K video when docked, which means your experience will be largely unchanged playing on your TV.
Still, if you primarily play in handheld mode the OLED model is worth considering. The new screen should provide cleaner images than the current LCD screen, and its massive adjustable kickstand will make tabletop gaming easier than ever. The inclusion of a LAN port on the dock is also a nice touch for online gaming and is a conscious effort by Nintendo to improve its multiplayer offerings.
In short, we feel pretty much the same about the OLED Switch as we did the improved-battery-life Switch that came out in 2019. It's arguably the best Switch to buy if you don't already have one, but current owners can probably forgo an upgrade unless they're constantly playing in handheld mode.

Will Another Switch Model Be Revealed in the Future?
As for a "true Switch Pro" with a beefier CPU and internals, some analysts think it may resurface in 2022. Nintendo is currently facing production issues with its Switch and Switch Lite lineup, and launching a more powerful version would only put further constraints on its supply chain. Instead, this Switch OLED version might be a good way to toe the line before launching a massive rework in the coming years.
Still, the general consensus seems to be that the Switch OLED reveal was underwhelming. Speculation had put hopes at an all-time high, and with titles like Hyrule Warriors: Age of Calamity already pushing the system to its limits, fans were hoping Nintendo would pump out some new hardware that could handle a new generation of games. Instead, we'll have to settle for something that is largely the same as before but with a much-improved display.
Where to Pre-Order the Nintendo Switch OLED
For now, no retailers have opened up pre-orders for the Switch OLED. Eventually, you'll be able to purchase the OLED in either a new White color or in the traditional Neon Red & Neon Blue. Both models will retail for $349.99 — and both are bound to sell out fast.
Check back in the coming days for a list of available pre-orders.
Other Switch Deals and Discounts
While the Switch OLED isn't yet available for purchase, several Nintendo products are currently offered at a discount. If you're looking to stock up on games and gear before picking up your new Switch, here are a few ways to save money.
Also, be sure to set up a Deal Alert and we'll let you know of any pre-order discounts or bundles that may pop up.
Up Next:
Our editors strive to ensure that the information in this article is accurate as of the date published, but please keep in mind that offers can change. We encourage you to verify all terms and conditions of any product before you apply.