Slickdeals Survey: Americans Are Spending More During the Coronavirus Pandemic
Here's what we're buying as impulse spending rises 18% during stay-at-home restrictions.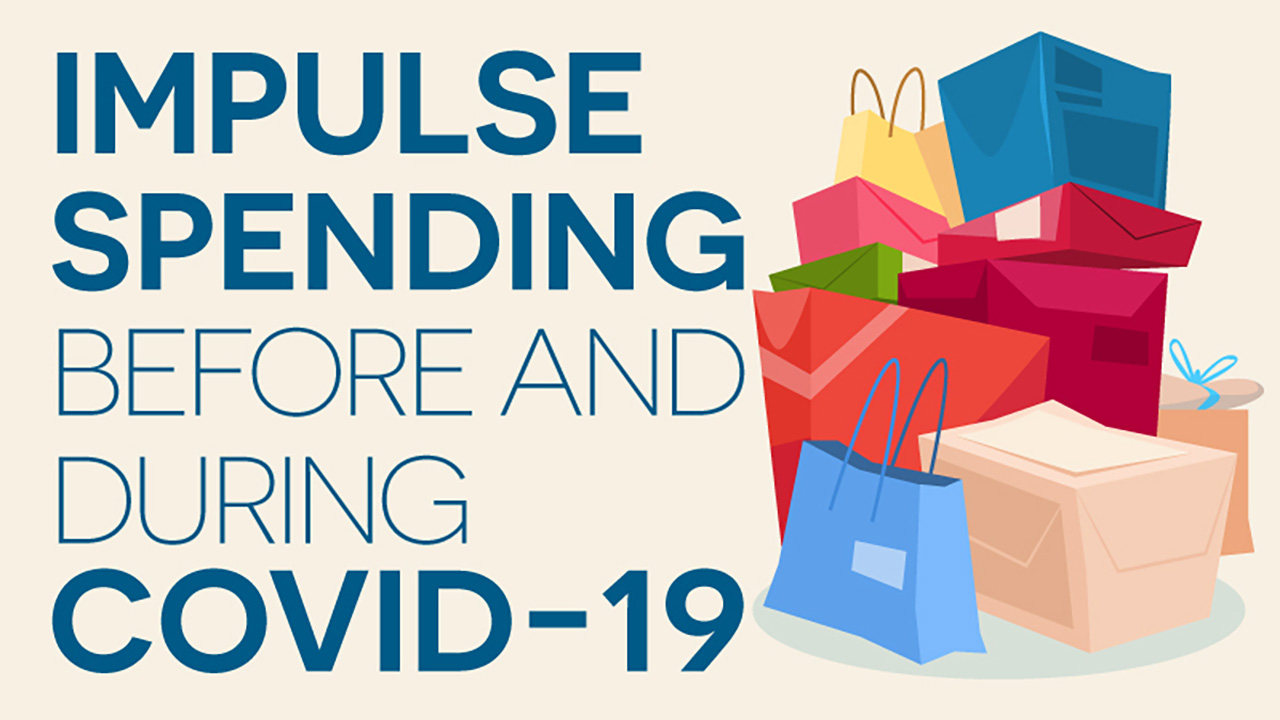 Looks like our impulse purchasing tendencies haven't slowed us down.
Sure, stay-at-home and safer-at-home orders have kept people indoors, as well as closed brick-and-mortar stores across the U.S. But the coronavirus pandemic hasn't stopped us from spending money online, specifically impulse buying (curse those "buy now" buttons!). If anything, COVID-19 has Americans shopping more impulsively than ever, according to new research conducted by Slickdeals.
Pandemic Spending Is Rising
We surveyed Americans both in January, before the coronavirus pandemic, and again in April, amidst stay-at-home orders that restricted the movements of millions of people. Our surveys polled 2,000 Americans to see why they spend. According to our latest research, the average American will spend more than $2,100 a year impulsively — an 18% jump from before COVID-19.
We spend, on average, $182.98 each month on impulse purchases with most of it coming from — surprise! — cleaning supplies (how dry and cracked are your hands these days?).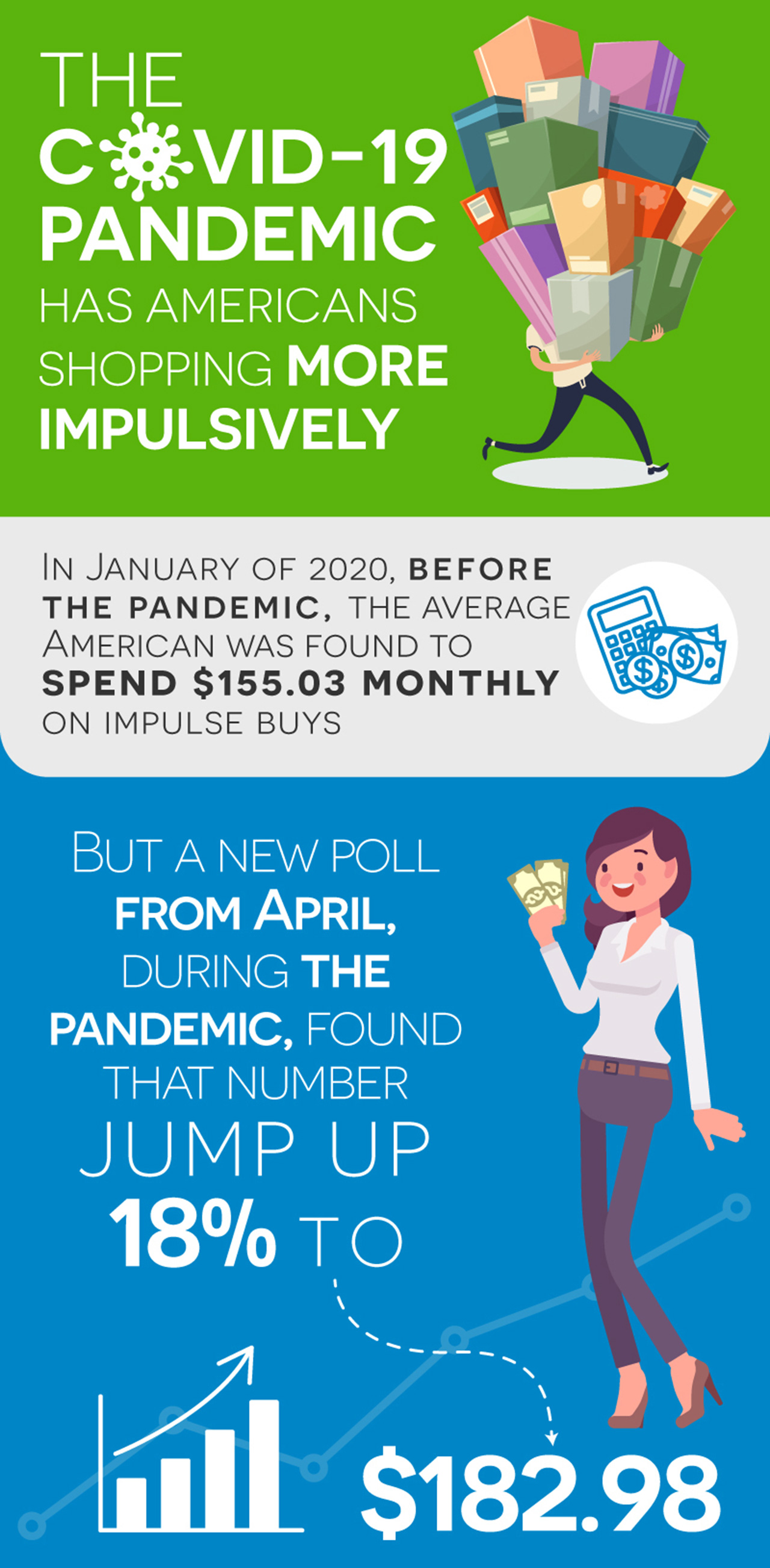 We get it — it's almost too easy to shop online. In fact, twice as twice as many shoppers are likely to impulsively shop online versus offline. It's the opposite of what was reported in a 2018 Slickdeals survey where we found that more than half of people were impulse buying in-store as opposed to online at that time.
Why We Impulse Shop
Sounds like an obvious answer, but impulse buying can actually be an instant mood-booster. Most people who took part in our survey — more specifically 72% — say an impulse buy during the pandemic has positively affected their mood. Two in three respondents (65%) say that buying something impulsively can instantly turn their bad day around, slightly above the 63% reported in the January survey.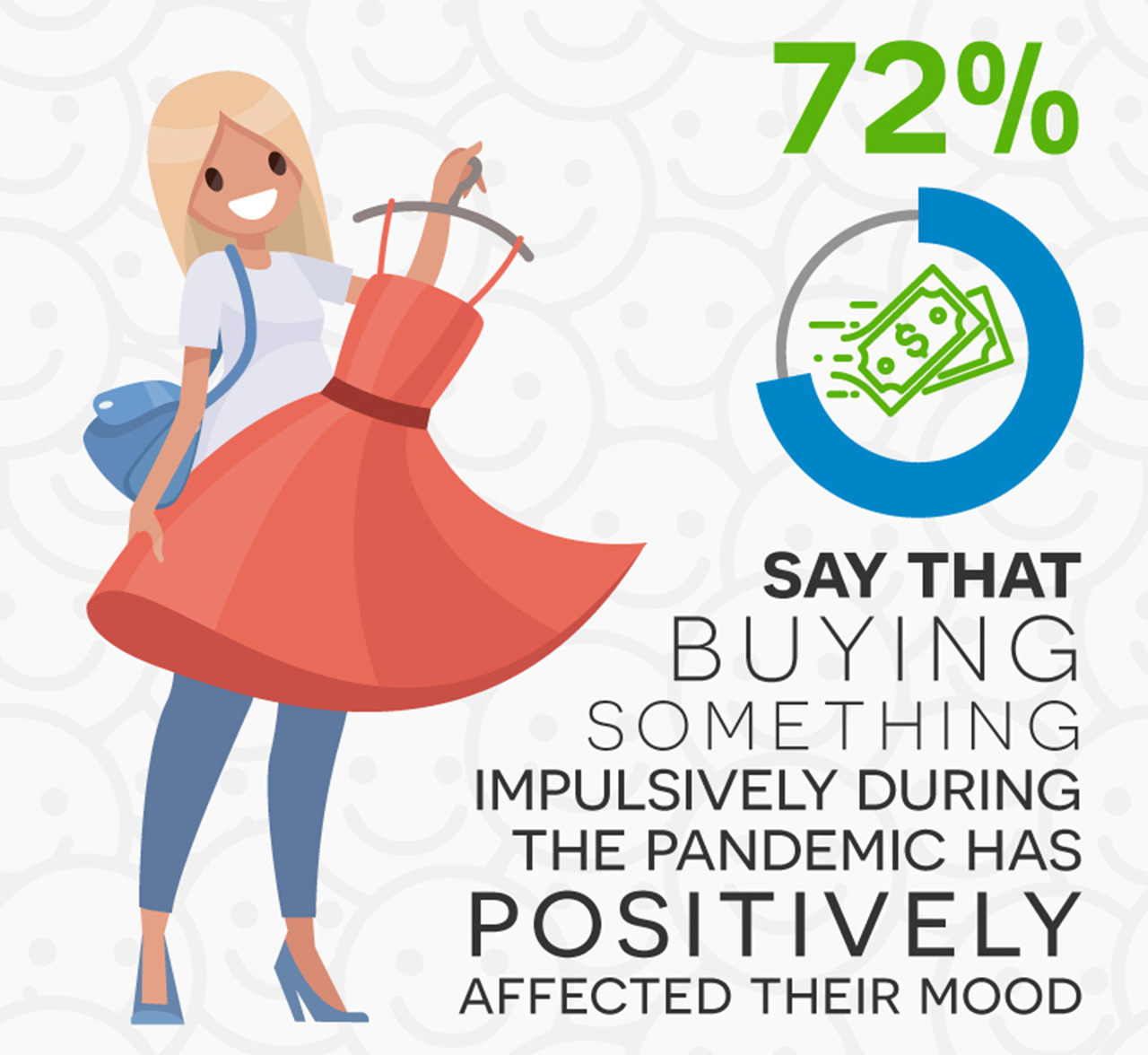 Impulse buying can also be an act of altruism. While the top person we do impulse buy for is ourselves — nearly one in four say they've bought themselves a treat that they've had their eye on for a while — we also shop on compulsion when we come across items we think people in our lives might enjoy.
Getting things for our children was one of the top responses, with gifts for friends, and our partner also scoring high marks. Nearly one in five say they often impulse spend on their pets.
The Silver Lining
If you think you're blowing your budget, the good news is that you may not be.
The study found that the $182.98 per month figure is actually down quite a bit from the 2018 Slickdeals study (also conducted by OnePoll on behalf of Slickdeals). We're talking down from $450, a $267.02 difference.
In fact, impulse spending doesn't mean just blowing your paycheck on random luxury items. According to the survey results, more than half of Americans polled credit impulse buying with actually saving them money in the long run. As in, 52% of respondents saying they typically take advantage of a deal rather than buying at retail price.
"In these uncertain times, consumers are looking to stretch their dollars even further, and impulse purchasing can actually serve as a tool to do so," said Slickdeals CEO Josh Meyers. "While someone may not plan to buy laundry detergent or groceries on a given day, stocking up on these everyday items when there's a great deal available can help your budget. As such, impulse spending can be associated with saving money in the long-run as opposed to being wasteful."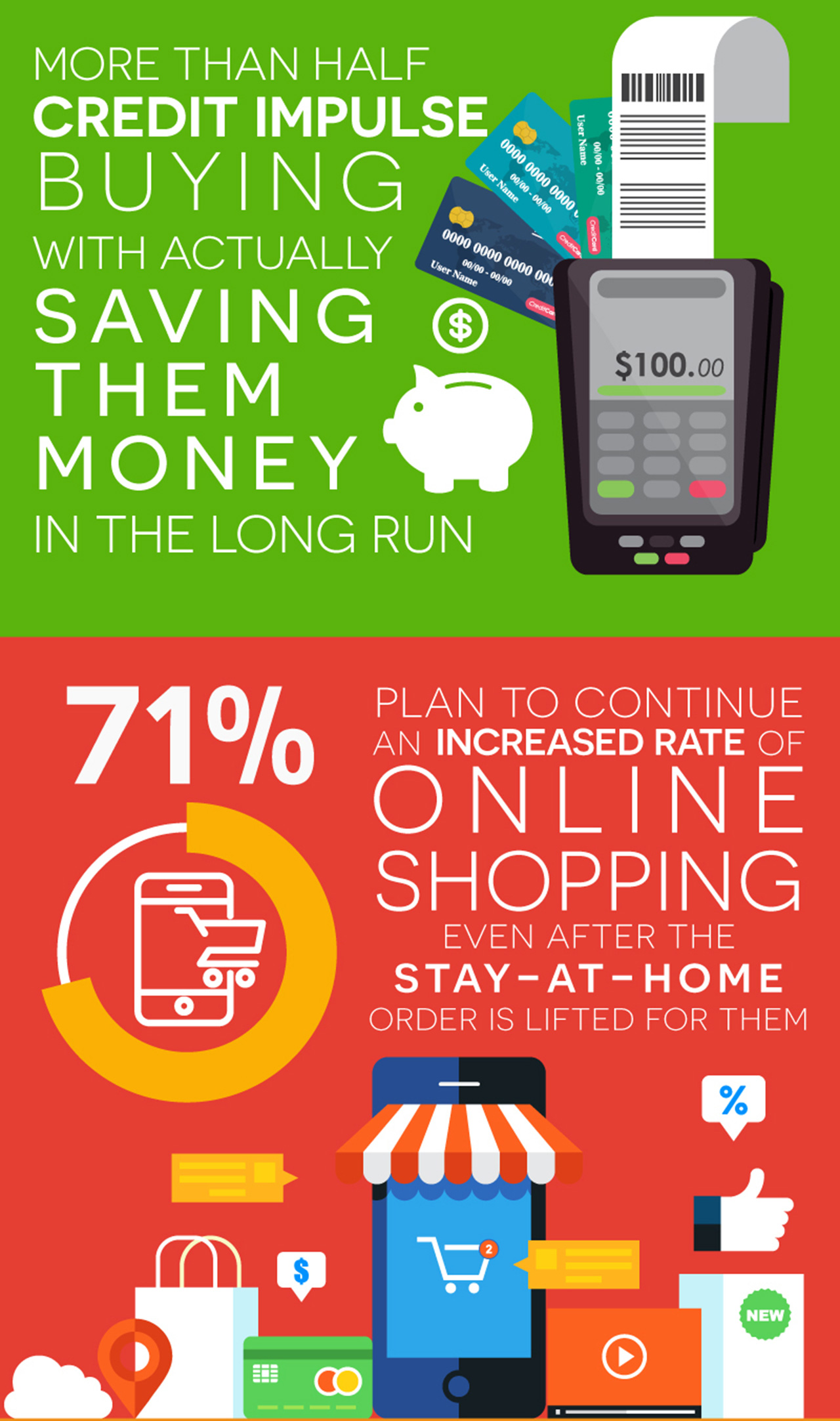 Since the pandemic began, 46% say they've ordered online groceries for the first time, with 47% trying a new streaming service and 35% being a first-time customer with a restaurant delivery app.
Plus, 71% of survey respondents say that they plan to continue the increased rate of online shopping even after the stay-at-home order is lifted for them.
Sure, we're buying more practical items like hand soap, dish detergent and canned food, but we're also buying some fun items as well. Nearly one in five respondents have picked up a shiny new video game console impulsively, with 22% picking up some clothing and 18% splurging on a home improvement.
Top 10 Impulse Buys of 2020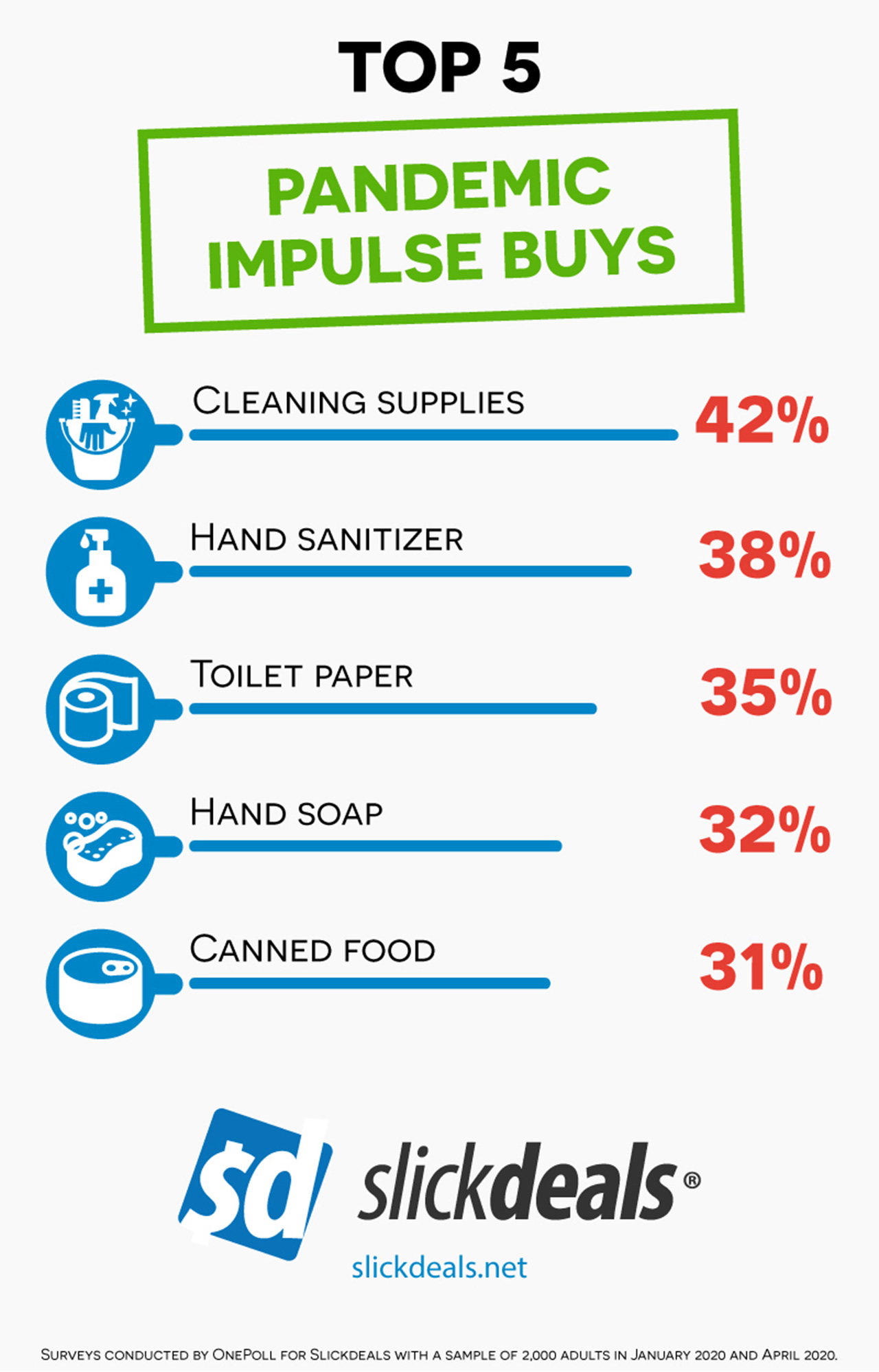 Do see what we see?
That's right. The most popular items we impulse buy are health related, followed by other essentials such as clothing and household items. It's a stark difference from what we found shoppers impulse buying before the pandemic.
Pre-Pandemic Impulse Spending
| | |
| --- | --- |
| Food/groceries | 50% |
| Clothing | 43% |
| Vehicles | 41% |
| Household items |  35% |
| Coffee | 31% |
| Books |  22% |
| Takeout | 22% |
| Technology |  21% |
| Toys |  21% |
| Shoes | 21% |
Since Coronavirus hit a few short months ago (was it really? Let's face it, what is time these days?), our impulse purchases have changed slightly. Aside from the obvious items like cleaning and personal care items, entertainment and rewards-based purchases also went up.
Post-Pandemic Impulse Spending
| | |
| --- | --- |
| Cleaning supplies |  42% |
| Hand sanitizer |  38% |
| Toilet paper | 35% |
| Hand soap | 32% |
| Canned food | 31% |
| Dish detergent | 30% |
| Clothing | 22% |
| A treat you've had your eye on for a while | 21% |
| Video games |  20% |
| Home improvement | 18% |
| Headphones | 18% |
| Video game console | 17% |
| Books | 17% |
| Shoes | 17% |
| School supplies |  16% |
How to Find the Best Deals
More proof on how we're all pretty savvy shoppers: extra costs can actually be a deciding factor when it comes to impulse spending. As in, we're less likely to go through with a purchase if there's a shipping charge at the end of it, with 74% of respondents saying the same.
And it doesn't even have to be much — the average respondent said a $2.53 shipping charge was enough to deter them from buying something on impulse.
By the mere fact that you're on our website shows that you love a good deal (we do too!) so even if you do find that you're impulse shopping, you're at least saving money right?
Perhaps our CEO put it best when he said, "At Slickdeals, we've assembled the largest community of super savvy shoppers and we've created a platform for them to share timely information about finding the best deals, on the best products, at optimal times throughout the year," added Meyers. "More than ever, the Slickdeals community is working together to identify the best prices, tips and even hard-to-find inventory to better cope with the rapidly changing world in which we now find ourselves."
While we work hard on our research, we do not always provide a complete listing of all available offers from credit-card companies and banks. And because offers can change, we cannot guarantee that our information will always be up to date, so we encourage you to verify all the terms and conditions of any financial product before you apply.