Move Over Mattresses and Pet Gear, Olive Oil Is the Next Item to Get a Makeover
This olive oil comes in stylish tins and holds a third more oil than other brands.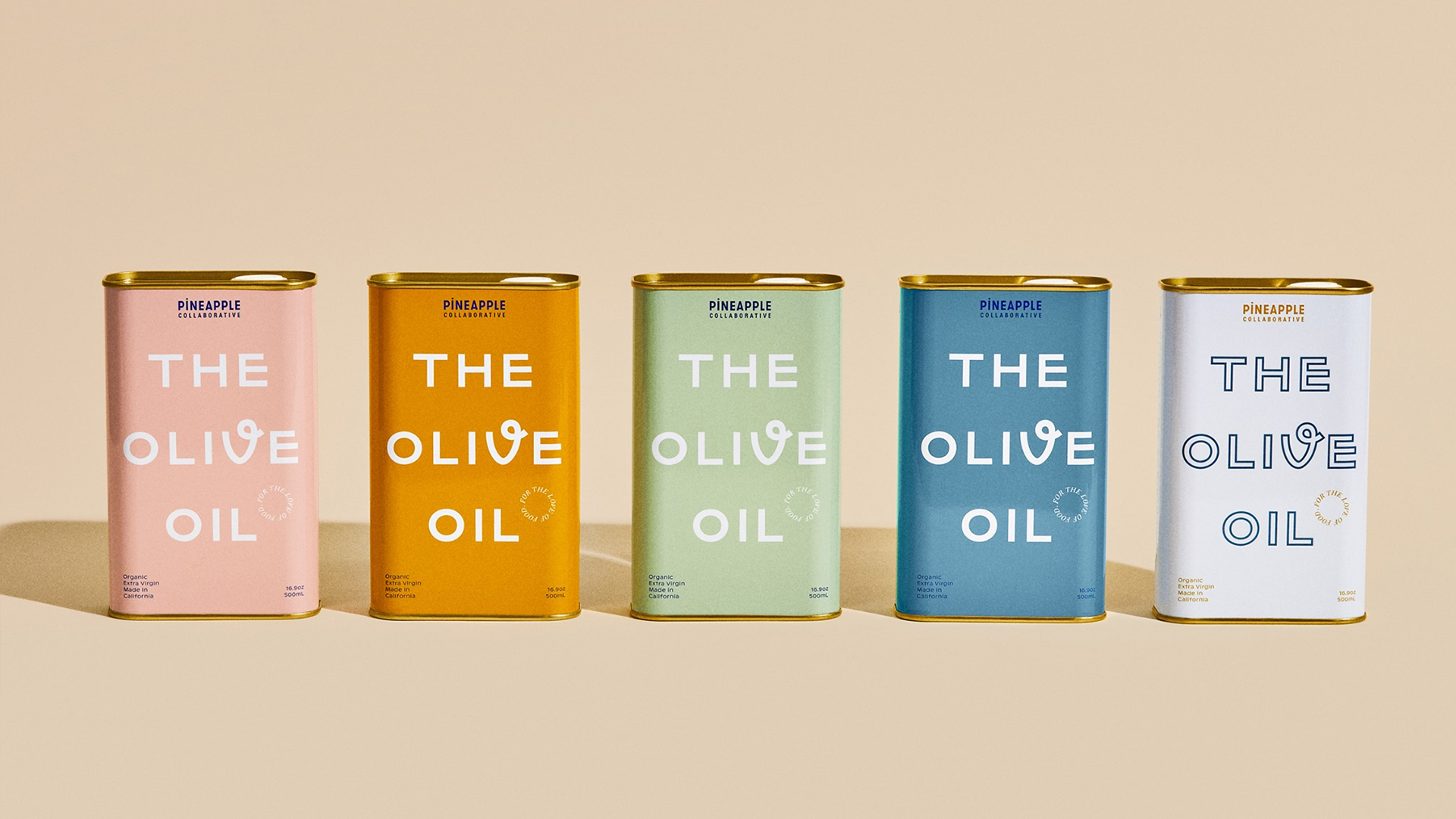 Olive oil is a kitchen staple in most households. In fact, most of us use it so much, we keep it on the countertop to avoid having to look for it every time, despite a less than appealing container.
It's no wonder you can buy separate bottles to transfer your olive oil into. But you can skip that step and access an incredibly high-quality oil that is also consciously produced with olive oil from Pineapple Collaborative. The brand is on a mission to deliver high-quality goods without sacrificing aesthetics.
Shop All Pineapple Collaborative
In collaboration with olive oil maker Kathryn Tomajan, the ENZO Olive Oil Company and olives from the Rio Bravo Farm, the company produces olive oil that tastes as good as it looks. There are several reasons this revamped grocery staple deserves a spotlight in your kitchen.

It's the Perfume of the Kitchen
"A Greek woman once told me that 'olive oil is the perfume of the kitchen,'" Tomajan says. "Good olive oil is so much more than a cooking fat; it can be a seasoning, a condiment or a sauce all by itself."
In the same way that the fanciest perfumes come in the best-looking bottles, Pineapple Collaborative follows suit. Their olive oil tin designs is so sleek and incognito that people may not even realize it's olive oil, which is part of the reason why it's so special. It's an intriguing alternative that will have all your foodie friends talking.
Check the Price on Pineapple Collaborative
To make sure there's a style for everyone, Pineapple Collaborative also offers olive oil packaging in a variety of colors such as white, blue, pink, yellow and green. Take your pick and place your order — just note that the varying colors don't correspond to different flavors, and the green tins are in high demand and won't ship until mid-April.
Related: This Cool New Pet Brand Is Changing the Way People See Pet Gear and Beds
Deal Hunters Love It: More for Your Money and No Compromises
Deal hunters rejoice as the angular shape of the olive oil tins will also save you money. Due to their rectangular form, they're able to hold 33.33% more oil than other brands on the market. We know what you're thinking: Why wouldn't I just buy cheaper $10 options of the same size at the store?
"If the price of your olive oil feels like a steal, it probably is," Pineapple Collaborative answered on the site's FAQs. "Too-good-to-be-true prices usually mean that something's being compromised, whether that's [an] impact on the environment, quality of ingredients or potentially exploitative labor practices. We prefer to treat our pantry staples as what they actually are: true products of agriculture."
The company website offers more info about what goes into each bottle (tin), who makes the products and the location and source of products, but with to answer the question: It costs more money to treat the environment with respect, to use high-quality ingredients and to make sure everyone is being paid fairly for their labor."
Slick Tip: For a gift that won't just take up space and be clutter in the recipient's home, gift Pineapple Collaborative's The Spring Set which bundles olive oil with the perfect snack— a bag of The Herby Crackers— alongside a recipe card and a custom notecard. The set will cost you $45 and even includes free shipping using the promo code PINEFORSPRING.

And, It's Completely Organic
You can feel good about what you're adding to your food, as it's completely organic. The ingredients are crafted in small batches from sustainably harvested plants in California. Rest assured that no additives or anything else has been added to the oil; the process all happened according to Mother Nature.
Check the Price on Pineapple Collaborative
Celebrating and Supporting Women in the Food Industry
The brand prides itself on its "Pine For" mission, in which they work directly with female producers and growers. Pineapple Collaborative is mostly female-run and the team wants to continue uplifting, collaborating and supporting other women in the industry with hopes that in doing so true connection, friendship and mutual advancement will occur.
In addition to working with Tomajan on olive oil, there are other female-led essentials to add to your pantry. The apple cider vinegar was crafted with farmer and producer Joanne Krueger, and The Herby Crackers, which are part of The Spring Set, are from Capisce Market's Serafina LoGiacco.
You can also take a look into the pantries of incredible women such as Chef Jenny Dorsey, who was one of the youngest competitors to beat Bobby Flay on his show, cultural preservationist Gabrielle E.W. Carter and many more. Women's History Month may be over, but head here if you ever need an empowering pick-me-up.

Pine for Other Pineapple Collaborative Pantry Staples
With so many benefits to purchasing your olive oil from a great company like Pineapple Collaborative, don't stop there. Check out what else Pineapple Collaborative has to offer:
The Pantry Set – Reg. Price: $65
The Apple Cider Vinegar – Reg. Price: $24
How to Save No Matter Where You Shop or What You Buy
Navigate multiple sales at once by setting Deal Alerts on Slickdeals for items you need and are already shopping for, and by checking our coupon pages for current promo codes for your favorite stores.
You can also download the Slickdeals app for iOS or for Andriod to your phone to save you money when you shop online. See all active deals our community of over 12 million active deal hunters have found and uploaded and easily search and browse items to make sure you're getting the lowest price on the internet. You can also set Deal Alerts using the app to get notified on your phone whenever the item you want is on sale at the price you want to pay.
Download the Slickdeals App Now
Read Next:
12 Cheaper YETI Cooler Alternatives You May Not Know About
Small Space Hacks to Make Your Rooms Look Expensive
Save 40% on Dog Food Now with New Chewy Deal
Our editors strive to ensure that the information in this article is accurate as of the date published, but please keep in mind that offers can change. We encourage you to verify all terms and conditions of any product before you apply.