Prime Day Deals You'll Actually Be Excited About: Day 2
You still have time to save big on Apple products, Amazon-branded electronics and more.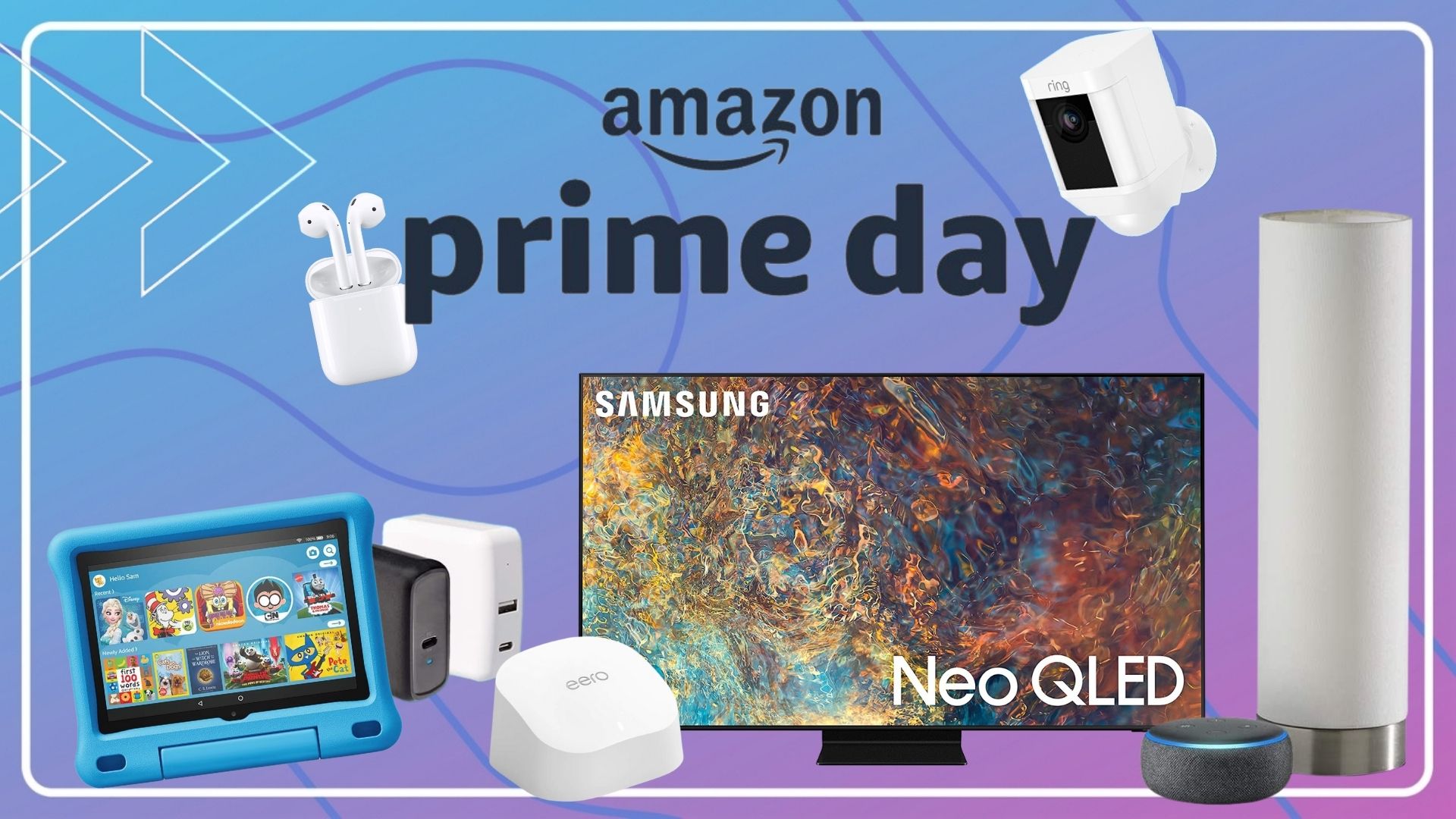 It felt strange to have Prime Day in October last year, but it has paid off now that yet another Prime Day is arriving just nine months later. Amazon's main Prime Day event kicked off on June 21st, and the wonderful barrage of blink-and-you-miss-it deals has continued through Tuesday the 22nd.
While countless lightning deals have come and gone, not every Prime Day discount has to be a surprise. And if you're willing to look beyond the products featured by Amazon and consider third-party Amazon vendors, you'll find Prime Day is somehow even bigger than it initially appears (especially with all the alternative sales held by competitors). You might even find a killer deal on something that you'd never heard of. Live a little!
In addition to the usual suspects (read: Amazon devices and services) the best Prime Day 2021 deals so far have been on headphones, Nintendo Switch games and everyday home goods. We've even seen a few nice deals on tools included for good measure.
Of all the sales that have caught our attention so far, we're most excited about this Amazon Warehouse deal that offered renewed AirPods Pro for $90.25. As you might expect, this deal sold out pretty fast, but we're hoping for more rare discounts as the festivities continue.
There's bound to be something for everyone in the thousands of sale items on-offer, but Slickdeals' editors have our eyes on a few specific sales. Don't forget – keep an eye on the Frontpage if you want to stay updated on the latest and greatest deals, and don't forget to set a Deal Alert if you're looking for a markdown on a certain item.
Check out a selection of the deals and offers we're most excited about.

Perks for Prime Subscribers
Before you dig into the massive catalog of discounts during the big event, check out these limited-time offers available to any current Prime subscriber.

Spend and Save on Subscriptions and Services
Amazon Prime isn't just a streaming platform with a free shipping scheme — there are plenty of extra services, members-only offers and subscriptions included with your Prime subscription. This really pays off when Prime Day rolls around, as many of these subscription deals and card offers can be redeemed and enjoyed long after the big event has come and gone.
A few noteworthy offers: 
New Audible subscribers can save over 50% on a four-month Premium Plus subscription to Amazon's audiobook service (now $6.95, originally $14.95). You have until June 30th to claim this deal, and you don't need to do anything to access it – as long as your account isn't already linked to an Audible subscription.
Hungry from all that deal-hunting? If you sign up for Panera Bread's myPanera Now program and place an order on June 21st or 22nd, you can save 40% on your online Panera order and earn a $3 Amazon Prime credit to spend during Prime Day.

TV Deals
Now that newly released 2021 4K TVs have been available for a few months, we're starting to see better and better TV deals. Amazon has already offered some exciting 4K TV deals for Prime Day (especially on budget-friendly selections from Insignia and Toshiba), and it seems like new TV offers are set to continue into the second day of deals.
On top of that, Amazon is offering up to 50% on thousands of movies and TV rentals as part of Prime Video's annual Prime Day sale. Once you're all set up with your new TV, you can keep yourself entertained without breaking the bank.
Here are a few more exciting Prime Day TV deals:

Save Hundreds on Amazon Devices
As is usually the case, Amazon devices are featured prominently during Prime Day. Whether you're shopping for home security, better Wi-Fi or tablets, this is the time to find some of the best prices of the year.
Since many of Amazon's newer products premiered just before Prime Day 2020, we didn't see any great discounts on them last year. This year, enjoy 40% off 4th Gen Echo smart hubs, or 50% off 4th Gen Echo Dots, among other exciting discounts.
One of the best Day 2 deals you should consider gives New Disney+ subscribers a 3-month free trial with purchase of select Amazon devices. This offer is only available through June 22nd, so make sure to act fast if you're interested.
Other Amazon device deals worth considering: 
Enjoy All-Time-Low Prices on Switch Games
As all Switch owners know, basically any discount on a first-party Nintendo game is something to write home about. However, that hasn't stopped Amazon from slashing prices on tons of the hottest titles from the past few years – you can even pick up Smash Bros for less than full price!
While the hottest discounts were undoubtedly 50% off Pikmin 3 or Paper Mario: The Origami King, those both sold out very quickly. However, Target has since stepped up and offered the same deal, so definitely check over there if you're interested in $30 Pikmin or Paper Mario.
Here are some Switch Deals you can still enjoy on Amazon: 

Headphones and Home Audio Deals
Are you thinking about investing in a new sound system? Prime Day is a great time to pick up new audio gear for your home theater, backyard or even some wireless headphones for your own personal enjoyment. No matter the occasion, these Prime Day deals ensure that you'll never need to stop the music.
Headphones are among the hottest discounted products in 2021, with Amazon slicing prices on several of the most popular models. This year, you'll want to check out discounts for AirPods and the leading ANC bluetooth headphones from Bose and Sony.
Here are the best Prime Day deals on wireless headphones:

Building your home theater? Check out our top picks for home audio:
Up Your Wellness Game for Less
It's time to stop ignoring your health and fitness goals, and Amazon's Prime Day exclusives will make it easy. One of the best wellness finds during Prime Day is fitness trackers. So far, Fitbit Charge 4 is $50 off, bringing it to just under $100. Amazon's Halo Wellness band is also 30% off this week and comes with a free six-month membership to the Halo program (reg. $3.99/mo) which includes workouts and tools.
One of the most exciting Prime Day deals is actually found on Woot!, which is offering refurbished Apple Watches for as low as $109.99 through June 30th. Since all generations of Apple Watch look basically the same, this is a great way to score one of the fashionable gadgets without spending hundreds of dollars. Hit the link to shop for yourself or check out the related Deal Thread posted by Deal Hunter Kimpossible680 for a breakdown of available models.
Shop Prime Day Apple Watch Deals
Here are a few other worthwhile health and wellness deals to consider:
Sick tip: When shopping for health and wellness deals, see if you can use your HSA account to pay.

PC Gaming on a Budget
PC gaming isn't exactly known for its affordability and ease of access, but Amazon's Prime Day selection on computer accessories and peripherals does make it a lot easier to save. You don't need to sacrifice quality for a good deal, either — many of the best discounts are from Amazon's Top Sellers and listed with an Amazon's Choice designation. A few of these items require a coupon, which can be added by selecting the checkbox offer under the product description.
More to Consider: Here's Every Razer Product That's Discounted for Amazon Prime Day
Whip Up Something Tasty: Kitchen Essentials on Sale
Prime Day should have been nicknamed "Instant Pot Sale Day" because in Prime Day pasts, that was all anyone wanted to talk about. Now IPs are easy to snag on sale all year round. Let's focus instead on some unique kitchen essential discounts — the ones that make you feel like a gourmet chef even if you still rely on Youtube to show you how to poach an egg.
Must-See Home Deals
When shopping on Amazon Prime Day, expect to be flooded by home deals from all sellers. It is essential you search for items that are Prime eligible and that ship from Amazon and have free returns. Furniture is a pain to return if you don't love something or if it arrives broken, and this annoyance is multiplied by 20 when you have to deal with this through a third-party Amazon seller. These home discounts are all Prime-approved:
Prime Day is a great excuse to stock up on everyday basic home essentials, such as:
Slick Tip: To get the best price on many of these products, you'll need to opt for the "Subscribe and Save" option. This signs you up for recurring shipments, but it's pretty easy to cancel if you decide you don't actually want to receive more than one order's worth of the product.
There haven't been as many deals on tools as you might expect, but luckily the ones we have seen are pretty generous. Take a look at a few of our favorites:
Hit the Great Outdoors with These Finds
Typically the best camping deals are during REI's anniversary sale or when BackCountry is clearing out old stock. However, Prime Day is still a good time to find camping and hiking gear discounts especially if you have a trip coming up this summer.
Expect big discounts on name-brand and Amazon-branded tents and sleeping bags. You can also find discounts on smaller camping must-haves like the LifeStraw water filtration bag or camping cookware. These camping essentials are affordable and a great place to start if you are new to the Great Outdoors.

Discounts for Live Streamers
Whether you're streaming for business or pleasure, you deserve to do so comfortably and with flair. By taking advantage of the variety of Prime Day deals on live-streaming devices and accessories, you can keep your savings intact and upgrade your set-up for luxurious gameplay and improved audience engagement.
un6b3csTgSI
---
Shop Amazon Prime Day Sales Like a Slickdealer
You won't want to lose out on great money-saving deals and in-demand items, so it pays to be prepared for Prime Day. Some basic ways to get ready for the two-day extravaganza is to put items in your shopping cart ahead of time so you can monitor prices, and join waitlists for sold-out items so you'll be the first to know when they're back in stock. 
More Slick Tips Tip for Finding What You Want During Amazon Prime Day:
The Amazon app allows you to click "Watch This Deal" so you can receive alerts on any items you want.
Even Alexa is in on the Prime Day action. Ask Alexa for the daily deals, and you'll receive an overview of what's on sale.
Just bookmark and keep an eye on the Slickdeals Frontpage and let our over 12 million deal hunters and community members alert you when it's a good deal.
More from Slickdeals: 
Our editors strive to ensure that the information in this article is accurate as of the date published, but please keep in mind that offers can change. We encourage you to verify all terms and conditions of any product before you apply.