Angry You Still Can't Get a PS5? This 10 Cent Chip is to Blame
A tiny chip is responsible for low inventory across several industries.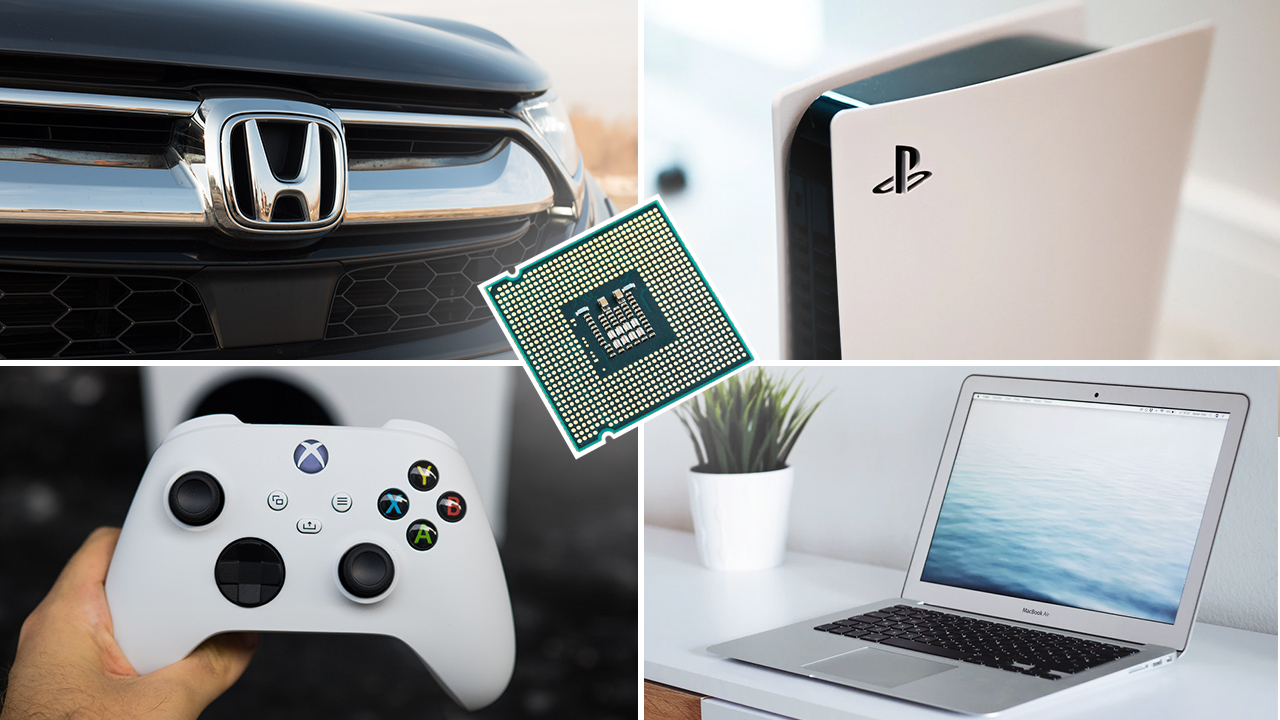 A global semiconductor shortage responsible for reduced PlayStation 5 and Xbox Series X inventory is now threatening to derail multiple industries. The ubiquitous component is used in a variety of consumer products – including smartphones, computers, cars and appliances – and manufacturers likely won't be able to meet widespread demand until the second half of 2021.
While semiconductors sound like a niche product, you likely have dozens of electronics lying around your home that rely on the technology. Put simply, semiconductors – often called chips or chipsets – are tiny devices that conduct electricity. Crack open any of your household electronics and you'll likely find a semiconductor at the heart of the operation. Without a semiconductor, most consumer electronics would cease to exist in their current form.
What's Causing the Global Semiconductor Shortage?

The global semiconductor shortage is driven by a variety of factors. Arguably the biggest contributor is the ongoing pandemic. Not only has this made the manufacture and shipment of semiconductors more difficult, but it's also caused a surge in demand for personal electronics. As companies shift to remote work arrangements, consumers have been scooping up computer monitors, laptops and other appliances necessary to carry out their work while at home. Unfortunately, all those products rely heavily on semiconductors.
There's also been incredible demand for next-gen gaming consoles, such as PlayStation 5 and Xbox Series S, further limiting the availability of chipsets.
COVID-19 isn't the only driving force behind the shortage. Many semiconductor companies have recently shifted to a new economic model, outsourcing the actual production of chipsets to factories overseas. These factories were already running at max capacity, and the increased demand simply has nowhere else to go. Instead, companies are forced to wait in an ever-growing line.
It's also been reported that the shortage is compounded by ongoing restrictions with one of the largest chipset manufacturers – Semiconductor Manufacturing International – and "trade war" limitations imposed on China by the Trump administration. All these factors seemed to have converged to create a perfect storm, leading to a global chipset scarcity.
The Impact of the Global Semiconductor Shortage

Unlike some other components, semiconductors can't be cut out of the manufacturing process. Nowhere is this more evident than in the automotive industry. "The problem is even if that 10-cent chip is missing, you can't sell your $30,000 car," said Gaurav Gupta, semiconductor analyst at Gartner. Everything else about the car might be complete and ready to roll off the manufacturing line, but if a single semiconductor is unavailable, it can't be sold to the public.
While the shortage is happening across multiple industries, analysts expect the automotive industry to take one of the biggest hits in 2021. Semiconductors used in vehicles are held to rigorous standards not seen in other products, and even once production ramps up there will still be a delay in getting them into the right hands.
However, some companies are already ahead of the curve when it comes to semiconductor availability. Toyota began stockpiling chipsets before the shortage and claims it has at least four months worth of semiconductors in its warehouse. Unfortunately, that's an outlier for the industry, as it's standard practice to limit excess parts and order semiconductors on an as-needed basis.
Beyond cars, PlayStation 5 and Xbox Series X|S inventory will also remain constrained, and the same may start happening with computers, televisions, and smart appliances. In short, expect to have difficulty finding the hottest electronics in stock at retailers throughout the country.
Shortage to End in the Second Half of 2021
Although the semiconductor shortage sounds bleak, there's already light at the end of the tunnel. Many manufacturers – including the American-based semiconductor company AMD – believe everything will get back to business as usual by the second half of 2021. The White House has even acknowledged the problem and is introducing legislation to improve the supply chain. Details about the plan are still under wraps, but analysts are hopeful that the coming months will be better than the last.
Our editors strive to ensure that the information in this article is accurate as of the date published, but please keep in mind that offers can change. We encourage you to verify all terms and conditions of any product before you apply.