How to Find the Best Discounts on Slickdeals
How do deals end up on the Frontpage and how are they different from Popular Deals?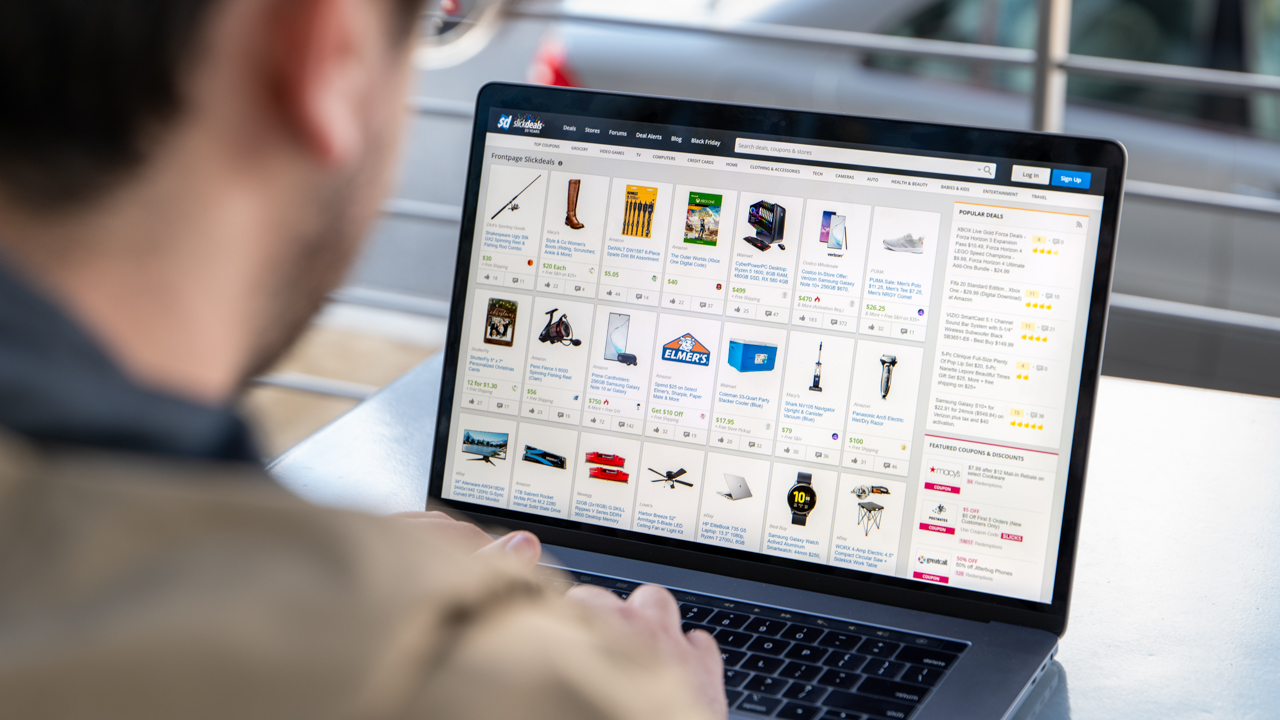 When you first arrive at Slickdeals, you're greeted with a flurry of discounts on everything from cell phones and gaming consoles to home goods and everyday essentials. There's clearly a lot going on, and it can be a little overwhelming if you're not a regular to the site.
As you scroll through rows upon rows of deals, you may find yourself wondering how all these sales ended up on our site and who decides which deals are homepage-worthy. We call those homepage finds "Frontpage Deals," and they have been fully vetted by our community. You might not even realize our Forums exist, and that there are actually loads more deals in the Popular Deals section.
To demystify how things work on Slickdeals, we put together a guide to explain the different deals on our site and how Frontpage deals are crowned.
Where Do Our Deals Come From?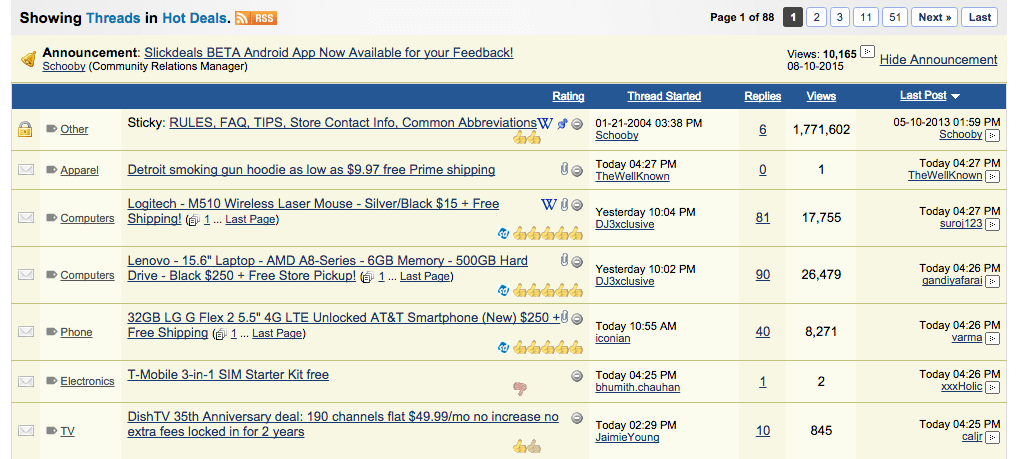 It all starts in our Hot Deals forum, where deals are posted by our community members. If you're not already a member, it's free to join, and comes with a lot of perks like the ability to set alerts for deals on certain products or brands and a friendly, compassionate community ready to help you get the best prices possible.
Any registered Slickdeals member can post a deal they find online in this forum. We see deals from big brands like Target, Amazon and Macy's, as well as less mainstream places like Newegg and BuyDig. All deals start off in this forum, at which point users are given the chance to vote on their quality and leave comments.
The deals that get enough positive community feedback eventually get one of two status types: Frontpage or Popular.
How Does a Deal Make It to the Popular Deals page?
As you may have guessed, the Popular Deals page is determined entirely by (data-driven) popularity. The deals you see here are only there because the community liked them – once they start taking off in the forums, they will automatically be added to this page. These deals will also be considered for Frontpage placement by a team of Deal Editors once they receive enough "thumbs up" votes, comments or views. This is why it's helpful for everyone in our community when you vote or comment on deals you like or dislike. The community as a whole determines if a deal has met the criteria for Frontpage placement through voting and commenting.
How to Read the Frontpage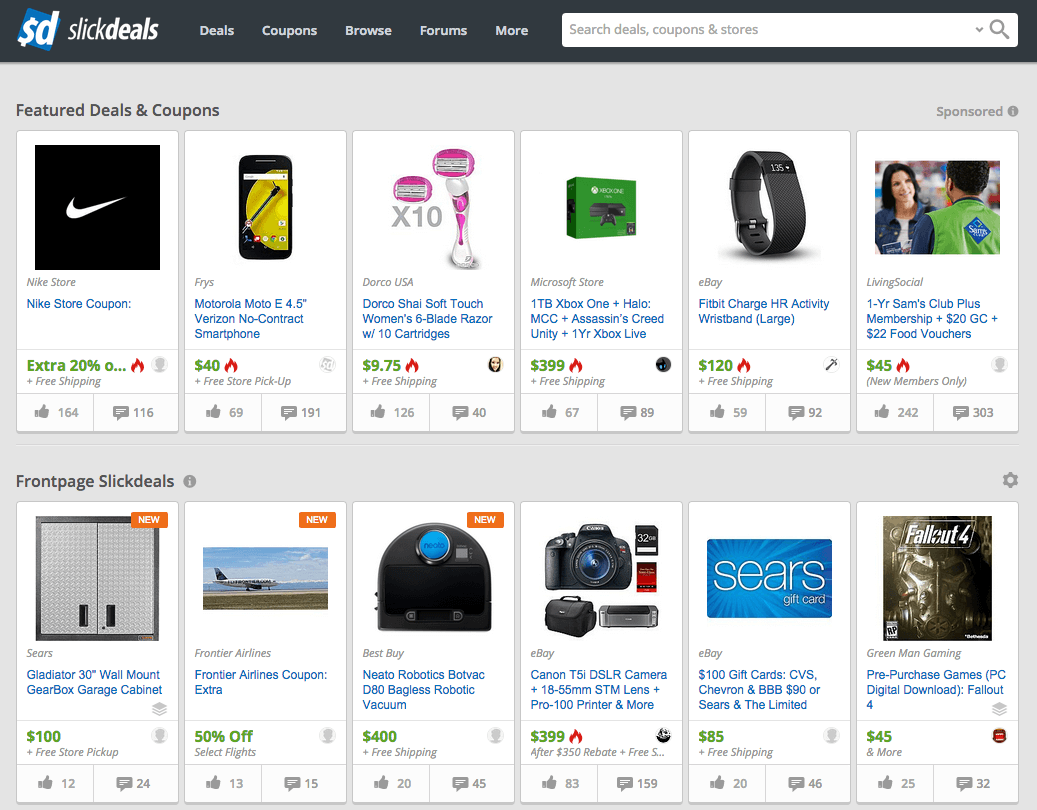 There are several components to the Frontpage:
The Featured Deals bar – These are Frontpage deals considered some of the best of the past week, along with editor's picks and giveaways.
Frontpage Slickdeals — This is the largest section of our homepage, which contains the best deals in the past 24 hours curated by our expert Deal Editors. Voting widgets included on each deal allow you to vote on a deal and provide your feedback without actually leaving the Frontpage (just click the little thumb icon and you're good to go).
We also include the number of comments on each deal to gauge the level of hotness (hotter deals usually have more community engagement.) Another indicator of a hot deal is the fire icon, which appears on select deals that have met our criteria. Pay close attention to these deals because they might expire soon.
Deals You May Have Missed — As you scroll further down the page, you will see another section containing Frontpage deals that were featured higher up the page in the past few weeks and have been kept around in case you might be late to the party. All deals on the Frontpage have been curated by our Deal Editors, who make sure they're still available and from a reputable merchant.
Who Are the Deal Editors?
Deal Editors come from a secret society of retail managers around the country who know when prices are at their lowest and can predict deal trends in any shopping category. Just kidding. Our Deal Editors actually come from our community, but they've proven to know a lot more about deals than the rest of us. They are responsible for surfacing and delivering the best content to the community. They are product experts and understand what's considered to be a great deal based on their category expertise. Our editors research the deals to ensure they can be replicated and are available for purchase. They're the gatekeepers for the top deals on the site, and you can shop with confidence knowing you're getting a great deal if it has been reviewed by one of the DEs.
How is a Potential Frontpage Deal Evaluated?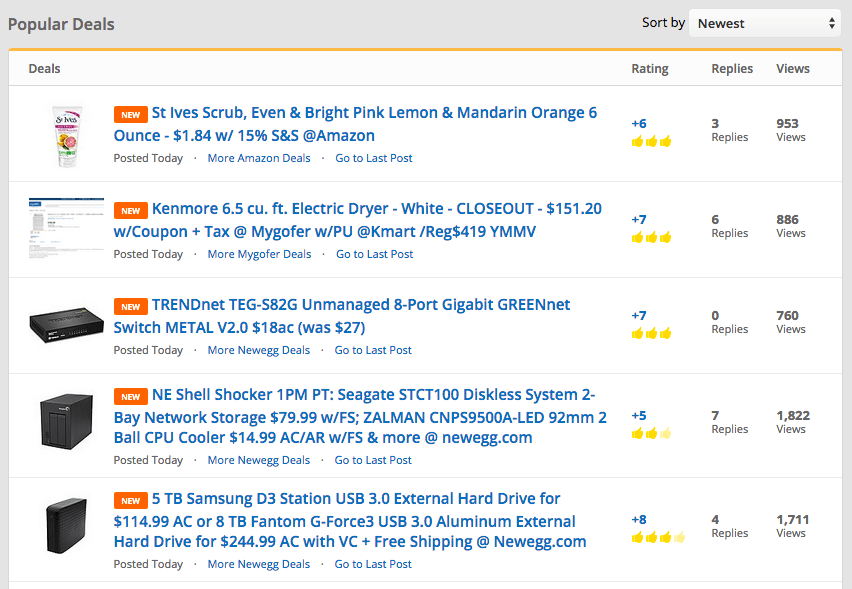 Our Deal Editors look at a number of factors before they consider promoting a deal. First, a deal has to be popular and appeal to our audience. We rely on Deal Editor feedback to assist others with their purchase by providing their thoughts and comments on a certain store, brand and/or product.
The next step is validating the deal. We don't want to upset our users by promoting a deal that can't be purchased or expires within a short period of time. To avoid these unfortunate situations, the editors conduct product and price research, evaluate customer/expert reviews and then determine the availability and inventory levels.
Lastly, a deal has to be from a reputable store. We do not promote stores that we have never heard of in order to protect our community. Once a deal has been brought to the Frontpage, it is checked frequently by our Quality Assurance team to ensure it is up to date.
Slickdeals Commitment
Here at Slickdeals, we pride ourselves on picking the best deals for our Frontpage listings. We created the Slickdeals Commitment to guarantee that our deals are genuinely "slick." When a deal hits the Frontpage, it is a stamp of approval both from our community and our staff, who have done their due diligence in picking out the very best. This commitment only applies to the Frontpage deal listings: Featured Deals, ad banners, giveaways, exclusive deals, etc. may have a different criteria. The Featured Deals section includes recent Frontpage deals that users may have missed and it's a way for us to bring back or extend the life of a Slickdeal that was voted up by our community and vetted by a deal editor.
Here is a breakdown of our commitment and what it means:
Deals are Rated and Vetted by Users
The great thing about Slickdeals is most deals are rated and vetted by users. This allows our community to have a say in determining the hotness of a deal. Typically, after the deal has been approved by the community (meaning three or more users have given it the thumbs up), our deal editors pick the cream of the crop for the Frontpage.
It is the combination of user input and editorial fact-checking that differentiates us from the other deal sites. Even after a deal has been promoted to the Frontpage, users are still able to vote and weigh their opinions. We still monitor the deals for community feedback, and if it changes, we're apt to react.
In certain rare circumstances, editors also have the ability to promote a deal right away if they feel it is an excellent deal. These tend to be deals that are obviously good. For example, if a deal gets posted and an editor sees that it is worthy based on research, intuition and prior history, they can choose to promote it right away so people don't miss out. We also take into account prior deals that are similar or identical and previous ratings by the users.
We Will Research the Deal and the Price for You
In terms of savings, the deal must beat all the other stores' prices for the item. We check Pricegrabber, Google Shopping and various price comparison engines to see if this is the case. Sometimes, if an item is extremely popular (a lot of thumbs up), and rarely goes on sale, then it may still be posted, even if the percentage savings is not quite as high as compared to other items.
Only the Best, Hand-Picked Deals Will be Posted
After the deal is approved by our community and researched by our deal editors, we will pick out the best deals to promote. Some deals are so good they may appear to be price mistakes from the retailer. However, we try to avoid posting gross price mistakes, as if the slip-up is too big, retailers will be quick to cancel orders. We favor items that appeal to our user base or to a wide general audience. Most niche or controversial items are not considered for the Frontpage. In addition, deals that require a lot of hoops (i.e., having 18 email accounts) or are not guaranteed to work across all stores are not eligible.
Only Reputable Merchants Will get Listed
Frontpage deals have to be from a reputable retailer. We have to protect our users from shoddy merchants that may advertise the lowest price, only to up-sell for the order to be valid. We tend to favor online stores (as opposed to brick-and-mortar stores), since online stores are more easily accessed by most people. We will sometimes post brick-and-mortar deals from major stores that most people have in their area (such as Walmart, Bestbuy, Target, Sears, etc), but only if the deal is worth the travel time and gas.
We Will Never Sell Ads or Paid Placements as Deals
We do not take paid placement for the Frontpage deal listing. When we say paid placement, we're talking about upfront payment. We have been approached by merchants asking us to push their deals to the Frontpage, and in each of those cases we have refused. This ensures the only way to get a deal on the Frontpage is to satisfy the criteria listed above. We may receive a small commission for select (not all) deals once an item is purchased, but this does not influence our decision on whether a deal is selected for the Frontpage. First and foremost, the deal(s) must have been approved (via thumbs up or favorable responses) by our community and our editors.
There you have it! We have used these guidelines internally throughout the years for picking out Slickdeals. So far it's been a winning formula and there is no reason for us to change it.
More Slickdeals Tutorials:
The Undiscovered – Secret Forums, Stats and More
How Deal Alerts Save You Time and Money
How to Easily Switch to Classic or Basic HTML View on Slickdeals
---
Any product or service prices/offers that appear in this article are accurate at time of publish, and are subject to change without notice. Please verify the actual selling price and offer details on the merchant's site before making a purchase.