Entertain and Educate Young Minds at Home with Kid-Friendly STEM Kits
From exploring nature using virtual reality to coding, inspire them with a science set..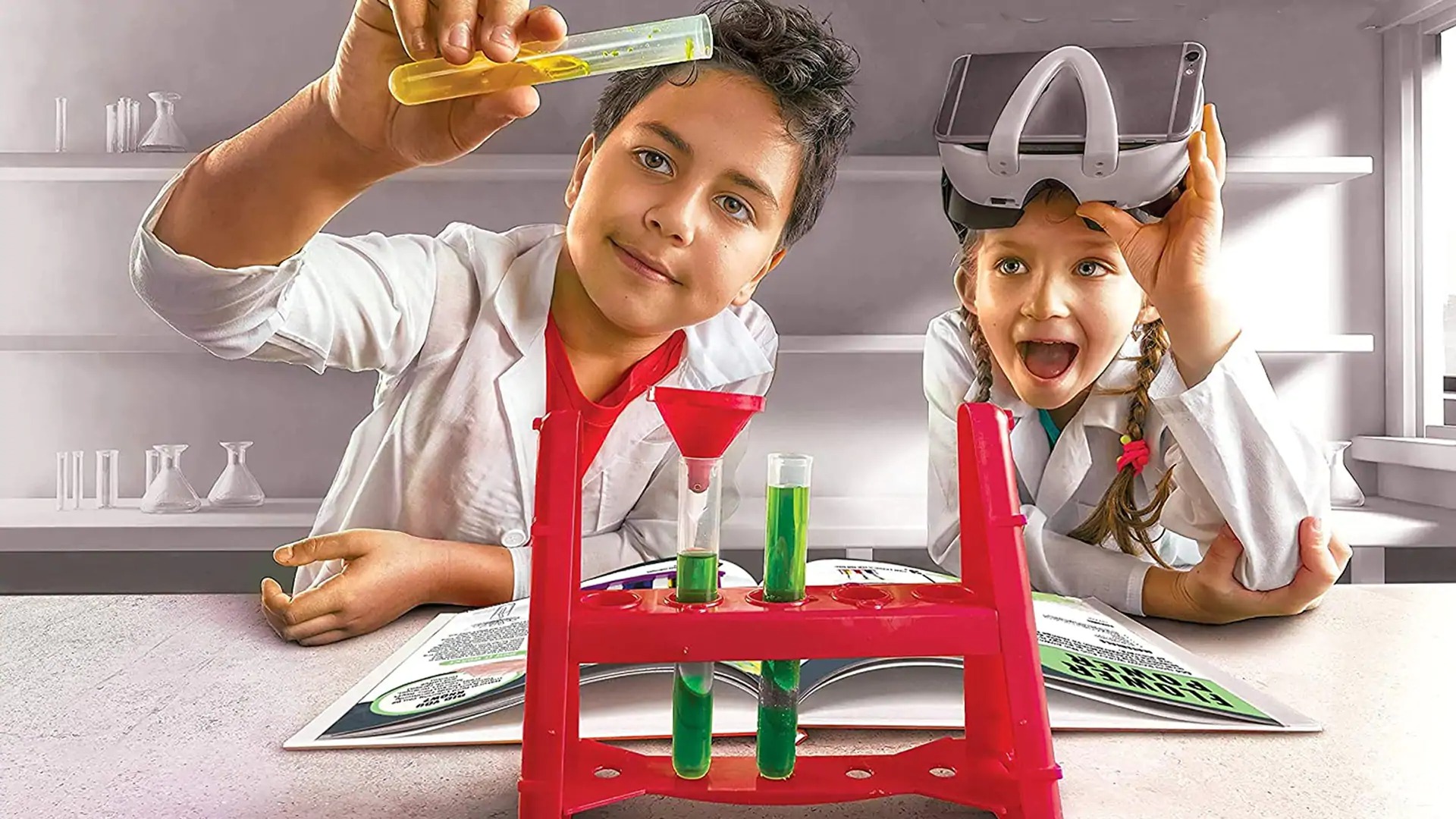 By getting kids interested in science at a young age, you could instill a love for learning that will pay off in the long run with a future career in the high-demand STEM (science, technology, engineering and math) fields.
Plus, once introduced to the interactive science and math back activities, many kids may be willing to trade their consoles for a starter chemistry set. Not only are these kits really fun, but kids can actually learn a lot about coding, chemistry, physics and biology through them.
Try gifting a kid-friendly science kit to your favorite youngster to help keep them learning at home and entertained through Spring –no TV required.

Reg. Price: $39.99
Recommended for ages 8+.
Have you ever been wowed by chemical reactions? I know I have. I still remember how blown away I was when I learned how to melt away the shell of an egg with vinegar in first grade.
With that said, you already know kids are going to love this chemistry set where they can create magic tricks through science with experiments like disappearing test tubes, creating square bubbles, making coins levitate and bending metal with water.
The kit comes with supplies for 20 different science experiments, and everything you need is right there in the box, so you don't have to spend any extra money on materials. Plus, it comes with enough material to practice each experiment two or three times, and even has a bonus experiment guide with 30 extra experiments that can be done with common household items.
There's also a starter kit for $14.99 with 10 experiments, and both kits come with free Amazon Prime shipping.

Credit: Amazon
Sale Price: $59.99 | Reg. Price: $69.99
Recommended for ages 8 – 12.
Thanks to the magic of virtual reality, kids can now hang out with Bill Nye in his lab and explore volcanoes, caves, and more while learning biology, physics and chemistry.
This kit comes with an 80-page book that teaches 30 step-by-step science projects, as well as most of the materials you'll need for the projects. The VR goggles are also included, so all you need to supply is a smartphone that has access to the Google Play Store or Apple iOS app store and a few household supplies.
With a 4.8 star rating on Amazon, you can rest assured that this set is actually really fun. Honestly, I wish this VR science kit existed when I was younger.
According to one user: "This is one of those 'why didn't I think of that' kind of products! Great pairing of a science icon like Bill now with an emerging trend like virtual reality! My son's been begging for a VR since last year and this seems to have cured it for $60 versus a fancy $400 headset (not to mention the educational value here)!!"
While VR headsets are a lot of fun, they come with a hefty price tag and little educational value. Instead, opt for this science VR kit and get the best of both worlds: education and entertainment. Includes free Amazon Prime shipping.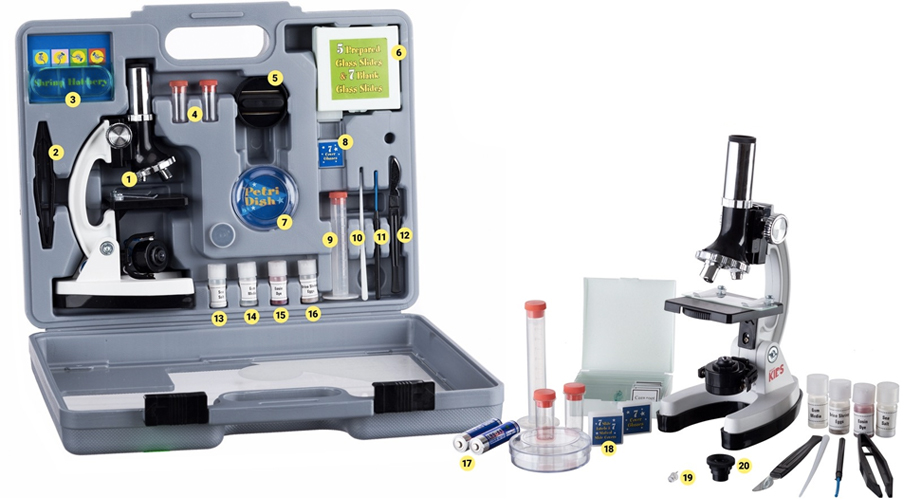 Sale Price: $44.99 | Reg. Price: $79.98
Recommended for ages 8+.
If your kid is a budding biologist, this microscope kit will really get them excited. My 12-year-old cousin has a similar microscope set, and he goes absolutely gaga over it. Here's a fun tip: A really cool experiment that all kids find awesome is to gently swab the inside of your cheek with a cotton swab, swipe it on a slide and look at your own cells under the microscope.
The microscope has six magnifications of 120X, 240X, 300X, 480X, 600X and 1200X and comes with tons of tools and accessories including slides, tweezers, a plastic scalpel, specimen and collecting vials, and adjustable lenses. Includes free shipping.
We're sure you and your child will love this microscope as much as over 100 reviewers. One customer said, "This set is AMAZING! Before purchasing, I reviewed top 12 microscopes for children. All were hundreds of dollars and most only went to x400. This one has a durable case, many samples and the ability for your own, durable and safe tools and goes to x1200. My Grandson hasn't gotten it, but I tried it out and LOVE it. It's a steal for the quality!"

Price: $129.99 (and in stock)
Recommended for ages 6+.
Teach your kid the basics of robotics and coding with the iRobot Root rt0 robot. It has over 20 sensors and features that allow you to program it to drive, turn, play music, draw, light up and more and has three learning levels based on ability. For beginners, level one offers drag-and-drop graphical blocks; level two offers a mix of graphics and coding script; and level three offers full-text code programming. The robot also comes to life when you pair it with the iRobot Coding platform using Bluetooth.
For more advanced features, additional premium content is available with a subscription to iRobot's Learning Library where a one-year membership will set you back $60. There's also plenty of free content that you can access without a subscription. While this is the priciest option on our list, coding jobs are in high demand. An investment in this pricier kit now for your kids might lead you to a return on your investment down the road.
Comes with free shipping.
---
How to Save No Matter Where You Shop
Navigate multiple sales at once by setting Deal Alerts on Slickdeals for items you need and are already shopping for, and by checking our coupon pages for current promo codes for your favorite stores.
You can also download the Slickdeals browser extension to help save you money when you shop online. It auto applies coupon codes before you check out and can also show you any active deals our community of over 12 million active deal hunters has found as you visit any of the hundreds of supported stores.
Download the Slickdeals Extension Now
Up next:
Our editors strive to ensure that the information in this article is accurate as of the date published, but please keep in mind that offers can change. We encourage you to verify all terms and conditions of any product before you apply.