Space Exploration – Double Your Apartment Storage Without Moving
Space ain't nothing but a concept; one you can make the most of by getting creative with your storage habits.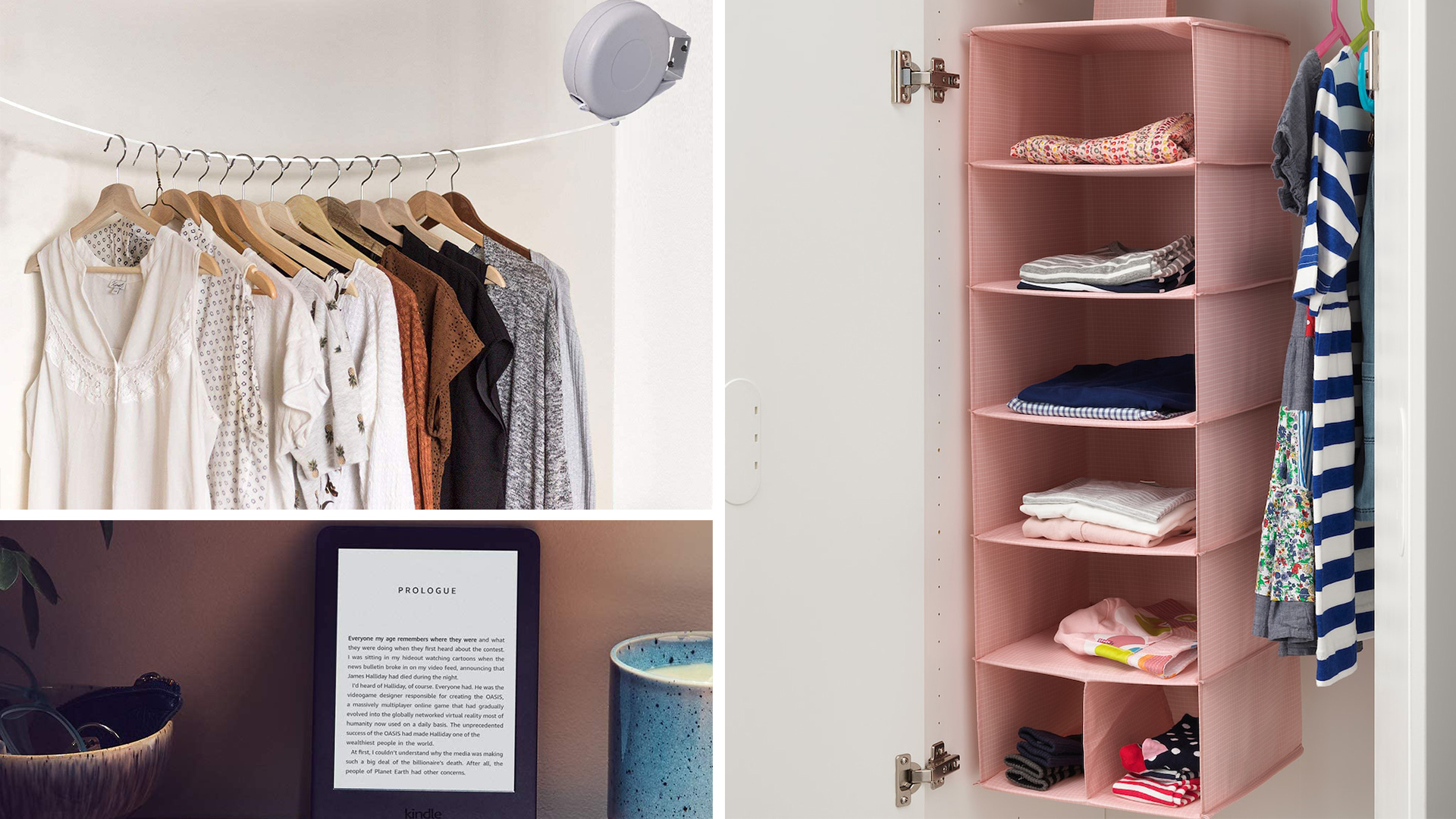 My roommate and I live in an apartment that Goldilocks would call "just right" in terms of size. For the two of us, we have just enough room to live comfortably without really any clutter (though if our living room "closet" were actually a closet and not the entryway to the building's water heater, we'd rank it above "just right"). That said, it took some time and finesse to determine the proper space for everything, which included finding unique ways to maximize the space in its entirety.
As cooler weather sets in, you'll definitely be spending more time inside where you may need to free up a little more room. Most of my best storage hacks ahead are extremely easy and offer storage deals of easy-to-buy and assemble products that won't break the bank.
Live with Your Space (or Lack of Space) First
When devising storage solutions for your home, it helps to get accustomed to the space first. You learn how you live in it – which rooms you spend the most time in, where sunlight is most prevalent and how the space you do have affects your daily routine. The more you live in it, the more possibilities come to light.
Hang Pots and Pans from a Curtain Rod


This little trick is something my mother has done for years – hanging pots and pans. Not only does this free up space in your cabinets, but it's also a fantastic way to utilize airspace that would otherwise be occupied by kitchen fumes. You could use a standard curtain rod, but if you're not really into the installation process, you could also try using an adjustable shower curtain rod. If you really want to see how to maximize a kitchen space using a curtain rod, check out my friend Bailey at @probablyfromgoodwill on Instagram or TikTok.
Use Bed Risers to Gain Height and Increase Storage


If underneath your bed is large enough to hide monsters, it definitely has space for your clutter. Frustratingly, your bed may lie too close to the ground – and that's where bed risers come in. They come in all variety of sizes and designs, so you need not worry if you're afraid of your bed looking like a dorm room bed (if that's still a concern, a bed skirt is a great way not only to hide the risers but also all of your clutter).
Hanging Baskets in and Beneath Shelves is a Storage Game-Changer

The area below your shelves likely is too small to fit in another shelving unit or piece of art – that's where these handy under shelf storage baskets come in. A two pack from Amazon costs just over $15. Once you bring it home, no worries about installation – simply slide them onto your shelves and feel like a champ for making the most of what was literally dead air.
Depending on the thickness of some of your cabinets, these could probably also fit underneath your upper cabinets as well.
Rearrange Rooms Easily with Rolling Utility Carts

Mobility and ease of access can be just as important as storage space itself – sometimes things don't need to be tucked away, just moved around. Enter the rolling utility cart. My roommate and I bought two when we realized one just wouldn't cut it – we use one as a bar cart (way cheaper than most bar carts, too) and the other for toiletries and soaps since our bathroom runs on the smaller side. They hold plenty of items, boast a nice wooden finish and are super easy to rearrange.
We bought ours for $40 at Bed Bath and Beyond – they cost a little more now, but BB&B is famous for its 20% offers (and includes online purchases), and you can also access new member prices to try to drive the price down even further.
Get Creative and Create Space with Your Clothes and Laundry Systems

Honestly, I do not have a dresser – there's just not quite enough space in my bedroom. However, I do use a hanging organizer, the SKUBB, which works just as well. It takes up very little room and costs a fraction of the cost of a dresser. Typically, I leave my pants, shorts and underwear/socks in this organizer and then hang the rest of my shirts. Also, check out the selection of StorageWorks organizers on Amazon for great design at a great price for Instagram-able styling.
As for laundry, if you hang-dry a lot of your items like I do, you need a rack or hanger of some kind. Since drying racks can take up walking space, a retractable clothesline can do the trick. Simply install it in an area with decent sun, hang up your items and go about your day. Not only will they be out of your way, you won't need to worry whether or not you forgot your items in the dryer. To really maximize your hanging space, get one of these octopus-like hangers, also from IKEA. Your socks will thank you later.
Get a Kindle: Ditch Books to Free Up Space and Shelves, and Support Libraries, Too

For the record, I am not advising you to go all Fahrenheit 451 on your copy of Pride and Prejudice. Nor do I want to shame anyone for owning physical books. All that said, books take up space, and if most of us are honest, how often do we go back to them?
That's where the Kindle, or a tablet of your choice, and your local library come in handy. The starting Kindle Paperwhite price is a bit expensive but worth it in the long run –and the latest model is waterproof. With a Kindle Fire or tablet, you get access to your local library's Hoopla service where you can check out dozens of books a week without ever leaving your home. Never worry about late fees or missing your holds – you can do it all from the warm comfort of your home. And by using Hoopla, you can support your library as well!
You can find a home for your books at a donation center, a free library in your neighborhood or even somewhere in storage if you really cannot part with them (no shame!). Once those shelves are cleared, you'll have more space for other items, ones you'll most likely use more in your day-to-day life than your Jane Austin collection.
Save space and money by setting a Deal Alert for storage solutions.
How to Save No Matter What You Buy or Where You Shop
Navigate great deals and multiple sales at once by setting Deal Alerts on Slickdeals for items you need and are already shopping for and by checking our coupon pages for current promo codes for your favorite stores.
You can also download the Slickdeals browser extension to help save you money when you shop online. It auto applies coupon codes before you check out and can also show you any active deals our community of over 12 million active deal hunters has found as you visit any of the hundreds of supported stores.
Download the Slickdeals Extension Now
Up Next:
Our editors strive to ensure that the information in this article is accurate as of the date published, but please keep in mind that offers can change. We encourage you to verify all terms and conditions of any product before you apply.