$100 for a Wooden Box on Amazon? Buyers Say It's Worth It
Could this plyo box be a valuable addition to your home gym?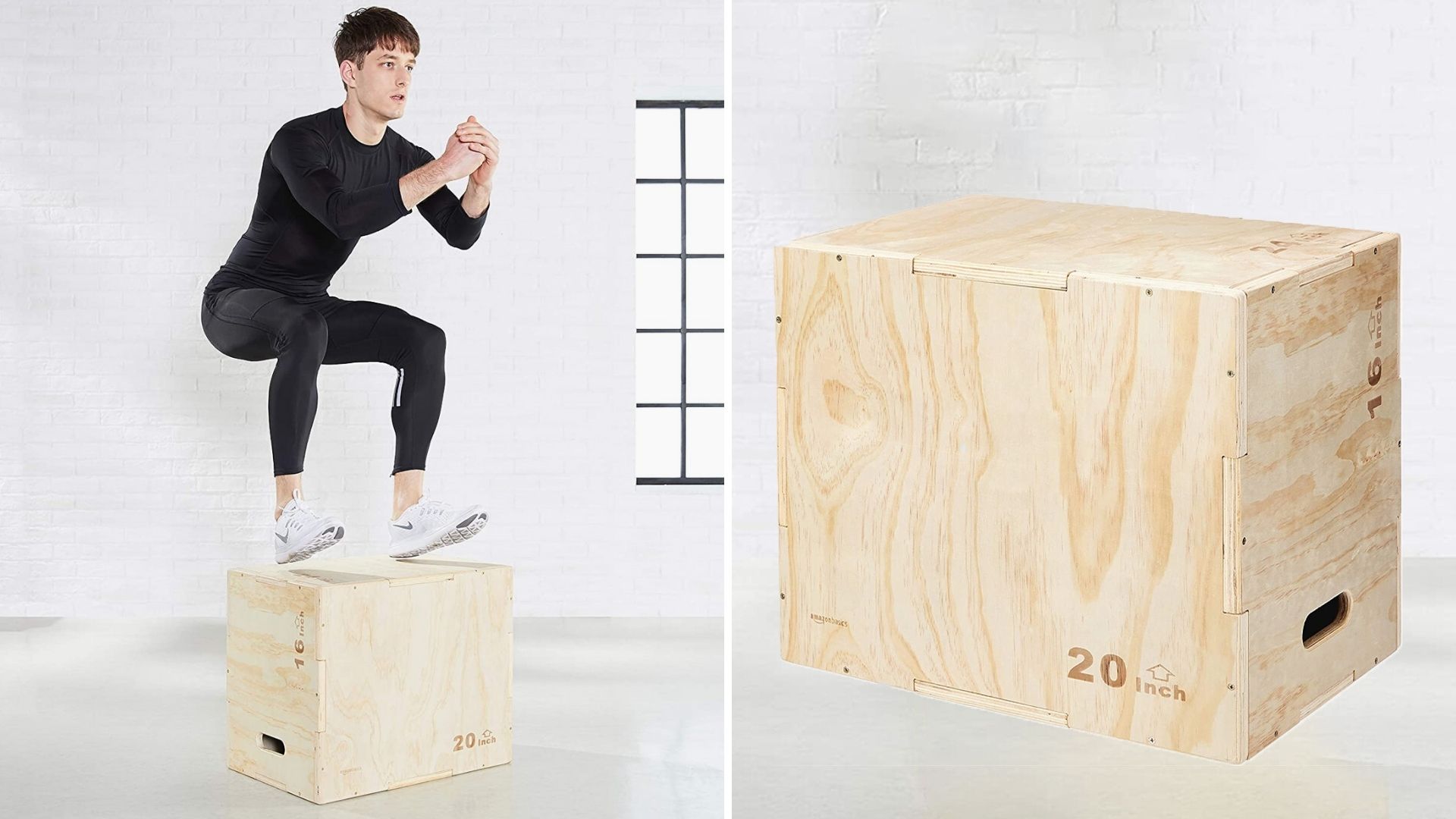 With the world soon reopening and many hoping to reemerge from their caverns of isolation sporting a jaw-dropping body transformation that's more Kim Kardashian than Freddy Krueger, it's no wonder home workout equipment is having a bit of a moment. After decades of gimmicky infomercials and Instagram oddities, we figured we'd seen 'em all and no product in this space could possibly stop us in our tracks. And then we came across a wooden box being sold by Amazon Basics for $90.99.
Plyometric Training Boxes: The Perfect Home Gym Essential or Too Pricey?
Once the initial shock of seeing what appeared to be six planks of wood retailing for nearly a C-note subsided and we got into the details, things made a bit more sense. For starters, this isn't some chintzy woodshop assignment. This plyometric training box is actually quite the feat of woodworking and joinery excellence. The durable rectangular box assembles easily, weighs only 36.3 pounds and is built to handle all the jumps, stomps and other abuse dished out during an intense workout. Just flip it to another side for a 16-inch, 20-inch or 24-inch platform.
Amazon Buyers Say It's 'Worth Every Penny'
Amazon buyers do endorse the product's quality and affordability. It's currently rocking a 4.7-star rating, and their testimonials and reviews throw around words like "solid," "sturdy" and "value" with frequency. Reviewer Jennifer mentioned that, while she was initially "skeptical about this product," she ultimately found it to be "worth every penny."
Yes, after further inspection, it seems this price isn't as wild as we initially thought and is very much in line with the going rate of similarly sized competitors' boxes.

Other Plyometric Box Options Starting at $45:
All that said, we understand that the mental hurdle of spending a Benjamin on some wood and screws is fundamentally hard for some to clear. No judgment from us. After all, you're on Slickdeals to save money. If you're comfortable going with a smaller-sized box or lesser-known seller, you can save big on these products. Better still, they're all on Amazon, so you won't even have to leave the site or worry about shipping.
Related: 7 Amazon Basics to Build a Home Gym for Under $100
JAXPETY 3 in 1 Wood Plyometric Box (Size: 16" x 14" x 12") – Reg. Price: $48.99
We're now at less than half the price of the original box and able to get the same workout, just on a much smaller setup.
Sandinrayli 3-in-1 Plyo Box, Wood Jump Box Step Up Exercise Platform – Price with Coupon: $65.09 | Reg. Price: $69.99
Scaling down the size of the box is another way to save a few bucks. This smaller model is only $65 and offers two-thirds of the functionality of the original.
POWERT Wood Plyo Box 3-in-1 Wooden Jump Box Gym Strength Training – Reg. Price: $69.99
Don't need all that additional gear? Here's the same-sized box as the original Amazon Basics one at a $30 discount.
Raise Your Game Plyometric Box and Workout Gear Set Combo – Reg. Price: $84.99
Why settle for just a $100 box when you can get a box, ankle weights, latex bands and a jump-rope for less.
Having trouble finding a good deal on the best gym equipment at the right price? Set a Deal Alert for the items on your list and we'll let you know when we find a good discount.
UP NEXT:
How to Save No Matter Where You Shop or What You Buy
Navigate multiple sales at once by setting Deal Alerts on Slickdeals for items you need and are already shopping for, and by checking our coupon pages for current promo codes for your favorite stores.
You can also download the Slickdeals app for iOS or for Andriod to your phone to save you money when you shop online. See all active deals our community of over 12 million active deal hunters have found and uploaded and easily search and browse items to make sure you're getting the lowest price on the internet. You can also set Deal Alerts using the app to get notified on your phone whenever the item you want is on sale at the price you want to pay.
Download the Slickdeals App Now
Our editors strive to ensure that the information in this article is accurate as of the date published, but please keep in mind that offers can change. We encourage you to verify all terms and conditions of any product before you apply.