Valve is Taking on the Nintendo Switch With its Newly Announced Steam Deck
Could this be the handheld PC that finally breaks through to the mainstream?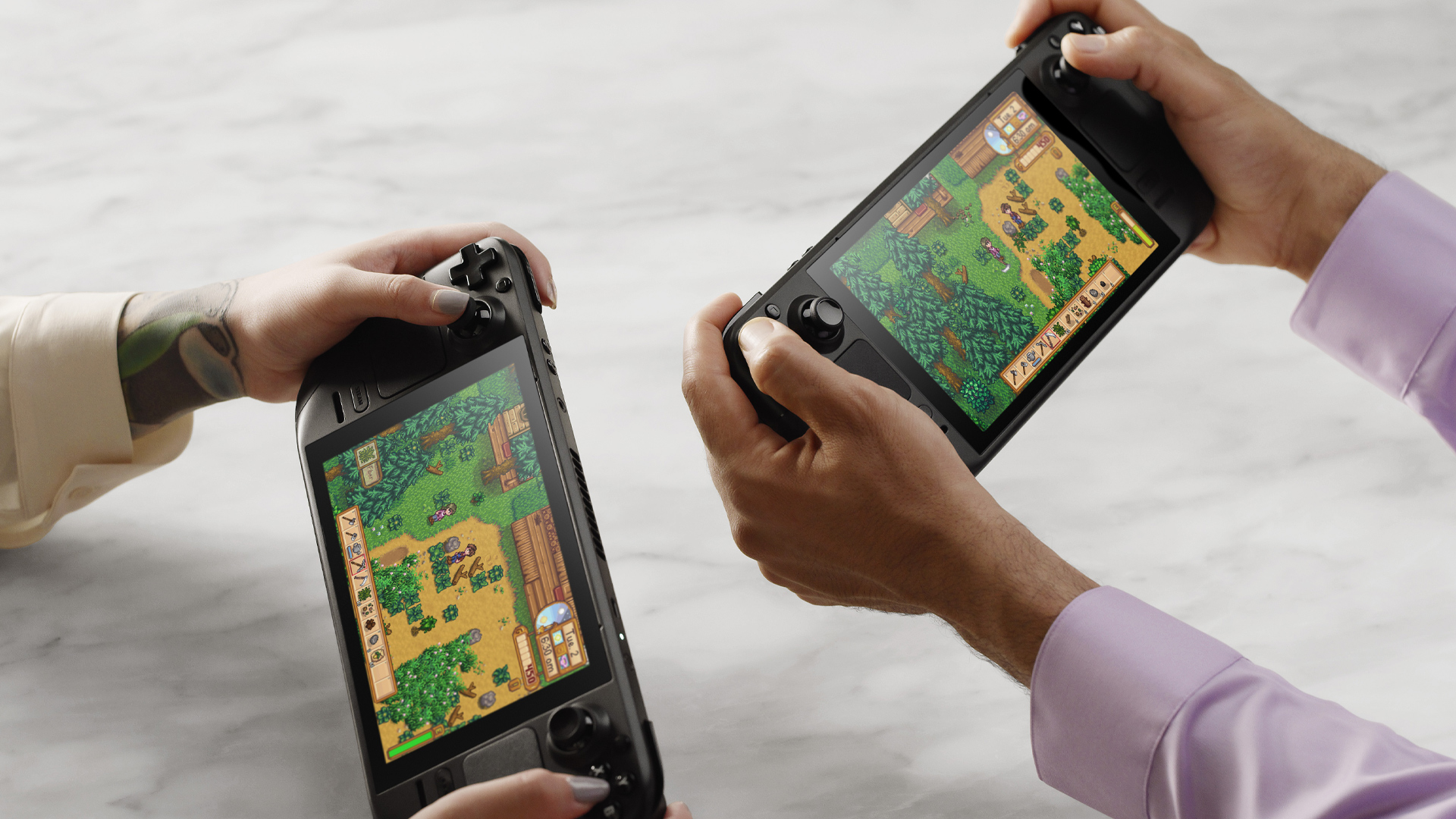 Hot on the heels of the recently announced Nintendo Switch OLED, Valve has announced its own entry into the mobile gaming marketplace – Steam Deck. Featuring dual analog sticks, two trackpads and enough buttons to make a pro controller jealous, the Steam Deck will arrive this December and provide you with an easy way to play modern PC games while away from your desk.
Unlike the ultra-expensive Valve Index, Steam Deck carries a much more reasonable price tag. Three models will be available at launch, starting at $399.00, each with more available storage than the last. Beyond that, all three share the same internal hardware and include a microSD slot for easy expansion.
As for how it'll stack up to the competition, Valve said Steam Deck can handle most modern games on medium-high settings while running at 720p. It's also running on a modified version of SteamOS that's been optimized for handheld use, although tech-savvy users can install Windows or another version of Linux if desired.
All told, Steam Deck sounds like an incredible value – and one that might give Switch OLED a run for its money later this year.
Is Steam Deck Worth $400?

Although we don't know the full details, everything released by Valve thus far is painting Steam Deck to be one of the most affordable – and powerful – handheld PCs on the market. Working with AMD to build a custom APU "optimized for handheld gaming" and boasting a 7-inch screen with 400 nits brightness, there's a lot of firepower packed into its reasonable price tag. Combined with the ever-growing Steam library and the ability to play third-party games on the handheld, there's little left to complain about.
If you grow tired of gaming on the 7-inch screen, you can always hook up Steam Deck to an external monitor. It's also compatible with the usual assortment of mice, keyboards and other third-party computer accessories. In other words, anything that connects to a normal PC should have no issues running on Steam Deck.
However, Valve's foray into portable gaming isn't without concerns. Some critics have already pointed out Steam Deck's clunky-looking design as a potential issue for the system. Unlike most controllers available for PS5, Xbox Series X and Switch, Steam Deck positions its face buttons directly adjacent to its analog sticks, with trackpads centered on either side of the gamepad. It's unclear how comfortable and functional this will be during gameplay, but early adopters should expect a lengthy adjustment period as they get used to the unique layout.
Awkward design aside, Steam Deck already looks like a perfect fit for anyone seeking an affordable alternative to gaming laptops or a replacement to Nintendo Switch. Expect to learn more about its performance and see a finalized design in the months leading up to its holiday launch.
Where to Pre-Order Steam Deck

For now, the only official place to pre-order Steam Deck is through Valve. Three models are currently available – but keep in mind that all three offer the same performance and come with expandable storage. However, games on the upgraded SSD on the 256GB and 512GB models might load a bit faster than those on the external microSD card and base 64GB model.
Steam Deck (64GB eMMC) – Regular Price: $399
The entry-level Steam Deck also includes a carrying case with your pre-order.
Steam Deck (256GB NVMe SSD) – Regular Price: $529
This model might be the best option of the three, as it doesn't raise your price tag too much, yet you'll still benefit from the speeds of the upgraded NVMe SSD. Pre-order the 256GB model and get the following for free:

Carrying case
Exclusive Steam Community profile bundle
Steam Deck (512GB NVMe SSD) – Regular Price: $649
Pre-order the 512GB model and get the following for free:

Premium anti-glare etched glass
Exclusive carrying case
Exclusive Steam Community profile bundle
Exclusive virtual keyboard theme
More to consider:
Our editors strive to ensure that the information in this article is accurate as of the date published, but please keep in mind that offers can change. We encourage you to verify all terms and conditions of any product before you apply.