Wake Up (and Pay Up) to Smell the Coffee: New Changes to Starbucks Rewards
Hold on to your macchiatos. The coffee giant's revamped rewards system is leaving a bitter taste in some customers' mouths.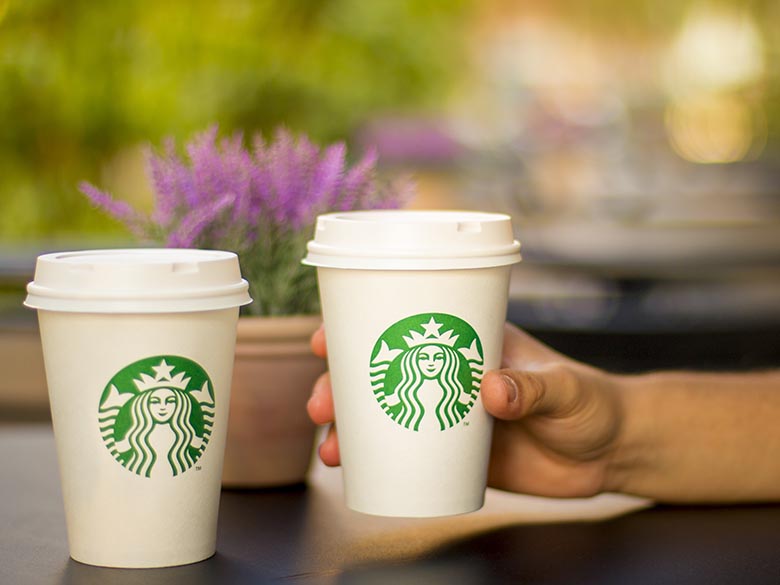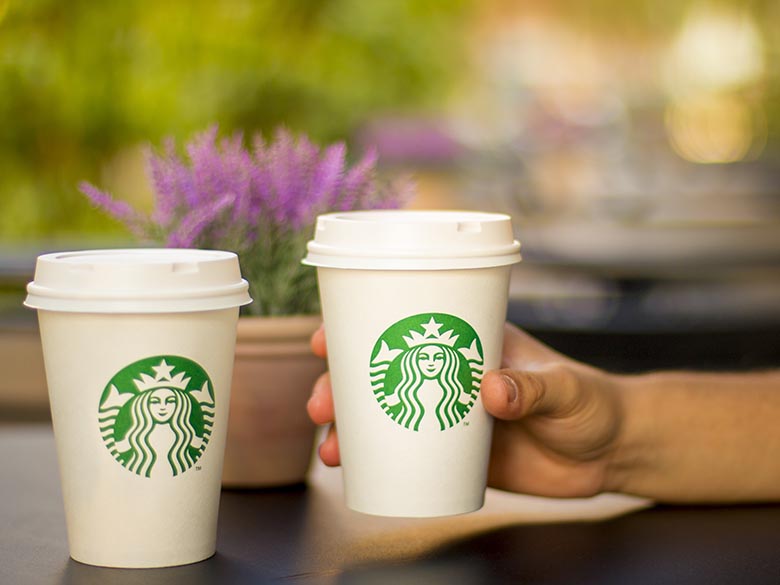 Your daily Starbucks pick-me-up may soon become a major let-down. If you're a Starbucks Rewards member, you're likely already familiar with its overall structure and customer perks, but most of that is about to change. In April, the coffee oasis will officially adopt a new rewards strategy that could burn a large portion of its consumers.
The New Rewards System
The company's current rewards program issues customers one star for every visit. Upon earning 30 stars over the course of a year, customers are promoted to "Gold" status, where they regularly receive freebies for every 12 stars they earn. The new system, however, will dole out stars based on total spending rather than the frequency of visits. Customers will get two stars for each dollar spent, earning Gold status upon receiving 300 stars (or spending roughly $150). Then, they'll need to reach 125 stars (or spend approximately $63) to get that free food or drink incentive. These monetary figures are, admittedly, estimates, because Starbucks will convert change into partial star earnings and even offer customers new Double-Star Days (which will mean double the rewards earned… and, likely, double the lines.)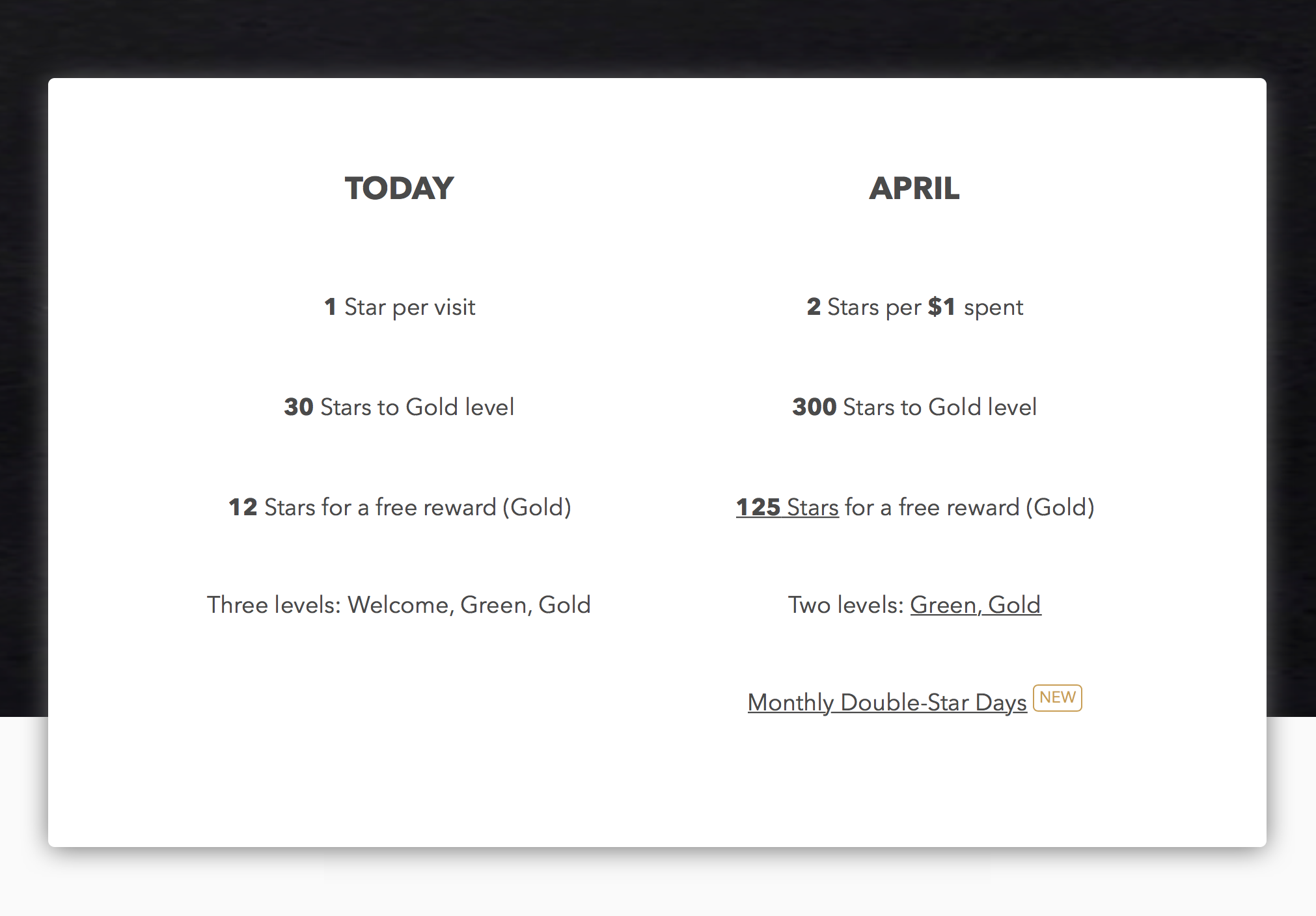 In addition, Starbucks is simplifying the structure of its rewards program levels. Currently, members fall into one of three categories: Welcome, Green and Gold. Starting in April, the company will eliminate its "Welcome" rewards tier and opt for only two rewards levels instead. That means that all new members will automatically be enrolled in the Green rewards level and subsequently receive all of its perks, as outlined below: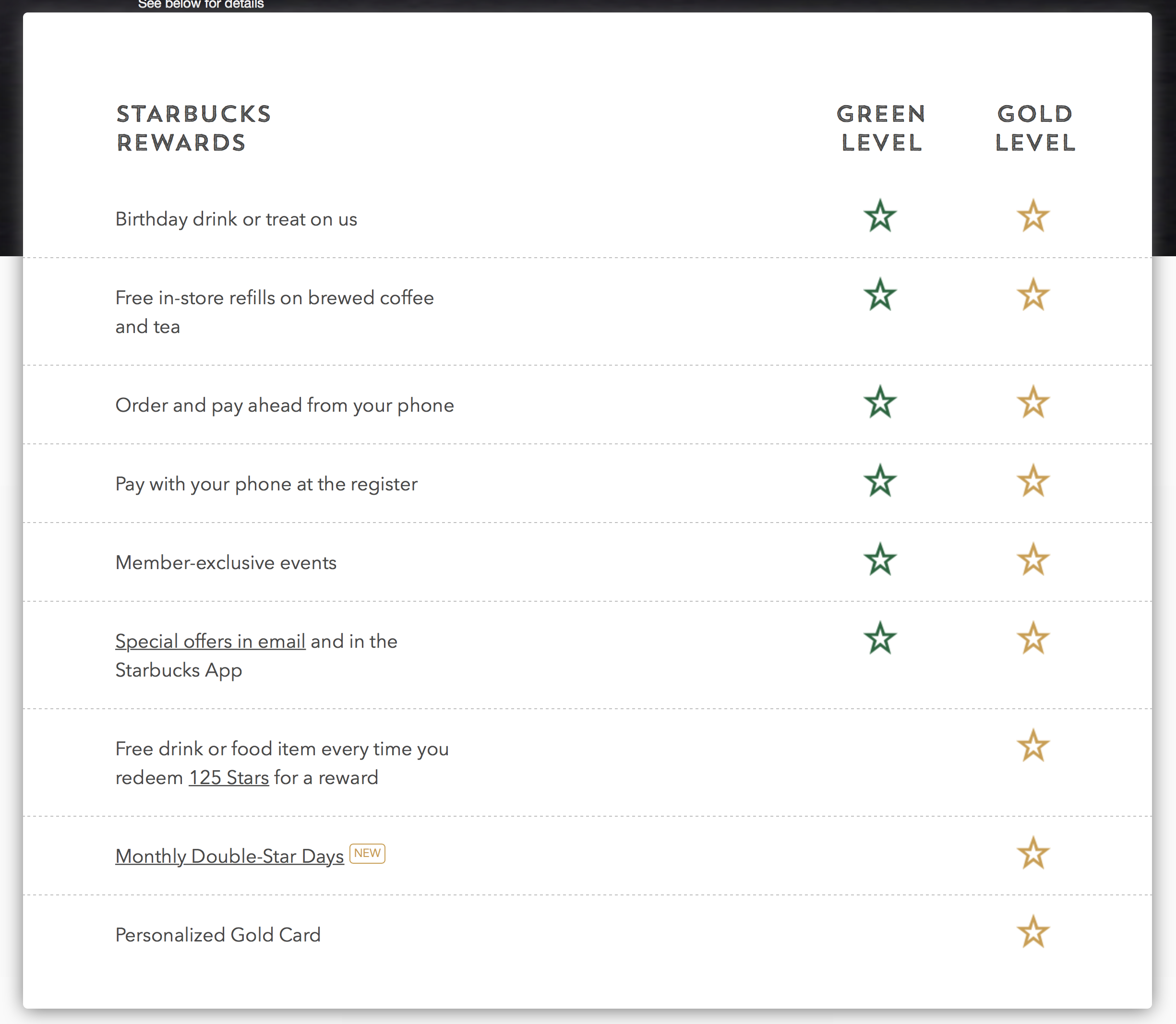 How these changes affect you largely depends on how much you typically spend per visit. If it's under $5, prepare to earn star rewards at a slower rate. Personally, I tend to experiment with the store's featured specialty drinks, but even those just run you close to $4.25 for a Tall/small. (This may be the only occasion that price is preceded with "just," by the way.) If you're like me and usually spend less per visit, you're probably asking yourself whether you really need to start upgrading your orders and increasing what you spend at Starbucks just to score an occasional freebie?
Of course, if you're the type who always needs a pastry or muffin with your coffee, or who frequently gets a round of lattes for your co-workers, you may find this change actually works in your favor. Anyone who buys multiple items on each trip will likely find they are earning rewards even faster than they had in the past.
As for what will happen to your current rewards stars when the changes take effect in April, Starbucks notes that stars in your account at the time of the transition will be moved over to the new rewards program and multiplied by 11. So, if you have 10 Stars right before the change, you will have 110 Stars when the new program launches. Additionally, any rewards you've already earned can still be redeemed until they reach their expiration date.
Other Rewards Programs
If you consider these changes "grounds" for jumping ship, many competitors offer their own rewards programs that may save you money in the long run. For instance, The Coffee Bean & Tea Leaf gives its members one rewards point per dollar spent and issues a free beverage or bakery item for every 40 points earned. Members also receive a free birthday beverage (just like at Starbucks) and a free welcome beverage upon enrolling. Dunkin' Donuts' DD Perks program dishes out five rewards points for every dollar spent, and awards customers with a free beverage for every 200 points earned (along with a free welcome drink and birthday beverage). In other words, both of these programs give you a free beverage for every $40 you spend, which is significantly less than what you'll spend getting your free Starbucks rewards.
If you can't imagine a life without Starbucks coffee, you may need to start adding shots of espresso to your drinks or switching from Tall to Venti in order to reach Gold status and its perks faster. At the end of the day (or perhaps, more fittingly, the beginning) the revised Starbucks Rewards program can prove good or bad, depending on your individual spending habits.
What are your thoughts, Slickdealers? Does it leave you unimpressed and potentially searching elsewhere for your caffeine fix, or will you keep going to Starbucks? Sound off in the comments!
Images courtesy of Starbucks.
---
Any product or service prices/offers that appear in this article are accurate at time of publish, and are subject to change without notice. Please verify the actual selling price and offer details on the merchant's site before making a purchase.