Walmart Wants to Reinvent Black Friday with THREE November Sale Events
You can get a Roku TV for $88 and other great deals on electronics, home goods and more.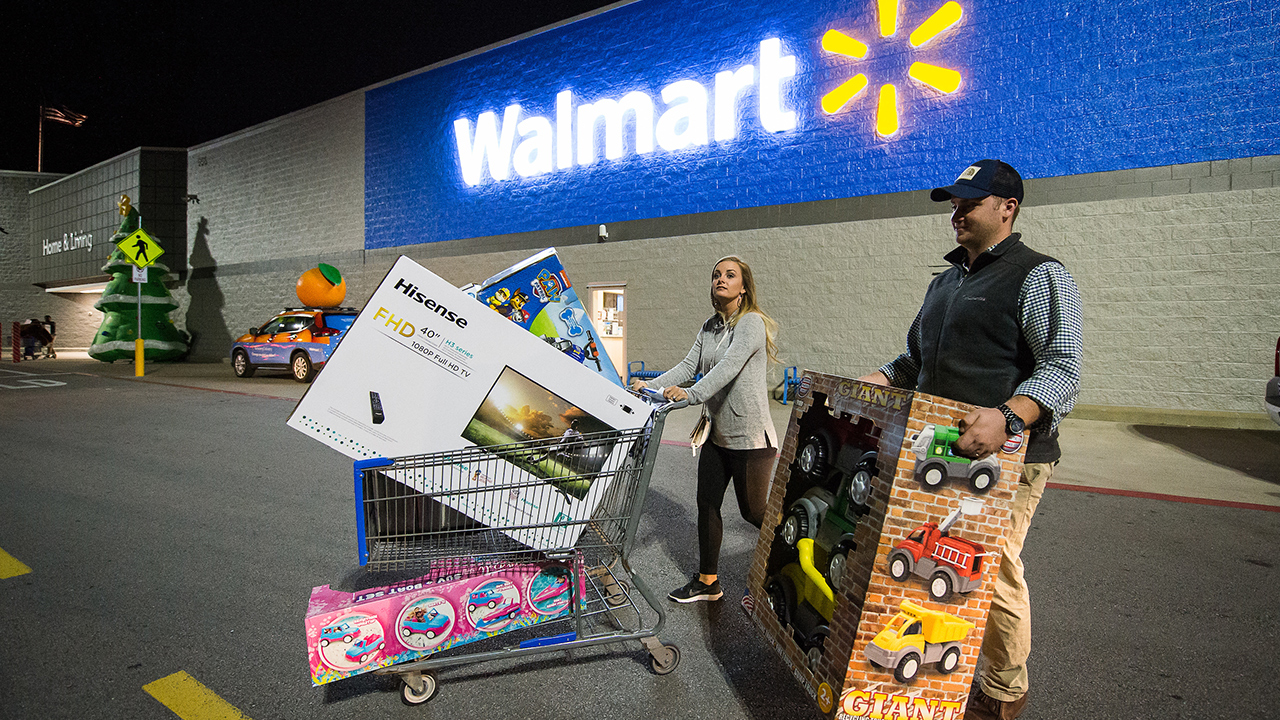 To reduce overcrowding in-stores, Walmart will spread out its Black Friday sales this year into three, separate November events.
The company's "Black Friday Deals for Days" begins online at 7 p.m. EST on Wednesday, November 4, with new deals introduced at 12 a.m. EST on Saturday, November 7. To encourage online shopping, the Black Friday deals won't be available in stores until 5 a.m. on Saturday, November 7.
Walmart will be back on Wednesday, November 11 with new online deals, but the sale won't begin in stores again until Saturday, November 14, at 5 a.m.
The final Black Friday sale begins online Wednesday, November 25, with deals available in stores at 5 a.m. on Friday, November 27, the traditional "Black Friday."
Walmart's Black Friday Itinerary
Event 1 (Nov. 4 online & Nov. 7 in-store)
Sales start online at 7 p.m. EST on November 4 and become available in-stores at 5 a.m. on November 7.
Event 2 (Nov. 11 online & Nov. 14 in-store)
Sales start online at 7 p.m. Eastern time on November 11 and become available in-stores at 5 a.m. local time on November 14. This second event is a techie's dream with deals on TVs, computers and tablets. Walmart also promises deals on music, movies, apparel and more.
Looking to upgrade your phone? Walmart's biggest wireless phone event ever will take place on November 14 in-stores and online, featuring great deals on Samsung phones and iPhones.
Event 3 (Nov. 25 online & Nov. 27 in-store)
Sales starts online at 7 p.m. EST on November 25 and become available in-stores at 5 a.m. November 27. However, Walmart has (so far) released few details about this final event. We know you'll be able to grab your favorite seasonal décor, toys and even more electronics, and we'll keep you up to date on updates as we receive them.
What About Black Friday Crowds?
Spreading out sales over multiple days will likely help reduce customer traffic in stores, but Walmart is taking extra precautions to ensure customer safety. At 5 a.m. on sale days, customers will line up in a single, straight line as they wait to enter the store. Disinfected shopping carts will be provided, and Health Ambassadors will be posted to ensure every customer wears a mask.
Walmart will limit the number of customers allowed in-store at a time, and customers will stay on the right side of aisles while they shop.
Intimidated by the crowds? Walmart claims its best deals will be online, so you can always stay home and shop. Also, Walmart is offering Rollbacks on tons of items all season long, so Black Friday is not your only chance to save.
"I'm really excited that this year, when it matters most to our customers, we're offering them more convenient and safer ways to shop Black Friday at Walmart, whether that's from the shelf in one of our stores, ordering online and picking it up curbside or having it delivered right to their front door," said Scott McCall, executive vice president and chief merchandising officer for Walmart U.S.
Is Black Friday as We Know It Over?
Spreading out a Black Friday sale over an entire month might seem like a reinvention of this popular shopping event, but the truth is retailers have been doing similar things for years. Some call them "Pre-Black Friday" sales, or "early bird" pricing, which allow them to get a head start on the competition by offering big discounts in early or mid November.
Amazon always begin its pre-Black Friday sale on November 1, REI has its Get Up Get Out sale 10 days prior to Thanksgiving and Sam's Club throws a huge one-day sale before we even have time to thaw our turkeys.
This concept isn't new, but is it a good thing if it becomes more widely adopted? If you prefer to shop in store vs. online, spreading it out could potentially reduce the health risk this year (assuming the lines will be drastically shorter and multiple other safety measures are in place). As far as getting great deals, however, this stretched out holiday shopping window can make it more of a challenge for shoppers to keep track of sales and price history.
There will not be any Black Friday ad scans coming out this year, for example, so price comparison will be more difficult. And how will you know if the deal you see in mid November will be lower on Black Friday? Retailers will have more freedom to be fluid with what they put on sale and by how much, and that might not always be great for the consumer. Once an ad scan is out, there's no turning back!
This is where Slickdeals can be a terrific resource. You can use our internal search tool and look up the deal history for thousands of items to ensure that deals throughout November are competitive. We will also keep you updated on all Black Friday news here in our news section.
Our editors strive to ensure that the information in this article is accurate as of the date published, but please keep in mind that offers can change. We encourage you to verify all terms and conditions of any product before you apply.