Save Money at the Dentist with a Waterpik Water Flosser
Floss may be cheaper, but an investment in a good Waterpik will pay off in the long run.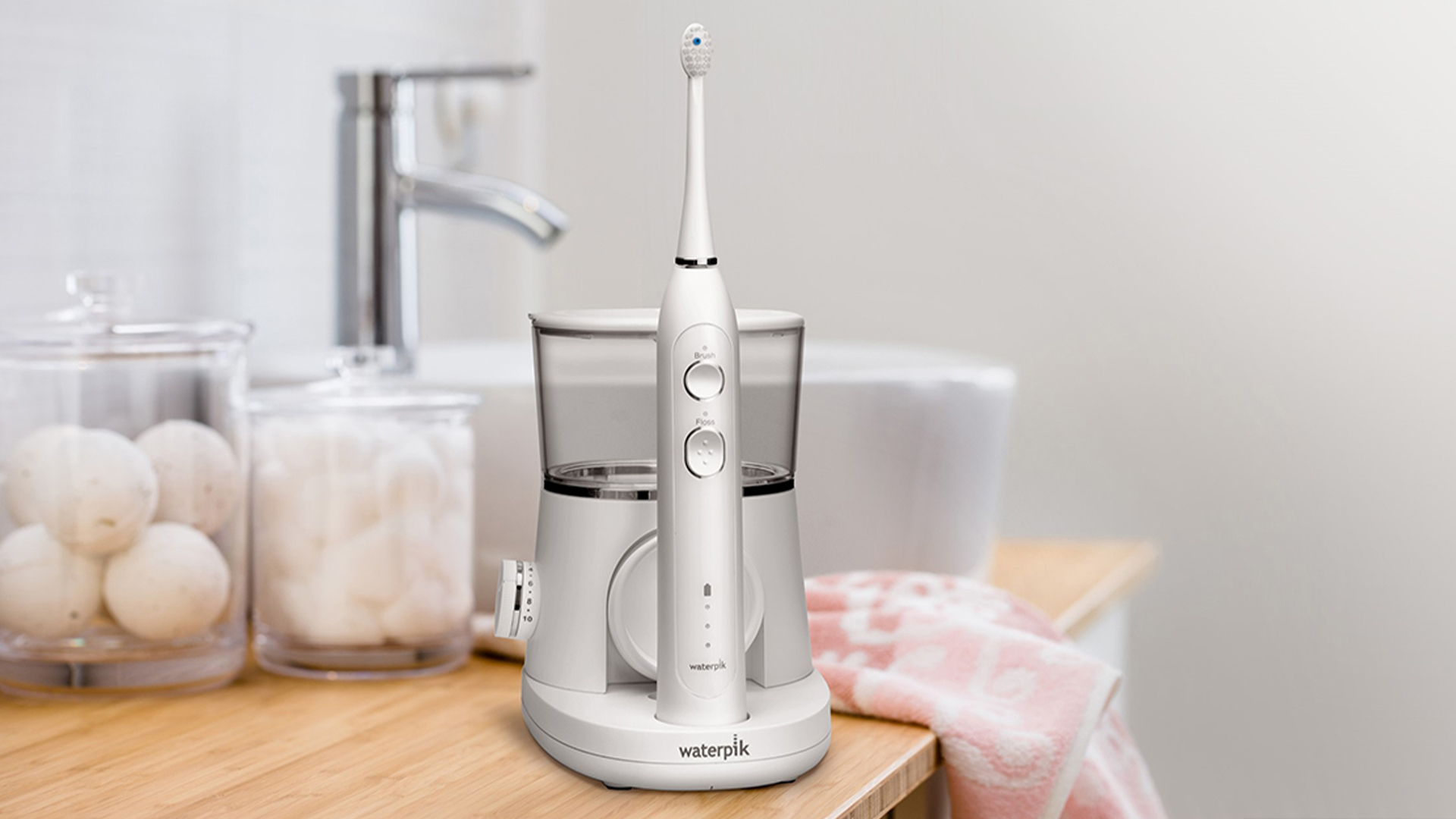 Every single time I headed to the dentist the past few years, my oral hygienist, without fail, told me I needed to get a Waterpik. Only flossing regularly, she's warned, was not enough.
While flossing is relatively easy and helps cleanse each tooth of food particles, bacteria and plaque, it turns out floss' main drawback is it can't access hard-to-reach areas around the gums. A Waterpik has the added benefit of reducing bleeding gums flossing often causes.
When used daily, a Waterpik is the perfect floss supplement since it's gentle and more than effective in cleansing periodontal pockets and in-between tightly spaced teeth. Plus, using a Waterpik gives your mouth a really deep-clean, fresh feeling floss alone just doesn't provide.
Check Waterpik Deals on Amazon
What Is a Waterpik and How Does It Work?

A Waterpik, also known as an oral irrigator, dental water jet or water flosser, is essentially a toothbrush-shaped wand that emits a pressurized stream of pulsating water that can help remove food particles and bacteria trapped between teeth and around gums. It can also be used before and after brushing. If, for example, you like to eat a lot of candy, quickly rinsing your mouth with a Waterpik is a fast and efficient way to get rid of sugar on teeth that could eventually cause decay and cavities.
Who Should Use a Waterpik
Everyone from young children to older adults can benefit from getting a Waterpik to supplement a daily dental hygiene routine. Those who have crowns, dental implants, braces or non-removable bridgework or people who have arthritis or trouble with traditional flossing will also benefit from using one.
How to Best Use a Waterpik
Flossing is easy, but using a Waterpik is even easier. Just place the Waterpik in your mouth before turning it on. Then, slowly run the flosser tip along the gum line and in-between teeth. Work your way from the back of the mouth forward, getting both inside and outside the teeth, both top and bottom.
Check Waterpik Deals on Amazon
Benefits of Buying a Quality Waterpik

While the prices of a Waterpik water flosser can run the gamut, splurging on one is worth it since in the long run they can help you save both time and money at the dentist. Floss may be cheaper, but it doesn't do any good if you're not using it regularly because it's a hassle. On the other hand, a Waterpik, in conjunction with floss, can help cut down on pricy dental procedures while protecting and maintaining any existing work you already have.
Check All Waterpik Deals on Amazon
Ahead are five Waterpik and water flossing options to consider incorporating into your daily dental routine:
Waterpik Cordless Plus Portable Water Flosser Oral Irrigator–Sale Price: $57.98 | Reg. Price: $69.99
Zerhunt Cordless Water Flosser Teeth Cleaner–Sale Price when $5 Amazon Coupon applied: $33.95 | Reg. Price: $38.95
Waterpik Sonic Fusion Flossing Electric Toothbrush-Reg. Price: $189.99
Waterpik Complete Care 5.0 Sonic Electric Toothbrush and Water Flosser-Reg. Price: $99.99
Waterpik Ultra Countertop Water Flosser Oral Irrigator-Reg. Price: $64.97
Save even more by setting a Deal Alert. We'll notify you when your Waterpik of choice goes on sale.
Our editors strive to ensure that the information in this article is accurate as of the date published, but please keep in mind that offers can change. We encourage you to verify all terms and conditions of any product before you apply.