Double the Size of Any Bathroom With Affordable Storage and Cabinet Deals
Keep clutter in check and hide everything away for a calmer, cleaner bathroom.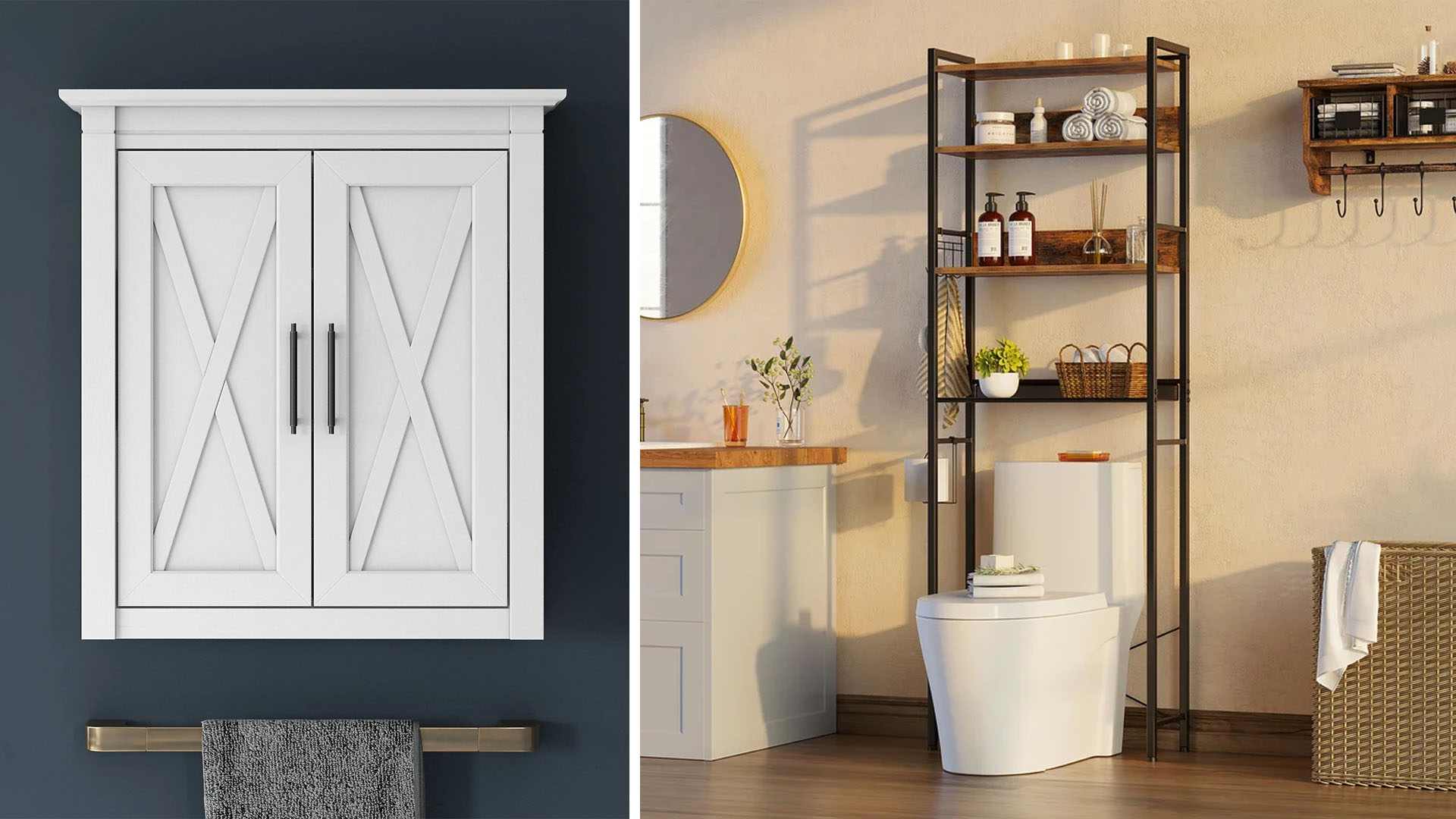 Finding creative ways to store bulky towels, vitamins, cosmetics, and cleaning supplies (and maybe toys and books as well) in the bathroom is hard for everyone no matter the size of their space. Unlike kitchens with their plethora of cabinets, most bathrooms could always benefit from additional places to stash things where they can't be seen.
See All Bathroom Storage Ideas
With tons of storage options at great prices available at Wayfair, you can get both function and design to really take advantage of and upgrade any bathroom. Many of these affordable styles offer over-the-toilet, free-standing, or wall-mounted designs so that you can tailor your space exactly to your liking, and add extra storage to any bathroom. Plus, with Wayfair's free delivery and no-questions-asked returns, really, what do you have to lose —except clutter?
Add Extra Shelving for Just $25

Extra shelving can come in handy no matter what kind of bathroom layout you are dealing with. Open shelves are an especially effective way to both store bathroom supplies and display decorative accents while maintaining an organized feel in the space. These are also the perfect way to roll up and display your towels or extra toiletries when you have guests so that they know exactly where to find anything that they may need.
Over-the-Toilet Storage Under $125

While all of these options are cost-effective, they provide you with the option of choosing from a few different design aesthetics. If you would like to display your towels and some of your toiletries, opt for an open shelf option. To hide clutter, search for a shelf that has doors. Also, make sure you consider the space around your toilet and if you have room to have a shelf that touches the floor or if you need to opt for something that is wall-mounted.
Add an Extra Cabinet for Way Less Than a Bath Renovation

Finally, when a medicine cabinet just isn't enough, it is probably time to look into an extra storage solution. There are even options that provide spaces for decorative accents in between doors or at the top. This way you have the privacy of storage and the option to toss in a little decorative flair. Whether you need something that would fit well under your towel rack, or even something that you can mount on the wall, there are plenty of options on Wayfair that will make sure your bathroom is perfectly stocked and organized.
Read Next:
Put Everyday Spending on a New Chase Sapphire Preferred Card to See Huge Rewards Fast
Mini Greenhouses for Under $100 to Start Your Garden Project
Missed this Deal? Let Our 12 Million Deal Hunters Find You the Lowest Prices
Slickdeals has the largest deal-sharing community in the world, so you never have to pay full price. Founded 20 years ago as a place for people to share and discuss deals online, the website has grown to include more than 12 million users. And the Slickdeals app allows you to search and find deals on the go.
Download the Free Slickdeals App

How Slickdeals Works:
Slickdeals members (over 12 million strong) find, post and share deals, sales, coupons and promo codes
Every deal gets reviewed by the community and goes through a voting system
Good deals get moved up to Popular Deals (Pro Tip: This is where you can find the hidden gems)
Then, the best of these Popular Deals are screened by our Deal Editors to be considered for the Slickdeals Frontpage
Only the very best of the top deals are promoted to the Frontpage, so check it daily or as often as you can online or on the app
It's Free To Set a Deal Alert For Anything You Want to Buy
Looking for something in particular? Set a Deal Alert and we'll notify you as it goes live. Sign up for free with just an email and start seeing deals right away. Then, let us know what you want to buy, and Slickdeals will send matching deals to your email or as a notification on your smartphone (or both, if you choose) as soon as that exact item is on sale.
Slick Tip: To receive alerts only for the very best sales and the absolute largest discounts, select "Popular" or "Frontpage" in your Deal Rating filter.
Set a Deal Alert for WAYFAIR Deals and Sales
More great deals from Slickdeals:
Our editors strive to ensure that the information in this article is accurate as of the date published, but please keep in mind that offers can change. We encourage you to verify all terms and conditions of any product before you apply.