What to Expect From Green Monday 2016
The deals may rival Black Friday and Cyber Monday.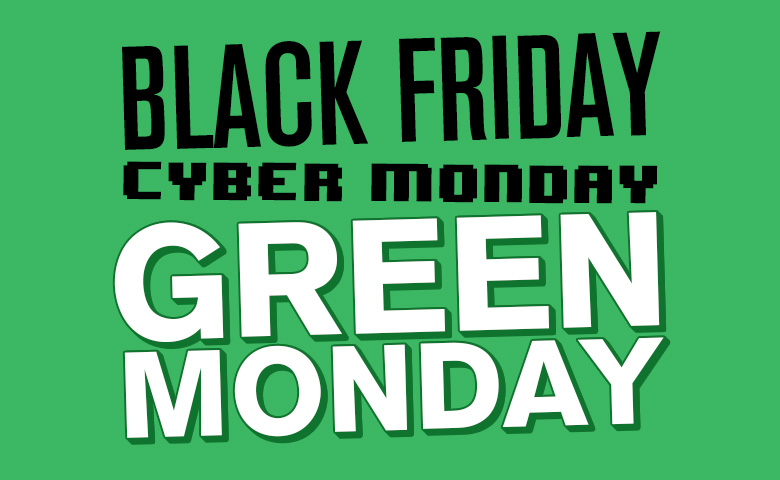 If you missed out on Black Friday and Cyber Monday deals, there's still time to snag some pretty steep end-of-year savings. Green Monday (a.k.a. the second Monday in December) has gained serious traction in recent years, setting itself apart as a bonafide shopping event that's not far behind its predecessors in terms of sales.
Green Monday is basically the online solution for last-minute holiday shoppers, more and more of whom are taking to the Internet to get the job done. The event falls on Dec. 12 this year, just 13 days before Christmas. So how does it measure up against the season's other hyped-up retail events?
"A lot of Black Friday deals end up reoccurring on Cyber Monday and again on Green Monday," says deal expert Matt Granite. "Sometimes a single Black Friday deal is replicated, sometimes even 5 to 10% less, because stores are so desperate to clear the inventory to make way for other things."
Where to Find the Best Green Monday Deals of 2016
While specific deals are still under the radar for the most part, there are a few stores blasting out teasers and promotions. Here are a few of the top retailers touting Green Monday deals and what you can expect.
Macy's
If you shopped at Macy's last Green Monday, you might be expecting more bargains this year. In 2015, the department store promoted 20% off a good chunk of its merchandise, throwing in free shipping for people who spent $25 or more during the shopping event. This year's Green Monday deals will cover apparel, accessories, jewelry, beauty, handbags and products for the home. Time will tell how steep Macy's will go this year, but they're definitely pushing it hard.
Walmart
The superstore made waves last year when their Green Monday deals surpassed those on Black Friday and Cyber Monday. They lowered the PlayStation 4 "Star Wars: Battlefront" bundle down to $299; it was $349 on Black Friday, according to Forbes. They also slashed prices on the iPad Mini 2, a number of HDTVs, select toys and more. Walmart has yet to release its 2016 Green Monday deals, but we're definitely curious to see what's on the table.
Best Buy
TVs were front and center at Best Buy on Black Friday this year. It's also worth mentioning that they arguably had the best TV deals around. Will their Green Monday selection be up to par? We'll have to wait and see, but right now they're teasing shoppers with 4K Ultra HD TVs, laptops, smartwatches, fitness trackers and other techy toys. Last year, they knocked $100 to $125 off select iPads, according to Time.com. If history repeats itself, Best Buy might be worth your attention, especially since the Apple store isn't known for slashing prices during the holidays.
Amazon
Green Monday falls on day nine of Amazon's 12 Days of Deals, which is all about electronics and Amazon devices. So if you've had your eye on an Echo, Dot or Tap, Green Monday might be the time to pull the trigger. The Echo is currently $179, but the price dipped down to $139 on both Black Friday and Cyber Monday. (Both days were pretty much identical in terms of deals.) Amazon's Cyber Monday also boasted up to 40% off Kindle Unlimited Memberships, as well as Plantronics BackBeat PRO Wireless Noise Canceling Headphones with Mic for $110.
Target
Last year, Target offered some of its best Green Monday deals on apparel, appliances and video game consoles. They upped their 2016 Black Friday deals by throwing gift cards into the mix, which definitely pays off if you're regular Target shopper — that's on top of the 5% off you get for using a REDcard. If they do the same on Green Monday, it'll make for some competitive deals.
Sears, hhgregg, and Kohl's are also expected to get in on the Green Monday action this year. Translation: It's time to put the finishing touches on your shopping list!
---
Any product or service prices/offers that appear in this article are accurate at time of publish, and are subject to change without notice. Please verify the actual selling price and offer details on the merchant's site before making a purchase.