Move Over Mattresses and Suitcases, Pet Gear Just Got a Cool Makeover
Your dog deserves the best.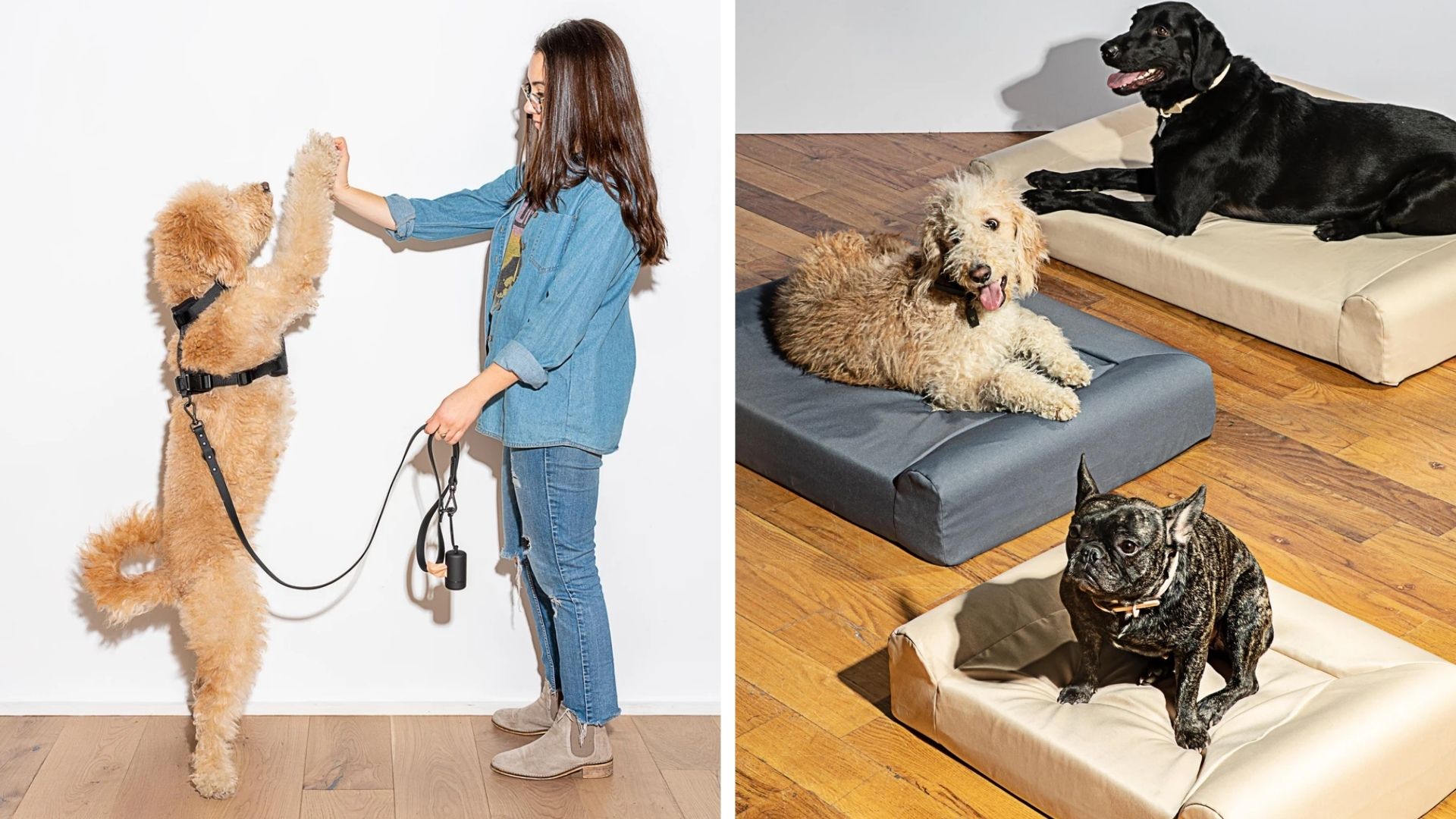 It's no secret that buying stuff online is the right move nowadays. Beyond convenience, the selection is stronger than ever, and one brand successfully interrupting the pet accessory market is Wild One.
There's no question that all the essential gear you have for your dog should be functional, but why can't it also be stylish, uniform and affordable? Wild One meets all those requirements with a side of organic treats, too. It's every dog owner's dream as it's a one-stop-shop for all your pup's needs.
When Was The Last time You Upgraded Your Pets Gear?
No, toys don't count. It's likely you're overdue for a new, more durable harness, dog bed and everything in between. Don't worry; as mentioned, it won't break the bank either. The appeal of these new trendy petcare line is that the price items this good.
Wild One's Pet Carrier is Half the Price of Away's Popular Carriers
Wild One Travel Carrier

Reg Price: $125
Even though traveling has been put on pause for many dog lovers, it won't stay this way forever. Once you and your furry friend get back out there, don't go back to the way you used to do things. Level up with Wild One's travel carrier for only $125, and considering the oh-so-popular Away carrier is $225, this is an absolute steal.
Wild One's carrier has breathable mesh walls and a shoulder strap that doubles as a leash. Additionally, it folds out into a cozy bed, and there's a side strap that fits perfectly over your carry-on suitcase's handles. But don't just take our word for it: "So stylish and good quality," verified buyer Viivi M. said in a review. "Nothing like the other carriers on the market. My yorkie puppy loves it and he will fit in it as an adult as well! Can't wait to fly overseas with it!"
Related: Treat Your Pets to Quality Affordable Healthcare at Walmart PetRx
Slick Tip: Know of a dog parent struggling to find an on-trend way to go out and about, refer Wild One to them and they'll get $20 off their first order of $75 or more. In return, you'll also receive a $20 credit. You'll also get a free tennis ball with any purchase, and we all know Fido can never have enough tennis balls. And if you can't think of anyone to refer, no worries. Instead, sign up with your email address to get 15% off your first order.
Save on Smart-Looking Matching Accessory Bundles in Cool Shades
The Collar Walk & Play Kit

Sale Price: $122 | Reg. Price: $147
Are you all over the place with your pet gear? Does nothing ever match? You're definitely not the only one. This isn't to say color coordination is key, but some high-quality uniformity wouldn't hurt. Wild One's Collar Walk & Play Kit is the ultimate purchase and has everything you need including a collar, dirt-resistant leash, an attachable poop bag carrier and a variety of chew toys all in the same color. You have your choice of navy, blush, tan or coral red. Bonus: Bundling up on Wild One accessories always saves you $20. The more you buy, the more you save.
Harness Walk Kit

Sale Price: $98 | Reg. Price: $118
Wild One tries to make pet gear shopping as easy as possible, which makes the site extra ideal for brand-new dog owners. The popular Harness Walk Kit — which comes with a lightweight harness, a matching waterproof leash and a matching poop bag carrier — is available in a variety of colors and is loved by many. The proof is in the hundreds of raving reviews online. "The harness is excellent quality and the poo bags are also sturdy and a fun color," verified reviewer Sandhya E. said.
Home Kit

Sale Price: $125 | Reg. Price: $145
To ensure your dog is also cozy at home, opt for the useful Home Kit. It's a classic and comfortable set that comes in neutral colors of black, charcoal and tan. Each purchase is complete with a memory foam bed and two chic stainless steel bowls that'll complement any household aesthetic.
Slick Tip: Remember, opting for any bundle automatically saves you $20, but if you want an additional 15% off, sign up for Wild One's e-mail list to receive a discount on your first order.
Don't Stop at Gear: Level Up with Treats and Supplements
Organic Baked Treats

Reg. Price: $8
Wild One's baked treats are all certified organic and come in three delicious flavors: PB&J, Fruit Salad and Veggie Burger. They're also all plant-based and made with only nine ingredients each, and every eight-ounce bag contains about 60 dog treats. Why not give your pup something better and healthier to chew on?
Slick Tip: If your dog wants to try all three flavors but you're hesitant to spend $24 on a treat your dog might not like, go for the sampler. You'll get a pack of 2.5-ounce bags of each flavor with about 22 treats apiece. Or if your dog has already tried and tested, opt for the Organic Baked Treat Kit currently on sale for $23 (Reg. Price: $24).
Calm Supplements

Reg. Price: $28
Dog wellness is a major part of Wild One's mission, which is why the brand sells a variety of supplements for your pup. These Calm Supplements come with a 30-day supply and are approved by a Board Certified Veterinarian. They're supposed to be a stress reliever and reduce hyperactivity in dogs. On top of that, there are no artificial colors, flavors or fillers making them a great choice for daily treats.
Slick Tip: Subscribe to a monthly supply of the supplements to keep your pet happy and save 5% on each order (Subscribe & Save Price: $26.60 | Reg. Price: $28).
Read Next:
Put Your Face or Favorite Pic on OREO Cookies With OREOiD
Battle of the Brands: Alo Yoga vs. Lululemon
How to Save No Matter Where You Shop or What You Buy
Navigate multiple sales at once by setting Deal Alerts on Slickdeals for items you need and are already shopping for, and by checking our coupon pages for current promo codes for your favorite stores.
You can also download the Slickdeals app for iOS or for Andriod to your phone to save you money when you shop online. See all active deals our community of over 12 million active deal hunters have found and uploaded and easily search and browse items to make sure you're getting the lowest price on the internet. You can also set Deal Alerts using the app to get notified on your phone whenever the item you want is on sale at the price you want to pay.
Download the Slickdeals App Now
Our editors strive to ensure that the information in this article is accurate as of the date published, but please keep in mind that offers can change. We encourage you to verify all terms and conditions of any product before you apply.