How Xbox Fans Stopped Microsoft from Permanently Increasing Xbox Live Gold's Price
It's wild to see a press release that begins, "We messed up today..."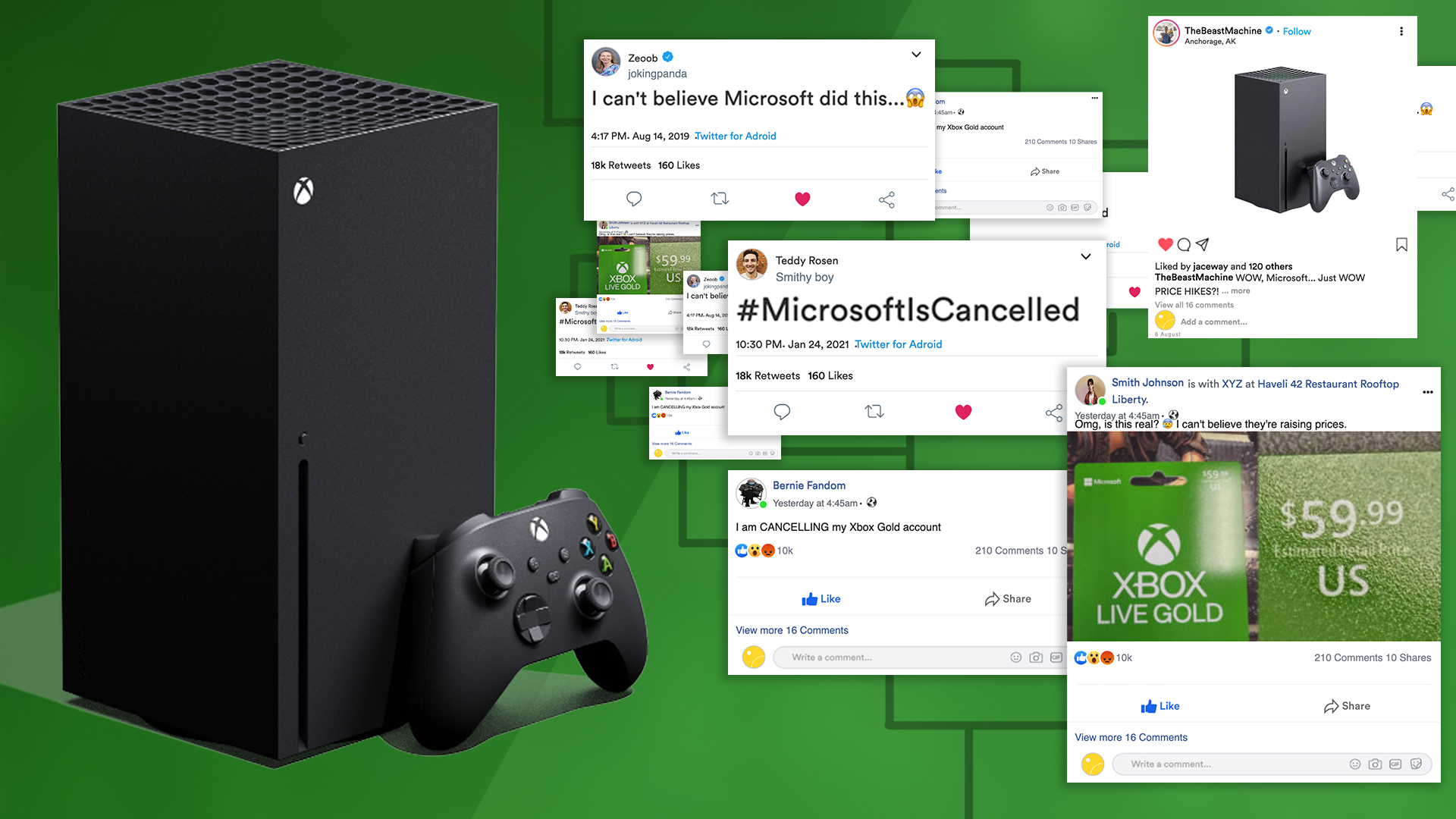 Last week was rough for Microsoft, as the company dealt with instant backlash after revealing plans to increase the cost of its Xbox Live Gold membership. In fact, the community's response was so critical, Microsoft actually reversed its stance within a day of the original announcement via a press release that begins with "We messed up today…"
As of now, not only will Xbox Live Gold membership fees be staying the same, but free-to-play titles will soon no longer require a Gold subscription on Xbox One or Series X.
Microsoft's original plan was to increase Xbox Live Gold costs from $9.99/month, $24.99/3-months and $39.99/6-months to $10.99, $29.99 and $59.99, respectively. Since you can usually find a full year of Xbox Live Gold for around $60, many viewed this move as doubling the yearly price.
Especially since Xbox Live Gold is already among the most expensive online services in gaming – with a year of PlayStation Plus costing $59.99 and Nintendo Switch Online just $19.99 – and the price has remained fixed for over a decade, it makes sense why the community reacted so strongly.
Microsoft Makes Amends with Free to Play
As you might expect, gamers were quick to respond to Microsoft's unappealing plan. Twitter started roasting the idea pretty much instantly, and Slickdeals users began compiling the best ways to stock up before the increase set in.
Later on the night of the original announcement, Microsoft released a new statement based on the cold reception to the price hike. "We messed up today and you were right to let us know," reads the announcement. "Connecting and playing with friends is a vital part of gaming and we failed to meet the expectations of players who count on it every day. As a result, we have decided not to change Xbox Live Gold pricing."
Microsoft then went a step further, promising to make free-to-play games available to all Xbox users regardless of their Xbox Live Gold status. This means titles such as Fortnite and Warframe will no longer require an active Xbox Live Gold subscription. Microsoft hopes to implement these changes in the coming months.
Much of the gaming world saw this price increase as a ploy to push consumers towards Xbox Game Pass Ultimate – a monthly subscription that costs $14.99 and includes access to Xbox Live Gold plus a catalog filled with hundreds of free games. It also comes hot on the heels of last year's removal of the digital 12-month subscription plan which cost $59.99. Subscribing to Xbox Live Gold has quickly become an expensive necessity, and fans clearly weren't happy with Microsoft's latest proposal.

Where to find the Best Deals and Discounts on Xbox Live Gold Membership
While Microsoft won't be upping prices anytime soon, a full-priced Gold membership can still run you $120 per year if you're not careful. Here are a few good deals currently available for the service, along with other ways to save money on your Gold subscription:
Xbox Live Gold 12-Month Membership is the Gold Standard
Although Microsoft no longer lets you directly purchase a digital 12-month membership, you can still find the plan for sale at most online retailers. This costs just $59.99 – cutting your yearly bill in half. As long as these codes are around, it'd be hard to justify paying Microsoft twice as much for the same thing.
Costco 24-Month Membership
Costco might have the best current deal, as the outlet is offering two years of Xbox Live Gold for just $95.00. It's among the best prices we've seen for the service and – if you don't mind dropping that kind of cash all at once – it's the cheapest way to keep your Gold subscription for years to come.
Xbox Live Gold 24-Month Membership: Sale Price: $95.00 | Regular Price: $119.98
Various Discounts at CDKeys
Although there aren't many great discounts for gamers in North America, CDKeys has several promotions running for Xbox Live Gold members across the globe. Be sure to check out their current selection – the best offer available slashes the yearly subscription price by 30% for players in the Middle East and Africa. If you know how to use a VPN, these can be a great way to save some money.
Xbox Live Gold 12-Month Membership Sale Price: $41.39 | Regular Price: $59.29
Want to stay on top of deals on Xbox Live Gold and other live-gaming subscription services? Be sure to sign up for a Deal Alert for video game subscription savings.
Our editors strive to ensure that the information in this article is accurate as of the date published, but please keep in mind that offers can change. We encourage you to verify all terms and conditions of any product before you apply.