Slickdeals Blog
Top 10 Reasons Why You Should Work at Slickdeals
December 14, 2012

at

05:26 PM
You see us everyday, you interact with the community, and every time someone's about to buy something at full price, you educate them about the valuable resource that is Slickdeals. So what actually goes into making Slickdeals the site that it is today? Lots and lots of great things actually! There are lots of reasons why we like working here, but here are the top 10 reasons why we think you should work here too!
10 First Dibs on all the Best Deals
- Sure there's
Slickdeals Live
, but there are times when our deal editors find deals where only a handful of units are left in stock. Where do they go before hitting 'Submit' on the Hot Deals post? Office chat

9 Office Chat
- Think of the Lounge, but virtually instantaneous and can easily be supplemented with in-person trolls and retaliations. That, plus Mr. Slickdeals in it, and contrary to any sort of logic, having admins on a thread is actually more fun than not having them there at all!
8 Free Food and Drinks
- The last time we got our delivery of food and drinks in the office, the delivery guy asked us how many people work here. His guess was a number 4 times the actual number of employees we have.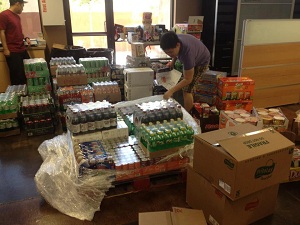 7 Flexible Work Hours
- When you're in a company that trusts its employees and knows that all employees will do everything in the company's best interest, you get priceless benefits like flexible work hours. Setting an alarm for 9am, skipping rush hour traffic and having a lunch break two hours into your work day can get rather addicting.
6 Viva Las Vegas
- Working at Slickdeals might not be a perpetual Vegas beach party, but it does come with all the non-Strip benefits of living in Nevada. Very few places in the country are world-class cities that host the largest conventions in the world, yet charge no state income tax and have affordable real estate. There's skiing at Mt. Charleston, hiking at Red Rock and if you get bored of those, there's always the chance of becoming an instant millionaire in one of the casinos.
5 It's a Family More Than a Company
- You know you're at a good place when you're still hanging out with your coworkers after work, on weekends and even on holidays. Because of Black Friday, our Slickdeals family has celebrated Thanksgiving together for the past couple of years. We have weekly Friday night outings where we've watched movies, gone go-karting, played poker and of course fine-dined together!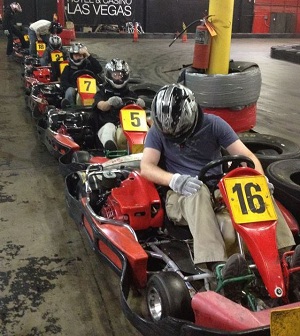 4 You're More Than Just Your Job Title
- With Slickdeals being such a small company, everyone does everything all the time. Web developers also do SEO, business managers handle recruiting, company executives help in coding and everyone is a beta tester. Hence, everyone is part of whatever success the company achieves and everyone is united for the good of the community.
3 Startup Feel in an Established Company
- Majority of the benefits of working for Slickdeals are ones that you would find in a startup in Silicon Valley, but what sets Slickdeals apart is that we're a well-established, 13 year old company that's consistently been a top 150 website in the US.
2 Learn Slickdeals's Biggest Secrets
- What features does the new Slickdeals app have? Who's the biggest trouble maker in the community? What happens in the Mod Lounge? These are just some of the questions that can only be answered by joining the team!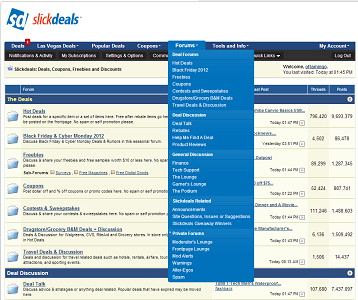 How many forums do you have on your screen?
1 Because you're here, now, and every 5 minutes from now anyway
- We favor applicants who are already part of the community and if you're reading this, chances are you're probably between mediocre to hardcore in the Slickdeals fanaticism spectrum. If there's ever been a time when you've said, "I wish Slickdeals did this," and you actually know how to implement a solution, we probably have a job for you!
Now don't you just want to work here? If you do, then that's perfect because we're hiring! We've posted a handful of new positions and we're hoping that somewhere in our community, we can find more software developers, graphic designers, business development managers, etc. If any of the aforementioned benefits sound good to you, visit our careers page, send us your resume and hopefully you in a couple of months, you can add to this wonderful list of why you like working at Slickdeals!