Slickdeals Blog
Top 5 Credit Cards With Rewards and Other Perks
September 17, 2013

at

01:21 PM
Paul Hermann is an avid deal hunter who enjoys writing and sharing his best frugal shopping tips online.
When it comes to
choosing the right credit card
[moneycrashers.com]
, you've certainly got options. The market is flooded with travel rewards cards, cash-back cards, student-targeted cards, and more. If you simply sign up for the first one you see, however, you could be missing out on some great opportunities to save. For a brief rundown of some of the top credit cards with no annual fee and a variety of rewards and benefits, read on.
1. Citi Forward Card
If you like to dine out at restaurants, this is the card for you. The
Citi Forward card
offers five Thank You points for every dollar you spend on restaurants and entertainment, plus one Thank You point for everything else. You also get bonus points (as much as 1,200) for simply staying under your credit limit and paying your bill on time. As an added benefit, the card also comes with free cell phone protection.
2. US Bank Cash+ Card


This card offers general cash-back rewards, and it also allows you to choose certain consumer categories that get you the most cash back, which you can change from time to time. Each quarter, you select two categories, such as restaurants and department stores, that earn 5% cash back. In addition, you choose one more category which gets you 2% cash back, such as groceries or gas. You receive 1% cash back on everything else. Once per year when you redeem $100 or more in a single transaction, you get a bonus $25 cash back. If you can organize your spending and keep up with these categories, you can make some serious money.
3. PenFed Cash Rewards Card
Some cards are designed for people on the go. If you drive a lot, the PenFed card rewards you 5% cash back on all gas purchases and 0.24% cash back on everything else. It also has free automobile rental insurance and $100,000 worth of travel accident insurance.
4. Discover It Card
The Discover IT card is similar to the US Bank card in that it features rotating cash-back categories, such as movies, restaurants, and home improvement stores. The good news is that the reward is 5%; the bad news is that you can't rotate the categories at will. You get 5% cash back on gas until the end of September (2013), and 5% on holiday online shopping for the fourth quarter (2013).
5. Slate by Chase
The
Slate card by Chase
[chase.com]
doesn't have any significant cash-back benefits, but that doesn't mean you shouldn't consider it. If you have significant credit card debt, you can save even beyond the cash-back rewards of other cards by transferring your balance. When you do so, you won't pay any interest on your Slate card for 15 months. There is also no balance transfer fee, which can be as high as 5% with other cards. Slate offers a 0% APR on purchases, as well.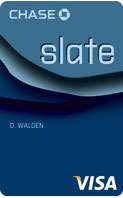 Credit card benefits are great, but it's important to pay off your balances. Even if you're getting 5% cash back on a particular purchase category, that pales in comparison to the interest rate you're paying by letting your debt rack up. Take some time and do the necessary research to find the rewards card best suited to your spending habits. Then, get a game plan in place to put those debts in the rear view mirror for good. Once that's done, your cash back and other perks are going to be that much sweeter.
Do you have experience with any of these credit cards?