Frontpage Deal


2-Pairs of American Rag Jonas Men's Canvas Shoes (black & gray) $20 + Free Shipping (expired)
Buy Now ►
Groupon.com
offers
2 Pairs of American Rag Jonas Men's Canvas Shoes
(black & gray) for
$19.99
with
free shipping
. Thanks playgamespool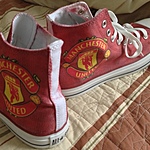 Original Post
http://www.groupon.com/deals/gg-t...nvas-shoes
American Rag Jonas Men's Canvas Shoes
Sizes 7-12
The canvas exterior of American Rag's Jonas shoes keeps feet looking casual and feeling cool thanks to the breathable design of its material. Thick rubber soles sit at the base of each shoe, and padded insoles and a reinforced heel protect feet while they're pounding the pavement.
Features
Breathable canvas exterior
Thick rubber sole enhances support and gives shoe a casual look
Padded insole adds comfort and support
Reinforced back protects feet during mid-air heel clicking
Easy-to-wash material
Includes two pairs: one in black and one in gray
http://www.groupon.com/pages/gg-a...al-options
how each looks like

Wiki Community Board
This can and should be used by you to post updated deal information.
Be sure to read this because it may contain answers to your questions!