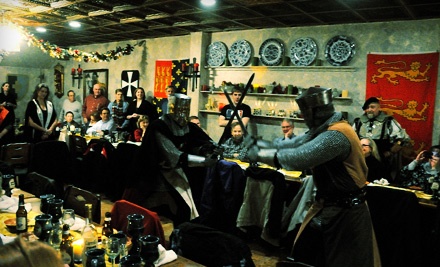 Only at a medieval feast can you eat with your hands, wear tights as pants, and shout "dragon" without inciting a panic. Abandon modern feasting conventions with this Groupon.
$29 for One Adult Ticket to a Medieval Dinner-Theater Show (a $59 Value)
Once settled into banquet seating in a medieval-style hall, guests aged 6 and older dig into a four-course, family-style smorgasbord that has included dishes such as slow-roasted beef, fresh-baked bread, rosemary fowl, and a seasonal dessert entirely without utensils. (The menu changes regularly.) Then audiences turn their attention to a 15th-century comedy show full of modern hilarity before getting a close-up view of an intense sword fight between fully armored knights. Of-age patrons can also pair their bites with included ale or raspberry mead. The PG-13 shows take place Thursday and Friday at 7 p.m., Saturday at 5 p.m. and 9 p.m., and Sunday at 2 p.m. Doors open 30 minutes before each performance.
Limit 20 per person, may buy 20 additional as gifts. Dine-in only. Reservation Required. 24hr Cancellation notice required.