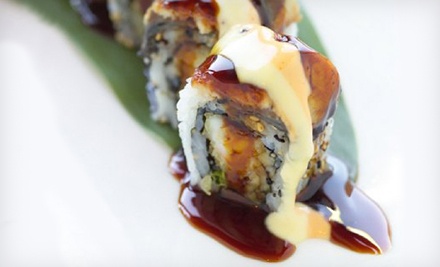 Chopstick masters are capable of amazing acts of dexterity, such as juggling rice and building a sand castle one grain at a time. Achieve nimble nourishment with this Groupon.
$25 for $45 Worth of Sushi and Pan-Asian Cuisine
The menu spans multiple traditions of Asian cuisine. Hot entrees include stir-fried beef chow fun with Cantonese-style wide rice noodles ($12.95) as well as fried rice with a choice of vegetables, chicken, or beef ($10.95). Sushi and sashimi entrees range from a combination of tuna, salmon, and california rolls ($12.95) to broiled eel atop seasoned rice ($18.95).
Limit 1 per person, may buy 1 additional as a gift. Limit 1 per tables of 2 or more. Limit 1 per table. Limit 1 per visit. Reservations required on weekends. Dine-in only. Must purchase 1 food item. Not valid for happy hour specials. Not valid at the bar or sushi bar.