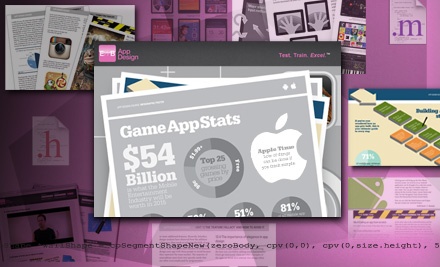 Knowing how to use a computer is a necessary skill in today's world, just as knowing how to kill a computer will be a necessary skill in tomorrow's world. Get in the know with this Groupon.
Self-guided app-design courses—available for iPad, iPhone, and Android devices—provide 12 months of 24/7 access to resources created by Designing for the iPad author Chris Stevens and other leading app designers. This includes exclusive videos of Stevens on the topics of viral marketing and social media, added in May 2013. Before and after computer-adaptive tests inform students of their progress during the 18 units, which include illustrated PDFs, video tutorials, step-by-step design guides, real code samples, and interactive exercises. The course generally takes 15–20 hours to complete, and students will receive certificates of completion for tests and the course.
Online only. Must activate membership by expiration date on your Groupon; membership expires 12 months from activation.