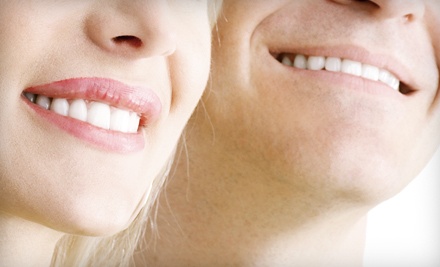 Teeth are more than just precious rocks that fall out of skulls so that they can be turned into jewelry. Keep your headstones polished with this Groupon.
Choose Between Two Options
$3,175 for Invisalign and teeth-whitening package ($6,350 total value)
Complete Invisalign treatment, includes consultation, X-ray, and impressions ($6,000 value)
At-home whitening system ($350 value)
$3,175 for a dental implant package for one tooth ($5,044 total value)
Consultation ($85 value)
Implant ($2,260 value)
Abutment ($963 value)
Crown ($1,618 value)
X-rays ($118 value)
For the first package, Invisalign straightens teeth with a series of clear, removable, custom aligners. Read the Invisalign FAQs here. The whitening system combats discoloration that can be tied to a variety of staining agents.
The second package begins with a consultation and x-ray session before the implant is seated and crowned. After three to six months, the abutment is placed.
Limit 1 per person. Valid only for option purchased. Appointment required. 24hr cancellation notice required. Consultation required, non-candidates will be refunded. Insurance processing not included.