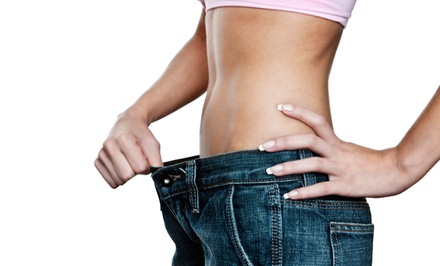 Slimming down takes conscious effort, just like remembering to blink frequently enough to keep other people from getting suspicious. Fit in with this Groupon.
Choose from Three Options
$59 for one LipoLaser treatment and one vibration platform session (a $326 value)
$99 for two LipoLaser treatments and two vibration platform sessions (a $652 value)
$179 for four LipoLaser treatments and four vibration platform sessions (a $1,304 value)
Noninvasive LipoLaser treatments target adipose tissue with low-level laser light energy, causing the cells to release their contents of water, glycerol, and free fatty acids. The body's lymphatic system then naturally removes these released contents before they are reabsorbed. As a result, the treatments help contour stubborn fat deposits, although technicians typically advise clients to schedule 6–12 appointments in order to see optimal results.
The center's VibraWav technology helps generate these sorts of results after a LipoLaser treatment. Clients stand atop a vibrating platform, which provides a form of low-impact exercise for the body while simultaneously jump-starting its metabolic processes.
Limit 1 per person, may buy 1 additional as a gift. Valid only for option purchased. Limit 1 per visit. Appointment required. 24-hr cancellation notice required. Consultation required; non-candidates and other refund requests will be honored before service provided. Must sign waiver. Services must be used by the same person.