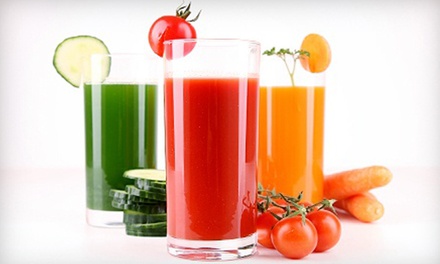 A juice fast gives the body a break from the refined sugar, red meat, and Funyun-topped apple pies typical of the American diet. Empty out the junk food with this Groupon.
Choose from Six Options
$11 for a five visits, each good for $5 worth of raw food and juice ($25 total value)
$79 for a three-day raw-food cleanse ($178 value)
$79 for a three-day juice cleanse ($189 value) 
$125 for a five-day juice cleanse ($315 value)
$175 for a seven-day juice cleanse ($441 value)
$349 for a 14-day juice cleanse ($882 value)
Raw-food cleanses include two meals, two juices, and one dessert per day. The three-day raw food cleanse must be picked up daily.
Each day of the juice cleanse, patrons quaff six 16-ounce juices made from ingredients such as purées of leafy green vegetables, citrus elixirs, and seed milks. They gradually feel the health benefits, which may include an increase in energy, a clearer mind, and weight loss.
The food and juice bar's menu includes entrees ($12–$15), such as avocado wraps and nut hempburgers, and super juices ($9), such as goji-berry blend and coconut water.
Limit 1 per person, may buy 2 additional as gifts. Limit 1 per visit. Valid only for option purchased. Must order two weeks in advance. Must use promotional value in 1 visit.