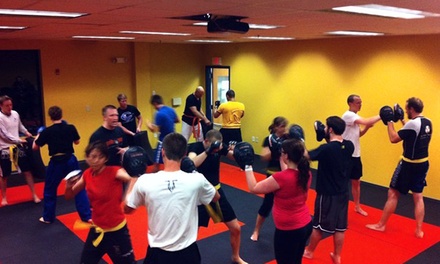 Like practicing the piano while leg-pressing another piano, martial arts help develop strength and discipline simultaneously. Bolster body and mind with this Groupon.
Choose from Four Options
$42 for 10 krav maga self-defense classes ($150 value)
$64 for 20 krav maga self-defense classes ($300 value)
$50 for one month unlimited fitness and self-defense classes of your choice ($190 value)
$33 for one month unlimited kids' krav maga self-defense classes ($120 value)
Developed in the late 1940s and later adopted by the Israeli Defense Forces, krav maga condenses lessons learned on the battlefield into simultaneous offensive and defensive maneuvers. During one-hour classes, students fend off chokes, grapples, and punches often found in real-life attack situations, and mental exercises train their senses to be more aware of their surroundings. Students learn striking and grappling through sparring matches, and stress drills prepare the mind to perform under duress. The system's simple, explosive maneuvers are designed to work with each person's natural instincts, instead of their unnatural sixth sense.
Limit 1 per person, may buy 3 additional as gifts. Must activate by expiration date on your Groupon. Valid only for option purchased. Must sign waiver or have parent/guardian sign if under 18. Not valid if used services in last 6 months.