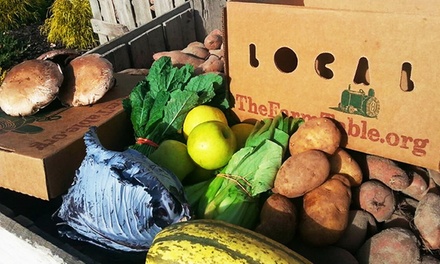 Eating healthy doesn't always require counting calories--just remember that "green" rhymes with "lean" and "fried" rhymes with "died." Nosh mnemonically with this Groupon.
The Deal
$53 for an annual membership fee plus two boxes of delivered produce for new customers in the Fredericksburg and parts of Northern Virginia areas($107 value)
$11 for an add-on box of local and fresh honey, homemade cinnamon bun, and homemade bread for existing members ($20 value)
An annual membership enables new customers in Fredericksburg up to Springfield and then to Chantilly (see more details about delivery area online) areas to order fresh vegetables from local farmers. Every week beginning June 19, The Farm Table delivers a box of fruit and vegetables—such as spinach, sweet potatoes, squash, apples, or salad fixings, all freshly picked within the past 48 hours—directly to your home or office. The first two boxes are included with this deal, with the option of continuing the service for $28.50 per week, plus tax, for 12 more months. Each Friday, customers receive an email with a list of what will be in the upcoming box, with an option to change or skip the week. Boxes are then delivered on the following Thursday.
Existing customers can add on one box of freshly made and locally produced honey, cinnamon bun, and bread.
Limit 1 per person, may buy 1 additional as gift. Valid only for option purchased. Pre-order required. New members only for first option. Delivery valid only for Fredericksburg, Dale City, Springfield, Chantilly, and parts of Northern VA. Call (804) 977-2752 to check availability. Deliveries begin 6/19.