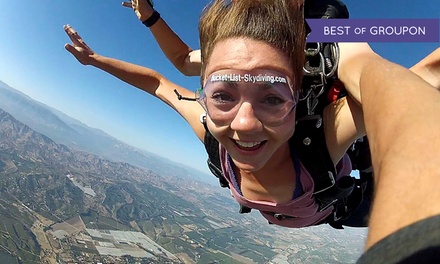 The scariest part of skydiving is actually the anticipation, not the free-fall or the government jet that sidles up during it and confirms you're not a UFO. Conquer your nerves with this Groupon.
The Deal
$159 for a tandem skydiving jump and souvenir T-shirt ($329 value)
Harnessed to an experienced skydiving instructor, customers jump from a plane over captivating views of the landscape. After free-falling from up to two miles above ground at speeds up to 120 miles per hour, the instructor pulls the chute and steers before setting you down in the landing zone.
DC Skydiving Center
DC Skydiving Center's air-riding experts take first-time and experienced jumpers to the stratosphere for jumps above the scenic views of the DC area. Tethered to clients, they guide tandem rides to facilitate first tastes of terminal velocity before coasting in for a soft landing. To accommodate licensed skydivers with a current reserve parachute, the staff guides planes over the business's own scenic landing zone so jumpers can take to the air on their own. Beginners who wish to become full-fledged divers can opt for the Accelerated Freefall program, in which aficionados teach the skills necessary to make solo jumps such as how to handle equipment or merge into goose traffic without a blinker.
Limit 2 per person, may buy 6 additional as gifts. Limit 1 per visit. Subject to weather. 48hr cancellation notice required or $50 fee may apply. Must be 18 or older. 240lbs weight max; extra fee if over 200lbs. Must sign waiver. Must use promotional value in 1 visit. Extra $9 fee to make a reservation. Vouchers are not currently available for online booking.