AMC Stubs A-List Lets You Watch Three Movies per Week for $20 a Month
Starting June 26, watch up to three movies/week for $19.95/month plus tax.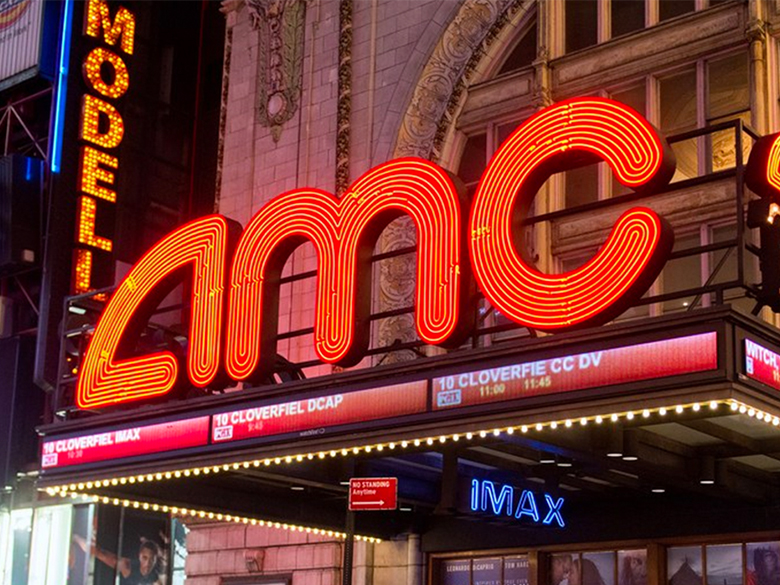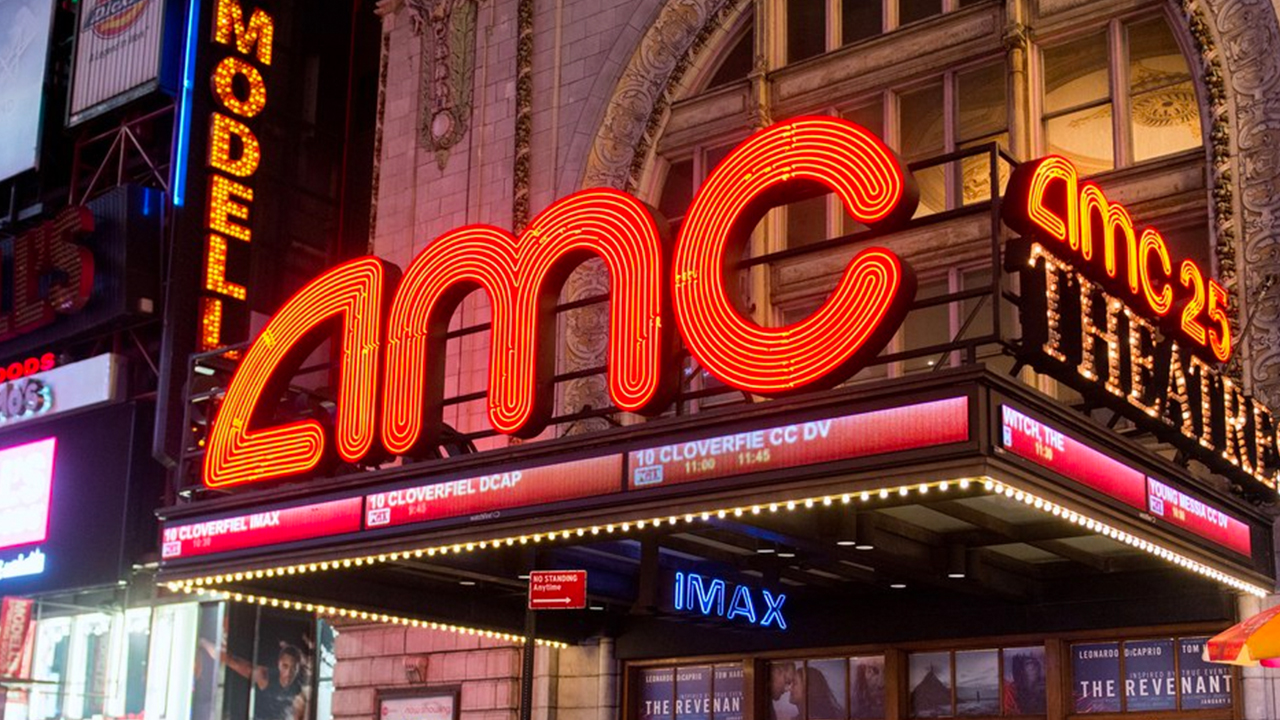 Moviegoers, rejoice. On June 26, AMC Theatres will roll out the red carpet for its top-tier patrons with a new and improved AMC Stubs A-List membership plan. Essentially an extension of its existing AMC Stubs Premiere loyalty program, this service lets guests see multiple movies each week and gives them access to exclusive perks for a monthly fee… but is it enough to give MoviePass a run for its money? We're offering a sneak peek at the program to help you decide if it's worthy of all the buzz.
What is AMC Stubs A-List?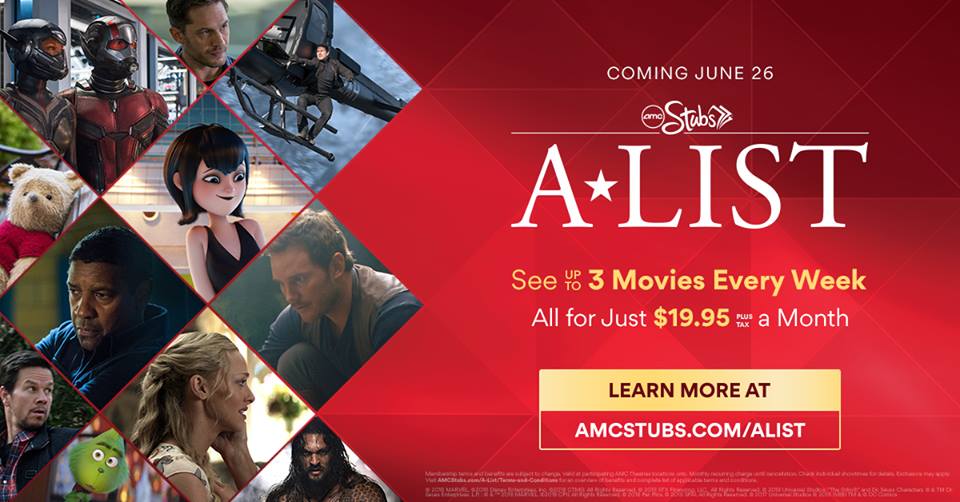 According to AMC's official press release, the new subscription plan lets members watch up to three films a week for $19.95 per month plus tax. You can attend multiple movies per day or even see the same flick over and over again if that's your thing.
You're also allowed to see movies in premium formats like IMAX at AMC, Dolby Cinema, PRIME at AMC, RealD 3D and BigD. And you can use your membership at all AMC, AMC Dine-In and AMC Classic theaters across the country.
Members will still enjoy all the benefits of an AMC Stubs Premiere membership (like discounts on concessions and waived online ticketing fees). Plus, you can reserve your seat online as soon as tickets go on sale.
threadID: 11718775
How does the program work?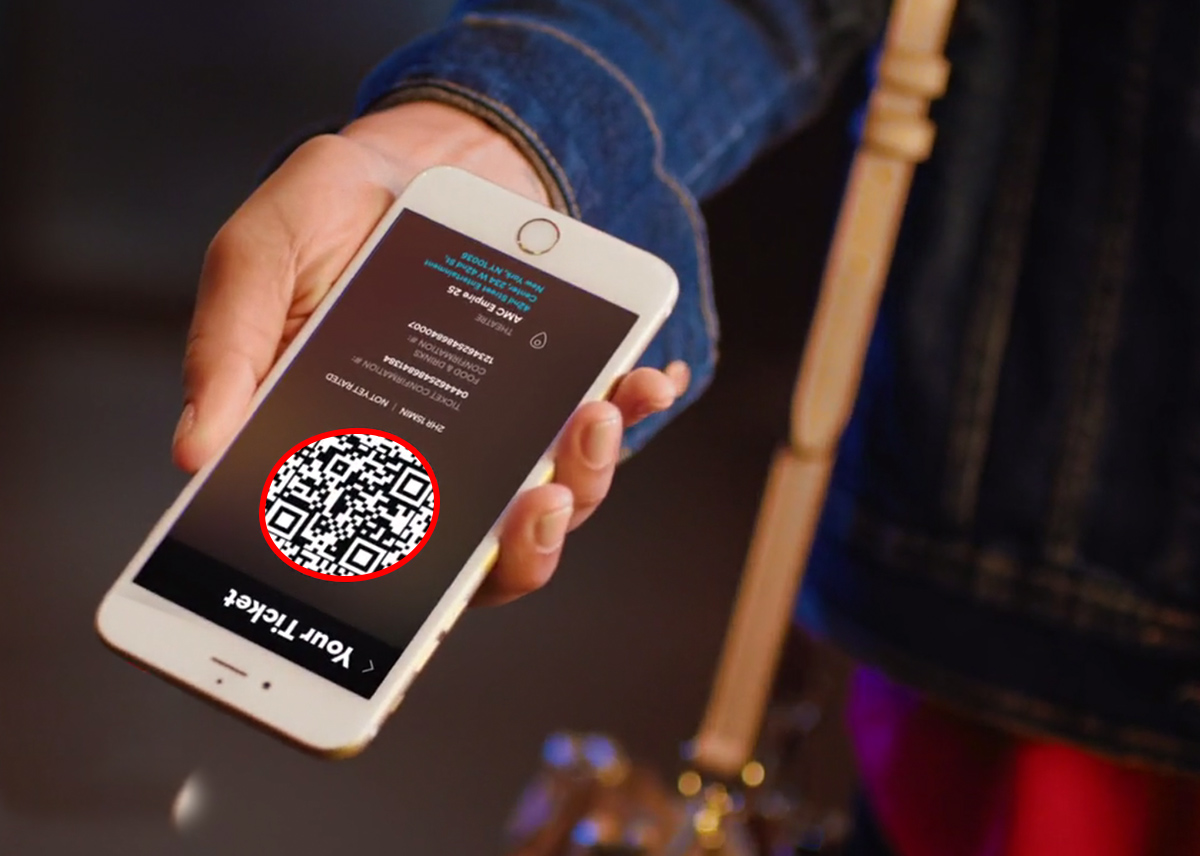 As an AMC Stubs A-List member, you can make reservations online or through the AMC mobile app (and you can hold up to three reservations at a time).
You won't receive a physical membership card. Instead, you'll use your smartphone to pull up a virtual card via the app.
There are no blackout dates, and your benefits reset every Friday morning — just in time for new releases.
AMC is also helping members buy with confidence thanks to a 12-month price guarantee. However, there's a minimum contract term of three months. (As Slickdealer charles801 points out, that's "$59.85+tax minimum.") After that, you can opt out of recurring billing at any time. Otherwise, you'll be charged the monthly fee on the same date each month.
How does it compare to AMC's other loyalty programs?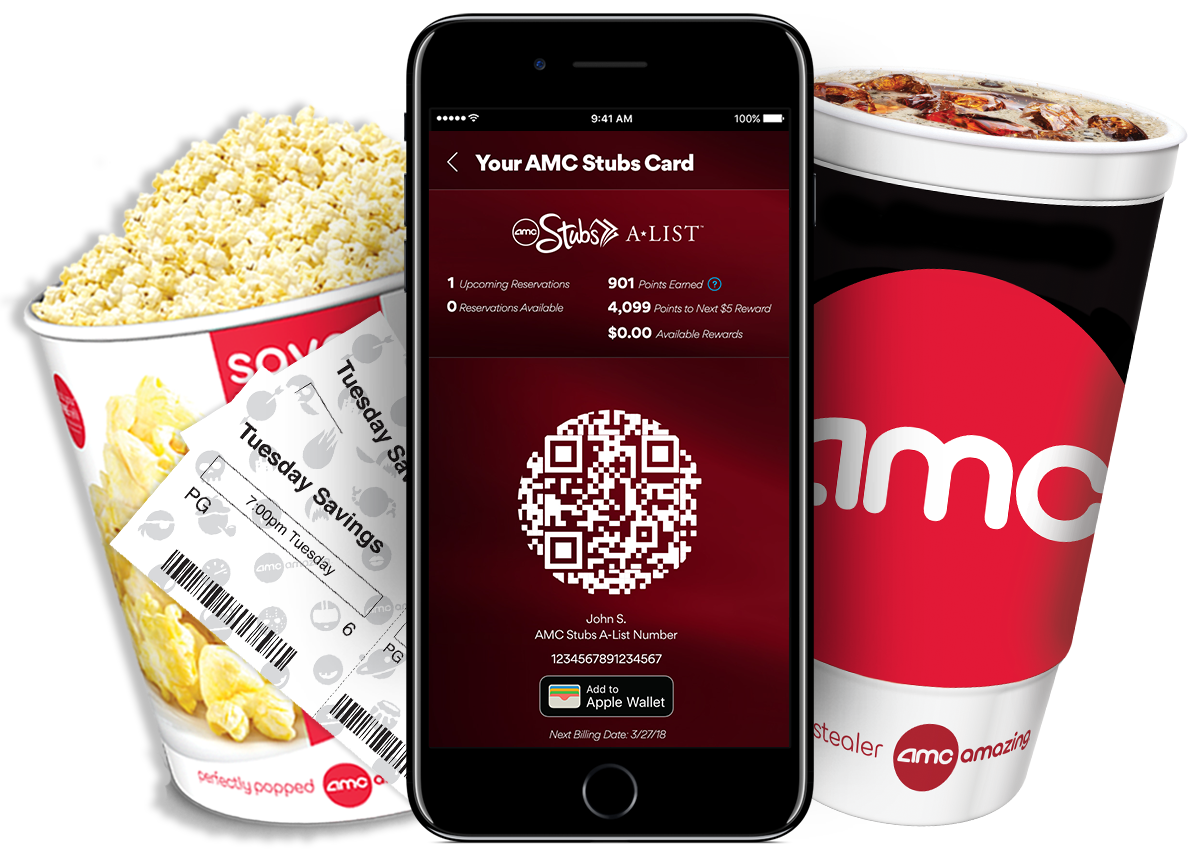 AMC currently offers two different loyalty programs: AMC Stubs Insider and AMC Stubs Premiere.
Its Insider club is free to join and gets you perks like free refills on large popcorns, $5 Tuesday Tickets and a free large popcorn for your birthday. You'll also earn rewards points on your purchases, which you can redeem for future AMC discounts.
The Stubs Premiere plan gives you upgrades like 5x the rewards points and birthday freebies, and it usually costs $15/year. Right now, though, it's on sale for just $11.99 (a 20% savings.)
Here's a quick comparison of both plans: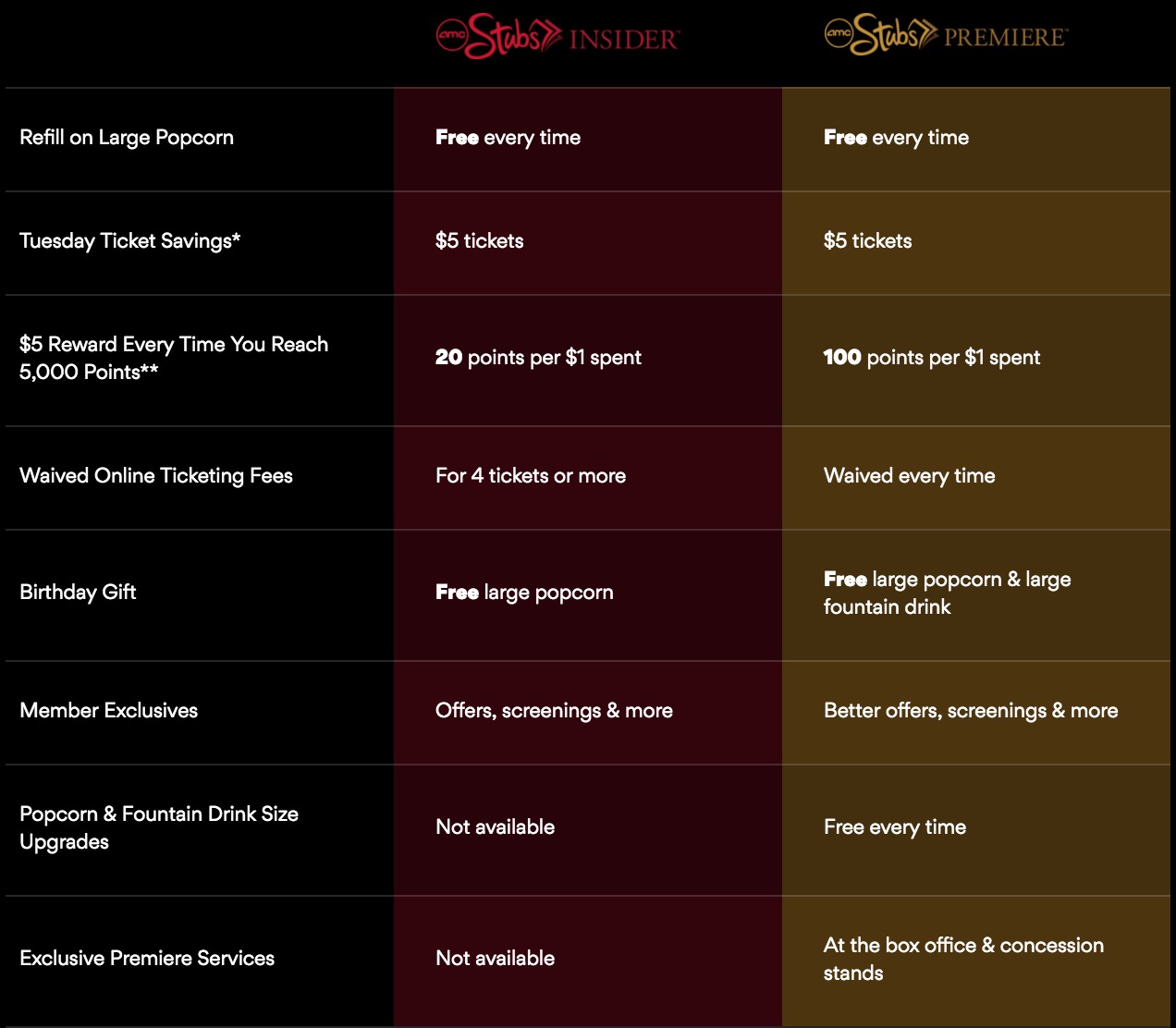 With an AMC Stubs A-List membership, you'll receive all the AMC Stubs Premiere benefits free of charge. That means you'll enjoy free size upgrades on popcorn and fountain drinks, free refills on large popcorns, and even priority lanes at the box office and concession stands.
A-Listers will still earn 100 points for every $1 they spend at AMC Theatres, but they'll also earn 100 points for every $1 they spend on their monthly memberships. $50 spent = 5,000 points = a $5 reward, which essentially translates to a 10% credit toward future AMC purchases. A-list members won't receive points for movie tickets they reserve through their A-List plan since that's included in their membership fees. They will, however, earn points on any additional tickets or concession stand purchases.
threadID: 11575083
What if I'm already an AMC Stubs Premiere member?
If you're already an AMC Stubs Premiere member and upgrade to A-List status, AMC will pause your current Premiere membership. That way, if you ever decide to cancel A-List, your Premiere membership will be reinstated for whatever time you had left on your plan. Premiere members can also keep using their current membership cards at the theater if they're so inclined.
How does AMC Stubs A-List compare to MoviePass?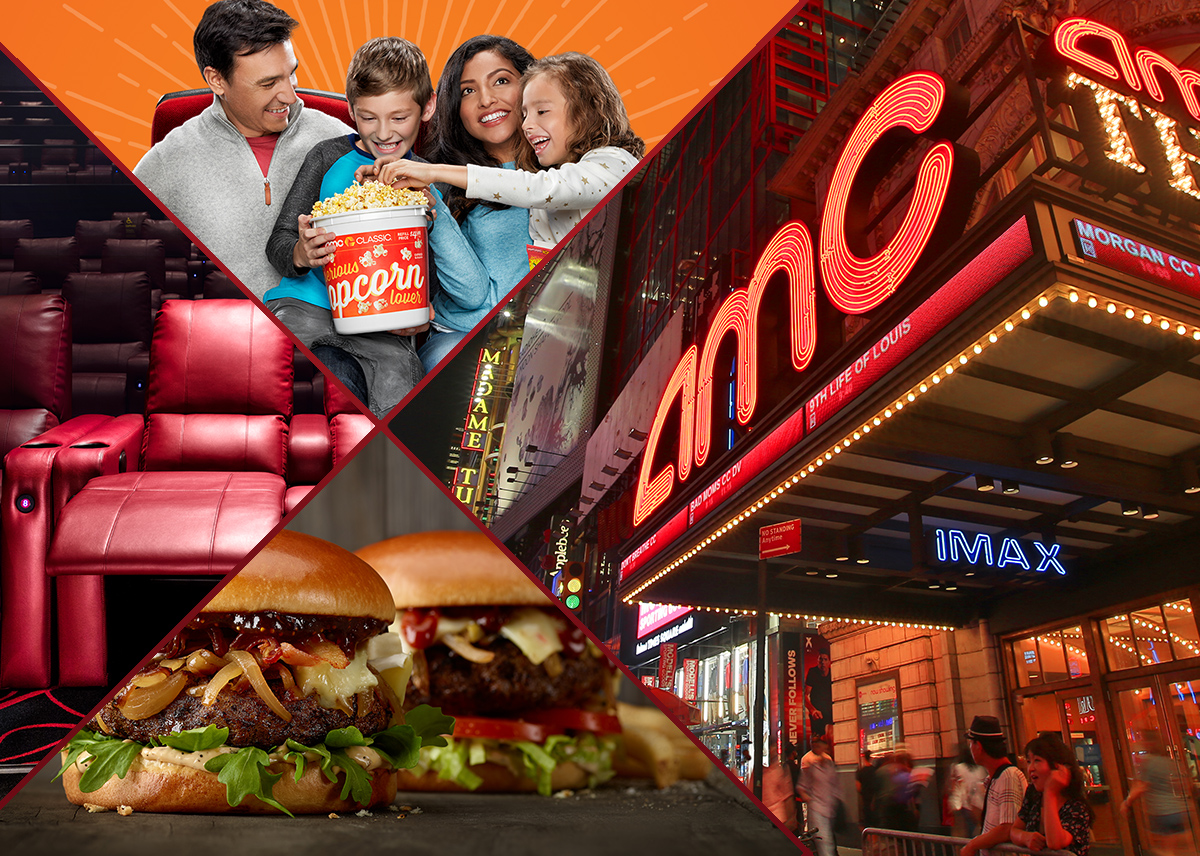 With a MoviePass subscription, you'll pay $9.95/month to watch up to one movie per day at most theaters (which is way more movies for less money). Unfortunately, IMAX and 3-D movies are not included, and you can only see the same film once. You also have to purchase your ticket in person and can't make reservations in advance.
AMC Stubs A-List is twice as expensive as MoviePass, but it makes up for the price difference with fewer restrictions and better perks. As an A-Lister, you can see IMAX and 3-D films, re-watch a favorite flick, or catch a triple feature. You can also reserve your seat in advance and earn rewards points for future savings.
If you're an avid moviegoer and live near an AMC theater, these expanded benefits may be worth the extra cost. As Slickdealer TheChosenCheif says, "This is a pretty damn good deal if AMC is your theatre of choice. Might be dropping MoviePass for this."
SlickStalker agrees, calling AMC's new service a "better deal than I thought they would put out."
And Slickdealer bluking hopes this might make MoviePass step up its game: "Not bad — I hope MP does something similar to this to keep their business going. 3 movies per week is more than enough for most folks… If they can do that, remove all the BS stub verification/1 time movie crap, etc. and keep the subscription price at $9.95-$14.95 then I think it will be a more sustainable business model."
In response to AMC's announcement, MoviePass is letting current members send free memberships to their friends.
threadID: 11584631
threadID: 11546827
How do I enroll?
Ready to add your name to the A-List? Head over to amcstubs.com/alist on June 26 to officially enroll (and start using your benefits immediately).
What do you think of AMC's new subscription plan? Let us know in the comments!

Images courtesy of AMC.
Our editors strive to ensure that the information in this article is accurate as of the date published, but please keep in mind that offers can change. We encourage you to verify all terms and conditions of any product before you apply.