Insulated Water Bottle Comparison Test: Are Expensive Brands Better?
Do premium brands actually keep your drinks colder for longer?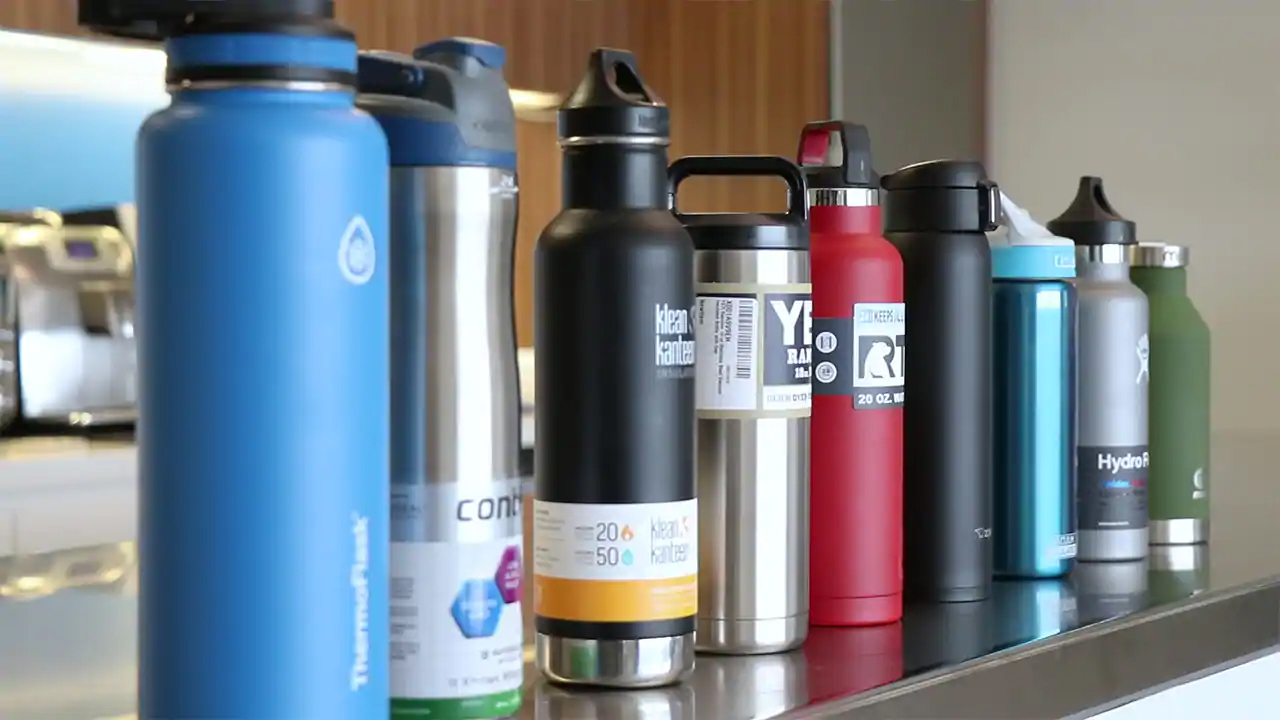 Reusable insulated water bottles are always popular on Slickdeals. In fact, we it's not unusual to see three or four water bottle discounts hit popular deals or the Frontpage every month. But are premium brands like Hydro Flask worth it? After all, the ultimate measure of a water bottle is how long it will keep your drinks cold. So, we struck out to see how 10 different water bottles performed under realistic scenarios. Hopefully, this information will help you choose between the premium brands (which can cost between $30 and $60 a bottle) and a more affordable $15 water bottle.
Author's note: We created this exercise as a fun and casual way to get a feel for how different water bottles perform when regular people use them in their daily lives. This is not meant to be a scientific experiment with lab-based performance benchmarks.
To find out the best brand of tumbler to keep your drinks hot, check out our Tumbler Comparison here.
Comparing Water Bottles
Each of the 10 water bottles was filled approximately halfway with ice and topped off with water. We then measured each bottle's initial temperature as a starting point. After that, the bottles were closed and left in their testing conditions for six hours. We recorded the temperature for each bottle on an hourly basis.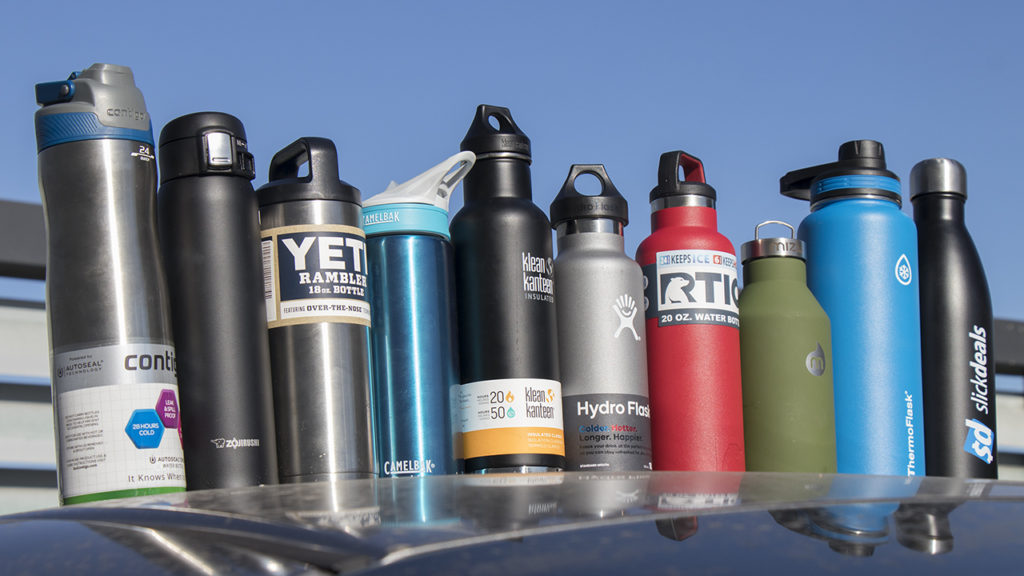 We tested the bottles in two different, common scenarios. For the first test, the bottles sat outside in direct sunlight for six hours. For the second, they were in the backseat of a car parked in direct sunlight for six hours. In both cases, after the test the bottles came inside our air conditioned office for another 18 hours to monitor temperatures overnight. We did that more out of curiosity and realize most people probably don't drink their water 24 hours after filling up their bottles.
Insulated Water Bottle Test Results
2JsJkzL3GsY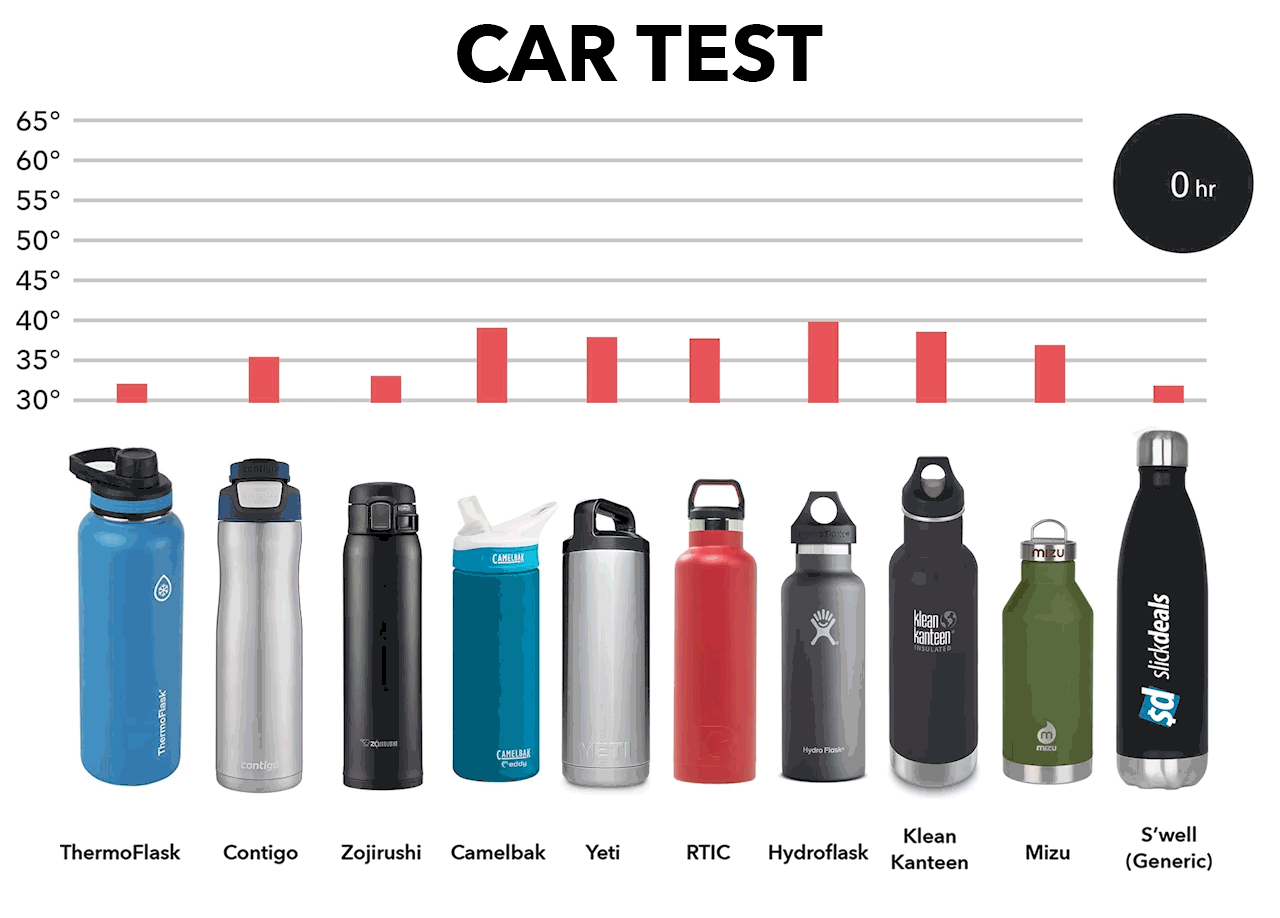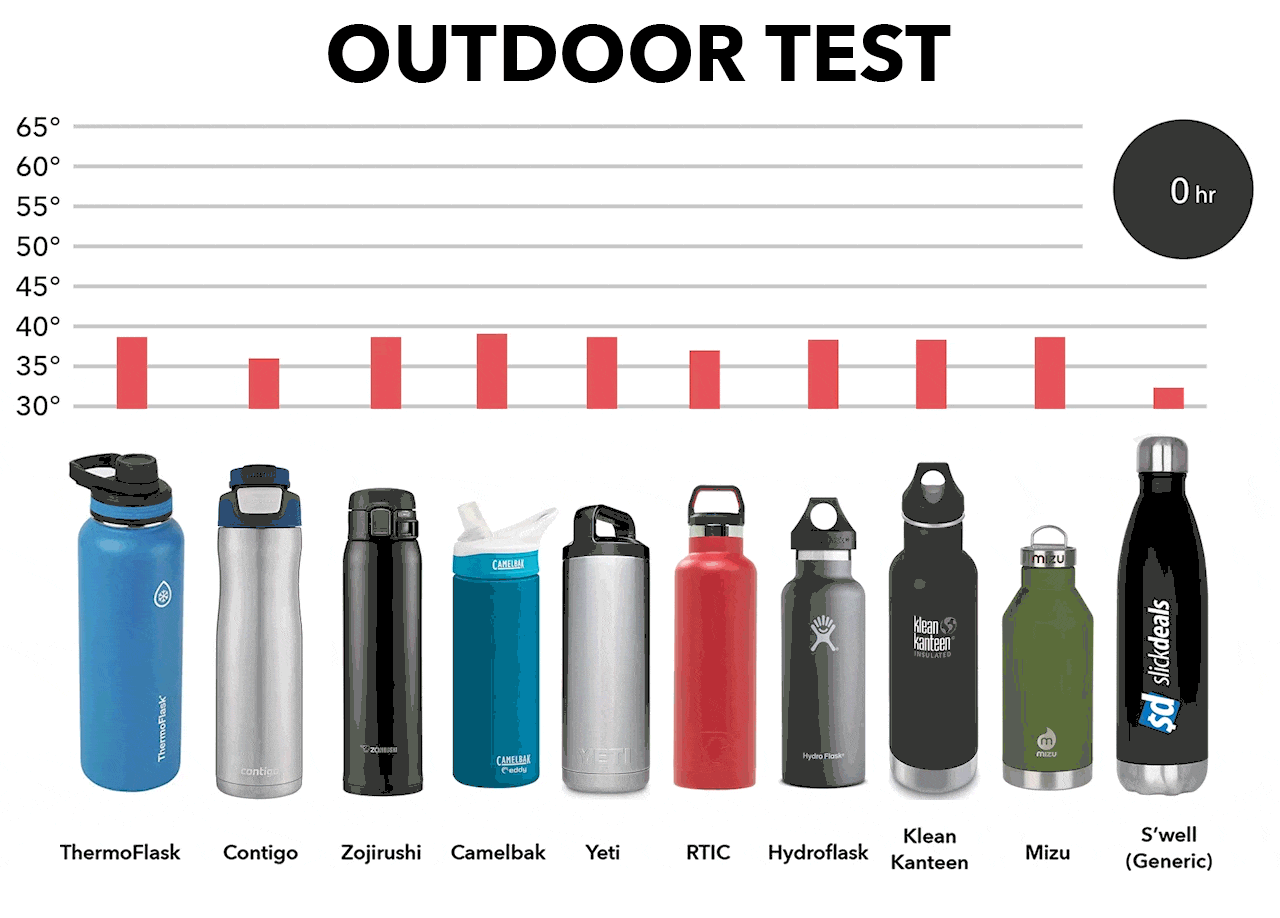 *all temperatures measured in Fahrenheit
Best Performing Water Bottle: S'well (generic)
"Worst" Performing Water Bottle: Hydro Flask
Lowest Price Water Bottle on Average: RTIC
24 Hours Later
Here are the temperatures we recorded after leaving the bottles inside over night after each day of testing. As you can see, the results varied quite a bit.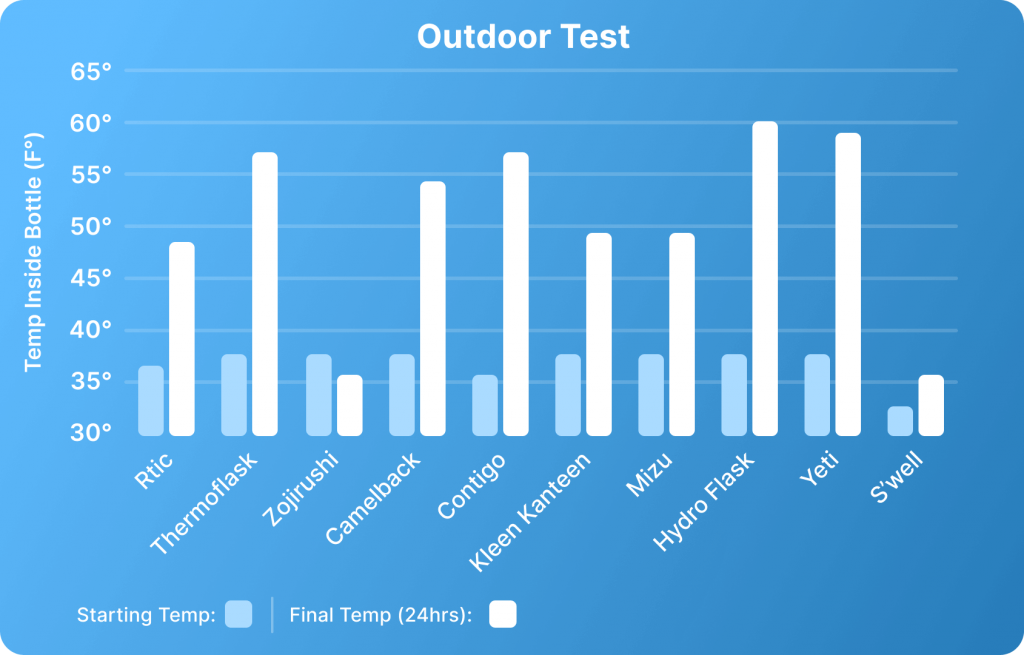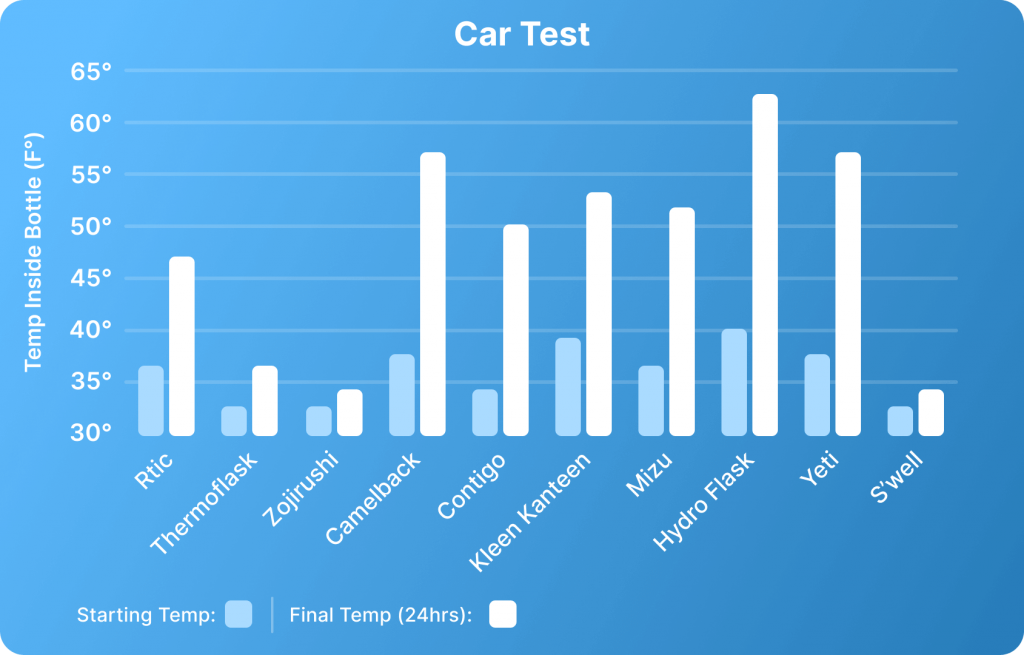 Which Water Bottle Should you Buy?
Expensive doesn't mean better:
Now, we went into this test anticipating that most water bottles would perform more or less the same. While that proved to be essentially accurate, two of the more expensive, recognizable brands — Yeti and Hydro Flask — actually performed the worst compared to the other brands. During the car test, the Yeti and the Hydro Flask got warmer while other brands like RTIC and Contigo cooled down.
All the bottles tested well, but the S'well was the best:
Let's be honest, it's unlikely you'll be able to tell the difference between water at 38 or 40 degrees Fahrenheit. However, this test goes to show you don't have to break the bank to get a high-quality water bottle. And while the relatively expensive S'well (~ $45 and rarely go on sale) had the best, coldest results by far, some people might not actually want to drink near-freezing water all day. You could obviously solve that by putting in less ice (or none at all).
If you don't have design or brand preferences, go for the least expensive:
In the end, most of these bottles provide exceedingly similar performance. If you happen to like the way one brand looks over the other, go for it and make the purchase. Just make sure you wait until it's on sale and you see it on Slickdeals. We've seen some of these brands go for as low as $10 to $15, and they're all perfectly capable of keeping your water cool.
Buy These Water Bottles Here:
ThermoFlask
Lowest Price Ever on Slickdeals: $19.99 for a 2-pack
Regular Price: $24.99 for one bottle
Contigo
Lowest Price Ever on Slickdeals: $9.98
Regular Price: $18.45
Zojirushi
Lowest Price Ever on Slickdeals: $20.80
Regular Price: $27
Camelbak
Lowest Price Ever on Slickdeals: $11.10
Regular Price: $29
Yeti
Lowest Price Ever on Slickdeals: $16
Regular Price: $28
RTIC
Lowest Price Ever on Slickdeals: No deals
Regular Price: $18.99
Hydro Flask
Lowest Price Ever on Slickdeals: $16.19
Regular Price: $29.95
Klean Kanteen
Lowest Price Ever on Slickdeals: $12.39
Regular Price: $19.99
Mizu
Lowest Price Ever on Slickdeals: No deals
Regular Price: $30.95
S'well
Lowest Price Ever on Slickdeals: No deals
Regular Price: $45
Our editors strive to ensure that the information in this article is accurate as of the date published, but please keep in mind that offers can change. We encourage you to verify all terms and conditions of any product before you apply.