Major Food Deals for Sunday's Big Game
From pizzas to wings to donuts. Sweet deals on all your favorite grub for your gang.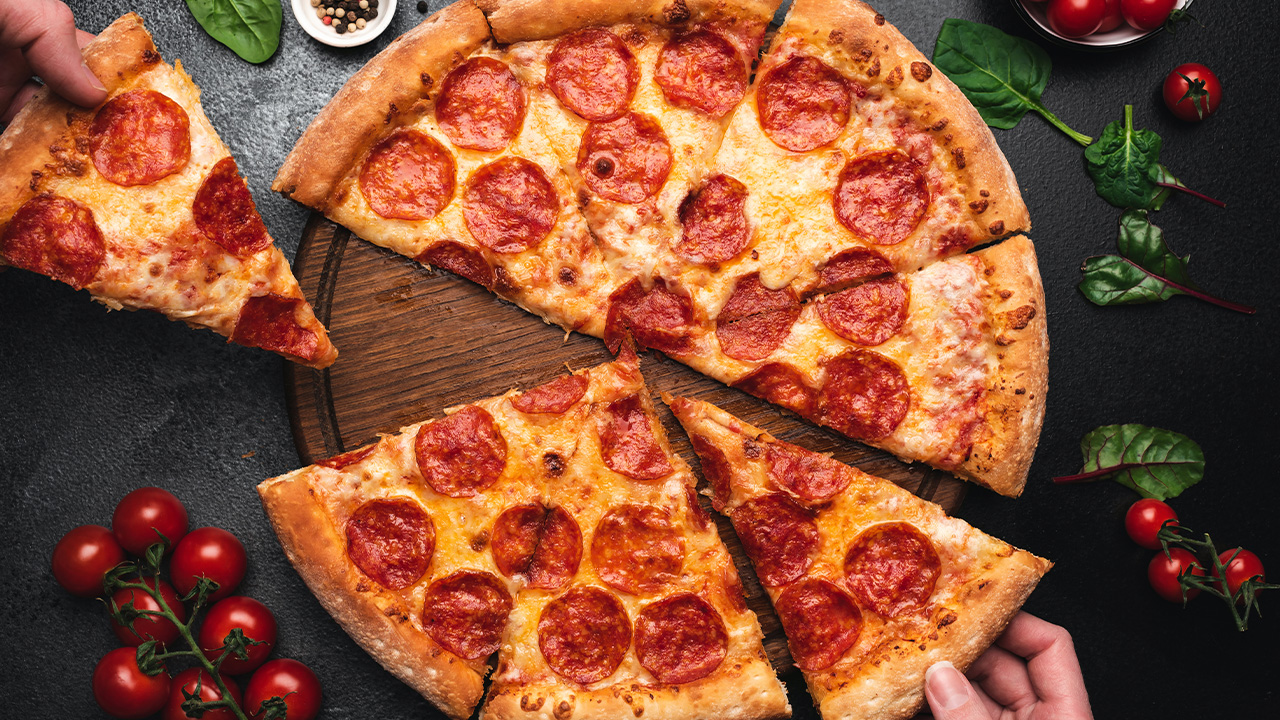 Whether you have a squad of die-hard fans or a (pod-approved) crew that's simply in it for those star-studded commercials, the Super Bowl is best enjoyed with tons of TV grub on hand. With the 55th annual game almost here, it's time to step up your game for game day and start planning the ultimate party. From can't-miss takeout to pizza deals to wings for less, go ahead and grab it all in time for the kickoff! Calories don't count on birthdays and while watching football (a little known fact.)
Deals for the Day of the Big Game
Applebee's
Applebee's is helping you eat like a champion by giving out 40 FREE Classic Boneless Wings (plus dipping sauce) when you place a carryout or delivery order online of just $40 or more. Just use code BIGGAME on February 7th. Bonus points: Applebee's is also waiving delivery fees for the entire day.
Grubhub (New Customers)
New Grubhub customers can take $7 off their first order of $12 or more with code AFF7 for a limited time (which is a savings of about 60% off your $12 order). Coordinate with your crew to see who is new to Grubhub to really take advantage of the deal and order from several places to for an impressive Game Day spread. Plus, with contact-free delivery and curbside pick-up options available, the app makes ordering from your favorite local restaurants convenient, safe, and hassle-free.
Watch Party Food Deals and Savings
PDQ
PDQ's BOGO deal is back in honor of this Big Game this year in 2021– and features chicken tenders. All PDQ locations are offering up Buy One, Get One Free on Tender Platters of 25 or 50 on Saturday and Sunday, February 6 and 7. Bonus points: All PDQ tender platters come with an assortment of its famous signature sauces. This promotion is valid for pickup only—and remember, all stores will be closing up shop at 8:00 PM on Super Sunday, February 7. Do yourself a favor by calling ahead and reserving your order early.
McAlister's Deli
Having a restaurant make all the food for your party will make life a whole lot easier, so do it. Plus, this deli franchise will deliver your order and set it all up for you with all necessary supplies like utensils, plates, napkins, condiments, and even heating equipment –saving you tons of money and time so you don't have to have to sweat the small stuff before the food arrives — and can focus on the pre-game entertainment.
Snacks from Target
Target features an entire Big Game snacks section on its website making shopping as easy as clicking your mouse. With daily deals on already low prices, convenient locations, and curbside pick up or the option of same-day delivery, you can order up your snacks while watching the game and have everything you need arrive for the half-time show.
Panda Express
Save at Panda Express by ordering a full family feast meal for just $29 and no delivery fee. The feast includes two large sides and three large entrees, so it's certainly enough for several people for less than $10 per person.
On the Border
Are your pals craving tacos or burritos? Then On the Border needs to be on your radar, because the restaurants are waiving delivery fees for catering orders of $100 or more as well as offering contactless delivery options. You can also pick up your order with no minimum. Bonus points: Beer, wine and cocktails are also available for delivery in select areas.
Pizza Deals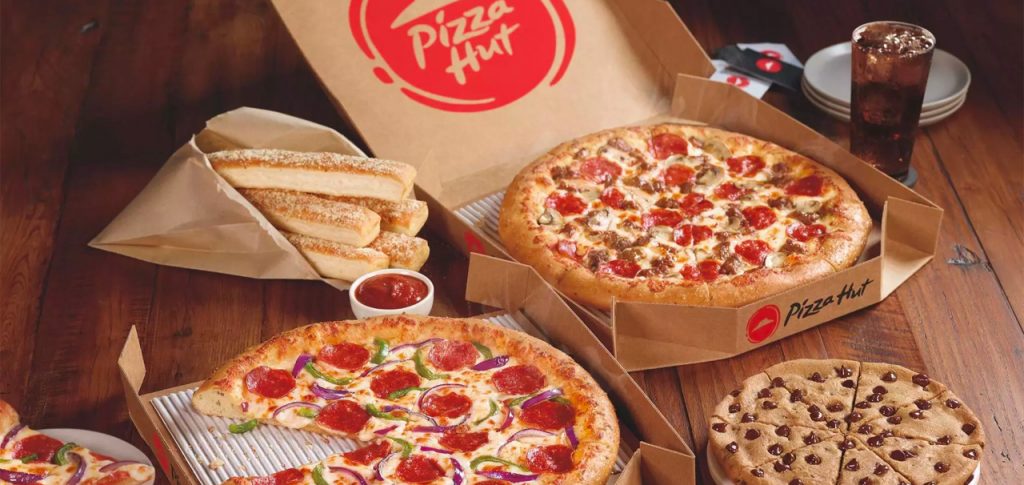 Domino's
At Domino's, grab a three-topping pizza (any size except XL) or a 10-piece order of wings for $7.99 when you place an online carryout order. A whopping three toppings on a large pizza for under eight dollars is a great game day deal.
Pizza Hut
You can't go wrong with serving pizza at any party. Regardless of how many people you have coming, make a play for Pizza Hut's $10 Tastemaker, which includes a large three-topping pizza for just $10. Choose your favorite three toppings on a large Pizza Hut pizza and decide how you want to get your pizzas: delivery, carryout, online, or over the phone.
Cicis
If you have friends who all want different things on their pizzas, head to Cicis. You can carry out two large single-topping pizzas for just $5.99 each. That works out to less than a dollar a slice. Order eight large pizzas for your crew, and still spend less than $50.
Wing Deals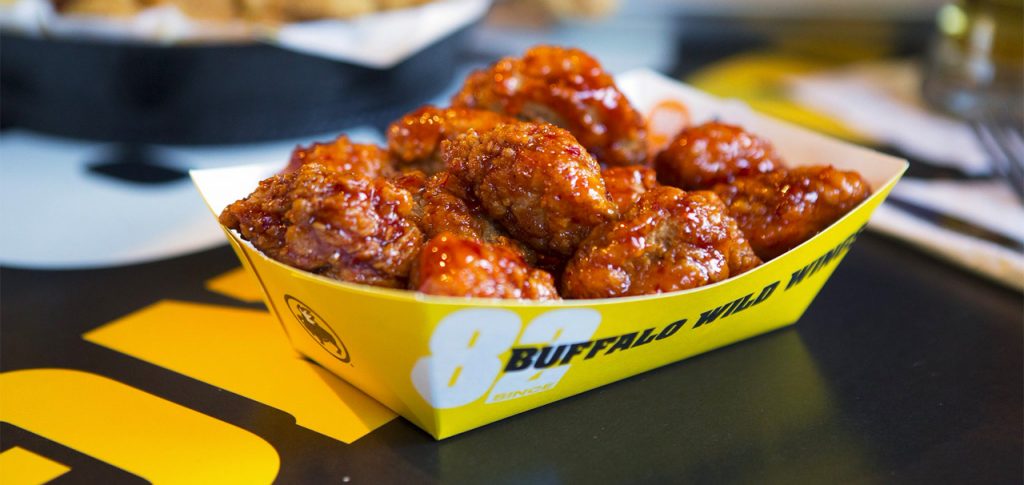 Certain restaurants are giving out free wings in honor of the Big Game. Hooters and Buffalo Wild Wings are both offering customers free wings –but only IF the game goes into overtime. Regardless of extra points or overtime, here are wing deals you can score now and through the day of Big Game.
Hooters
Hooters' MVP Bundle for 2021 gets you 20 traditional wings, 22 boneless wings and two sides (fries, fried pickles or tots) for only $39.99 through February 7th.
Donatos
Score an extra 12 boneless wings for only $4.99 when you purchase any large pizza at regular price at your local Donatos.
Buffalo Wild Wings
Your party may be the main priority, but Buffalo Wild Wings will grab attention with its new bundle offer: 20 traditional wings and also 20 boneless wings with natural cut fries on the side —all for $39.99.
Wing Zone
You'll feel like you reached the end zone for a touchdown with this Wing Zone special. For $55, football fans can get 30 boneless and 30 original wings in two flavors along with four ranch or bleu cheese dressings. Jot down code 2173 and be sure to include it when you order online.
Make note of other offers below:
50 boneless wings (2 flavors) for $43 with code #2171
50 original wings (2 flavors) for $49 with code #2172
100 boneless wings (2 flavors) for $79 with code #2174
100 original wings (2 flavors) for $95 with code #2175
Sweet Dessert Deals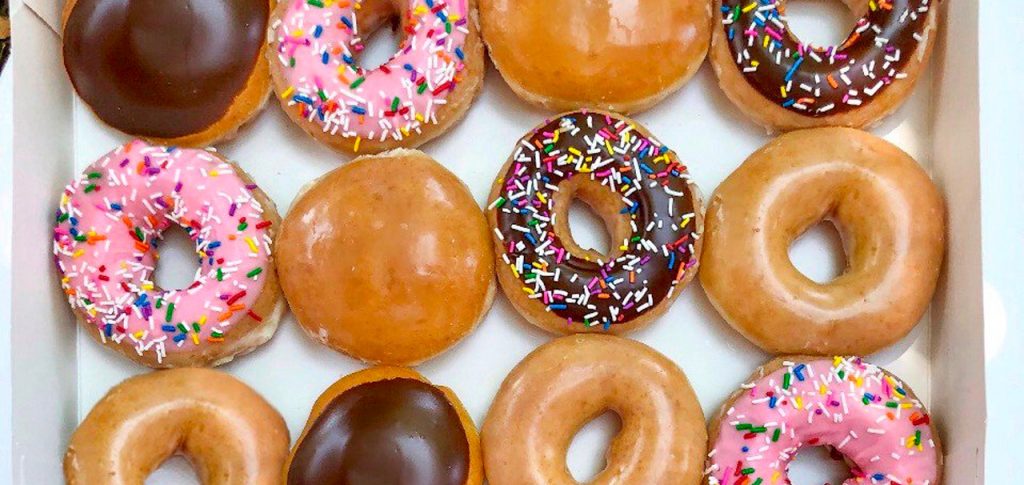 Krispy Kreme
Many would argue that dessert is the most delicious part of any meal. There's nothing better than a hot, fresh-from-the-oven original glazed donut from Krispy Kreme. It appears donut lovers are in luck this season as the chain company is offering $60 worth of gift cards for just $44.99 (saving you 25%) when you shop at Costco. Buy these up and consider getting multiple dozens for your party.
---
How to Save No Matter Where You Shop or What You Buy
Navigate multiple sales at once by setting Deal Alerts on Slickdeals for items you need and are already shopping for, and by checking our coupon pages for current promo codes for your favorite stores.
You can also download the Slickdeals app for iOS or for Andriod to your phone to save you money when you shop online. See all active deals our community of over 12 million active deal hunters have found and uploaded and easily search and browse items to make sure you're getting the lowest price on the internet. You can also set Deal Alerts using the app to get notified on your phone whenever the item you want is on sale at the price you want to pay.
UP NEXT:
While we work hard on our research, we do not always provide a complete listing of all available offers from credit-card companies and banks. And because offers can change, we cannot guarantee that our information will always be up to date, so we encourage you to verify all the terms and conditions of any financial product before you apply.