If you're ready to save money and get a head start on your Christmas shopping, you need to check out these Cyber Monday deals. Scheduled faithfully each year on the Monday after Thanksgiving weekend, Cyber Monday is Black Friday's second act, offering greater access to more offers and discounts. And, as if shopping couldn't get any easier, we've done the legwork and gathered all these amazing deals for you. Get your holiday list ready, put your feet up and skip the crowds thanks to these Cyber Monday offers.
How to Plan for Cyber Monday Deals
There's one simple rule that will help you make the most of the many Cyber Monday offers you'll come across: Prioritize your purchases—know what you want, what you need and what you're willing to spend. Create a list or two; if you've been holding out throughout the year and didn't get everything you needed on Black Friday, Cyber Monday discounts are bound to be as good or better than deals you might find any other time of the year. Also remember: it's the end of the year and the holiday season; give yourself a break and indulge in some of the things you've had your eye on for a while.
Kinds of Cyber Monday Offers to Expect
Electronics have long been holiday shopping staples, so if you're in the market for computers, video games, televisions and other digital devices, you'll be spoiled for choice. Gaming consoles, games and TVs will be abundant—with retailers rolling out the biggest screens they can find for the latter—but you'll also find Cyber Monday deals for other accessories like speakers, headphones, portable media players and phones. You'll also have plenty of clothing and apparel choices. In addition to classics like sweaters, scarves and jackets, you'll also see huge savings on footwear and jewelry. Some stores will offer varying discounts based on product categories, while others may offer sweeping savings across the entire store.
Where to Find Cyber Monday Deals
If computers and electronics are on your list, keep an eye on the big retailers. Year after year, Amazon and Walmart have offered massive discounts on the season's most popular products. Depending on what's on your list, these big players may offer one-stop shopping. If you're hunting specifically for electronics, check out what Best Buy, Newegg and Fry's have on offer. If it's a wardrobe update you're after, you won't go wrong with Kohl's, Old Navy, Target and Macy's. If you're looking for something on the unconventional side, such as restaurant gift certificates, movie tickets, bowling, transportation or a travel getaway, see what Groupon has available. No matter where you shop, remember to also keep an eye out for Cyber Monday coupons to further slash the totals you see at checkout.
---
Top Stores for Cyber Monday Deals, Offers and Discounts
---
Featured Cyber Monday Deals
About Featured
Frontpage Deal
---
---
Sort By
Top Cyber Monday Deals
---
Cyber Monday Deals, Offers and Discounts News & Articles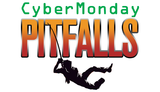 Avoid These Cyber Monday Pitfalls
If you don't find everything on your holiday shopping list this Black Friday — or just don't feel like waiting in line for a doorbuster that may or may not be sold out — there's always Cyber Monday, which often features deals on an even wider selection of products than Black Friday. >>Slickdeals Cyber Monday Hub<< And since, as the name implies, Cyber Monday shopping happens online, retailers are able to throw a ton of discounts at you, but not all of them are always the best bang-for-the-buck. While you should, of course, always watch out for shipping costs eating into your savings, we've rounded up some other common pitfalls to avoid when sifting through Cyber Monday deals. Quick Guide: Watch out for inflated "regular prices." Be careful of outdated, discontinued, or bare-bones products with similar model numbers. Slow down and do your research — no impulse buying. Bundles aren't always the best deal. Spending more doesn't necessarily save you more. Don't Be Entranced by Percent-Discounts Increasing competition and purchasing options means that retailers are trying everything to grab your attention, and one of the easiest ways for them to do that is to promote a large percent-discount on their products. Any discount larger than 50% looks fantastic, but a practice that's been gaining more popularity with online retailers is artificially inflating the "original price" before marking it back down. Sometimes, this discount is only marginally better than the normal, un-inflated price that's available year-round. A quick search of our Hot Deals Forum can give you a good idea of what qualifies as a truly good price on an item and verify that it is, indeed, a slick deal. And if you're shopping on Amazon, running an item through the price tracking site camelcamelcamel can verify that you're getting the lowest price. Know What You're Getting New products always carry the highest price and best profits for a retailer, which is why advertised low prices are often on outdated or discontinued models. Cross-reference the product's model number on the manufacturer's website to ensure you understand exactly what you're getting. A single digit in a model number could mean the difference between the latest technology and an incompatible, or no longer supported, feature. Other times, a bare-bones model is promoted instead of the full-featured flagship product; it can be hard to tell the difference, but the specs never lie. A good example is this 70-inch Vizio 4K Ultra HD Home Theater Display for $930. The term "Home Theater Display" means there's no built-in tuner or coaxial connection. Not a big deal if you don't use the airwaves, but it's definitely something to note. Don't Let FOMO (Fear Of Missing Out) Get the Best of You Low stock and high demand during Cyber Monday means that you have to act quickly in order to take advantage of popular deals, and it's this hastiness that pushes many people into impulse buys. Take your time to do some research and really make sure you want a particular item, and that it's actually a worthy deal. The holiday season isn't the only time when you can get great discounts, especially if you're looking at electronics — tech and gadgets always see a price drop when next year's models are announced. Build a wish list and use our Deal Alerts to stay on top of any price drops. Do Your Own Math Product bundles may seem like the way to go for across-the-board discounts, but many times retailers are simply doing the math for you. Research the available price for each individual item and confirm that it actually adds up to real savings. A common practice is to use the full retail price when calculating the "savings" in these bundles, and it's an opportunity for retailers to mix-and-match new, outdated or even refurbished items for a greater perceived value. Double-check each product or model number in the bundle to ensure you're not getting stuck with something you don't want — a worthless or unusable bundle item could easily wipe out any potential savings. Be Wary of "Spend More to Save More" Deals Some Cyber Monday sales offer various tiers of discounts where if you spend more, you'll access more savings. The key here is to not focus solely on the absolute dollar amount saved. These multi-level deals sometimes have diminishing percent-discounts as your total spending increases. For example, some retailers will offer coupons where you can save $15 off $30, $30 off $75, or $60 off $150. While you're saving more cash, the percent-discount falls from 50% to 40% as you spend more, and that's only if you can get exactly to the advertised amount. Of course, nothing is priced near $30 or $75 in an effort to have you mix-and-match your total spend to reach the $150 price point. ***** What are some common pitfalls you've come across while navigating the gauntlet of Cyber Monday? Share your thoughts in the comments below!
Cyber Monday: Where to Get the Best Deals
Updated for Cyber Monday 2016! We're coming up on one of the biggest shopping events of the year — Black Friday. But if you're not up for braving the in-store crowds, Cyber Monday is a solid alternative that holds its own when it comes to savings. With some retailers kicking off their cyber deals as early as the Sunday after Thanksgiving, knowing where to shop and what to expect can pay off big time. Before hitting the stores, experts advise upping your social media game to snag the best deals. "For example, if you know you want to shop at Target, follow them on Facebook, Twitter and Pinterest, and get their email newsletter," says Michelle Madhok, online shopping expert and founder of SheFinds.com. "There are different deals going out through these various avenues. This way, you'll be sure to get any special coupons or limited-time sales." Social media tips aside, we've rounded up the sites that are known for offering up sweet Cyber Monday deals. (You can also check our Cyber Monday category page for live updates) Amazon Just as Black Friday is known for electronics (particularly TVs), Cyber Monday is famous for its deals on apparel, accessories and shoes. For these items, Madhok advises keeping an eye on Amazon. "Amazon is really going after the apparel category, which means they have brand names and are competing on price; so it's a good place to check," she says. Previously, we've seen Amazon offer 40 percent off Cole Haan for men, 70 percent off select Versace watches, and deep discounts on Kenneth Cole bags. Amazon is really trying to reward Echo users with exclusive deals and a $5 Amazon gift card, so if you've got one, ask Alexa to order items for you instead. threadID: 9366575 Home Depot Cyber Monday is a big day for tools and home goods. Home Depot hasn't disappointed us yet, spotlighting seriously marked-down items. Previously, a Dewalt 156-piece mechanics tool set was advertised for $199 (marked down from $379). Prices on Keurig coffee brewers were also slashed, along with Christmas trees, which were marked down as much as 50 percent off. As the name implies, Cyber Monday is an online shopping event. But racking up hefty shipping costs is sure to wash out any deep savings. With this in mind, you might get the most bang for your buck by opting for Home Depot's in-store pickup option. threadID: 9246979 Walmart Walmart is another retailer turning Cyber Monday into a week-long event. In past years, they featured steep discounts on PlayStation 4 bundles and $500 off 55-inch Samsung 4K Ultra HDTVs. There were bargains in other categories as well, including $10 jeans and savings of up to 50 percent off tablets and toys. The kicker is that Walmart's already-awesome shipping policy increased the savings — shoppers get free shipping on orders of $50 or more. To sidestep the fee, you can also opt for same-day in-store pickup. threadID: 9375511 Target Target usually gets a head start on Cyber Monday with deals the Sunday before. If past years were any indication, we're in store for some great savings on shoes, apparel, jewelry, kitchen appliances, and so much more. On top of these big savings, shoppers also landed an additional 5 percent off when they used their REDcards. threadID: 9297899 Cyber Monday Shopping Tips Cyber Monday has historically sparked some valuable conversations in the Slickdeals community. One common gripe is that selections tend to dwindle fast. The best items sell out quickly, so getting an early jump on cyber deals is a good idea. If there's a particular item you're stalking this season, creating a Deal Alert is a great set-it-and-forget-it way to keep up with the best prices. This way, newly posted deals are sent directly to your inbox — no hassle. Are there any Cyber Monday retailers we left off the list? We'd love to hear any tricks you've got up your sleeve for saving big this year.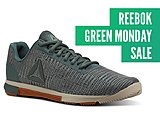 Score up to 50% Off at the Reebok Green Monday Sale
If Black Friday and Cyber Monday weren't enough for you, get ready for the biggest online shopping day in December: Green Monday. To celebrate, Reebok is offering up to 50% off site-wide when you enter code GREEN at checkout now through Dec. 11. Plus, you'll enjoy free shipping and returns on all orders over $49. We've browsed the Reebok Green Monday Sale, and highlighted below some of the best deals to be had for both guys and gals. Shop the Reebok Green Monday Sale Reebok Green Monday Sale: Men's Deals Shoes CrossFit Nano 8 Flexweave® (Select Colors) Sale Price: $54.99 | Regular Price: $130 Yourflex Train 10 (Select Colors) Sale Price: $27.49 | Regular Price: $60 Flexagon Training Shoes (Select Colors) Sale Price: $29.99 | Regular Price: $80 And more Shirts Combat Thermowarm Long Sleeve Tee Sale Price: $32.49 | Regular Price: $70 Reebok Classic Vector Tee Sale Price: $9.99 | Regular Price: $25 McGregor Namesake Tee Sale Price: $9.99 | Regular Price: $25 And more Hoodies & Vests Training Supply Full-Zip Hoodie Sale Price: $32.49 | Regular Price: $70 Running Thermowarm Deltapeak Vest Sale Price: $47.49 | Regular Price: $100 CrossFit Anvil Pullover Sale Price: $27.49 | Regular Price: $60 And more Bottoms Training Essentials Jersey Short Sale Price: $13.99 | Regular Price: $30 Combat Boxing Short Sale Price: $19.99 | Regular Price: $45 UFC Fan Gear Short Sale Price: $17.49 | Regular Price: $40 And more Shop All Reebok Men's Deals Reebok Green Monday Sale: Women's Deals Shoes Speed Her TR Training Shoes Sale Price: $37.49 | Regular Price: $100 CrossFit Nano 8 Flexweave® (Select Colors) Sale Price: $54.99| Regular Price: $130 Flexagon Training Shoes (Select Colors) Sale Price: $29.99 | Regular Price: $80 And more Tops & Sports Bras Supremium Long Sleeve Tee Sale Price: $12.49 | Regular Price: $30 Performance Mesh Tank Sale Price: $8.49 | Regular Price: $22 Dance Strappy Bra Sale Price: $22.49 | Regular Price: $50 And more Hoodies Training Essentials Fleece Full-Zip Hoodie Sale Price: $22.49 | Regular Price: $50 Quik Cotton Full-Zip Hoodie Sale Price: $32.49 | Regular Price: $70 Speedwick Track Jacket Sale Price: $27.49 | Regular Price: $60 And more Bottoms Training Essentials Marble Pant Sale Price: $22.49 | Regular Price: $50 Workout Printed Capris Sale Price: $14.99 | Regular Price: $35 Workout Ready Seamless Tight Sale Price: $22.49 | Regular Price: $50 And more Shop All Reebok Women's Deals ***** Are you shopping the Reebok Green Monday Sale? If so, share your top finds with us in the comments! Images courtesy of Reebok.
---