Top Stores for Cyber Monday
---
---
Cyber Monday News & Articles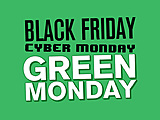 What to Expect From Green Monday 2016
If you missed out on Black Friday and Cyber Monday deals, there's still time to snag some pretty steep end-of-year savings. Green Monday (a.k.a. the second Monday in December) has gained serious traction in recent years, setting itself apart as a bonafide shopping event that's not far behind its predecessors in terms of sales. Green Monday is basically the online solution for last-minute holiday shoppers, more and more of whom are taking to the Internet to get the job done. The event falls on Dec. 12 this year, just 13 days before Christmas. So how does it measure up against the season's other hyped-up retail events? "A lot of Black Friday deals end up reoccurring on Cyber Monday and again on Green Monday," says deal expert Matt Granite. "Sometimes a single Black Friday deal is replicated, sometimes even 5 to 10% less, because stores are so desperate to clear the inventory to make way for other things." Where to Find the Best Green Monday Deals of 2016 While specific deals are still under the radar for the most part, there are a few stores blasting out teasers and promotions. Here are a few of the top retailers touting Green Monday deals and what you can expect. Macy's If you shopped at Macy's last Green Monday, you might be expecting more bargains this year. In 2015, the department store promoted 20% off a good chunk of its merchandise, throwing in free shipping for people who spent $25 or more during the shopping event. This year's Green Monday deals will cover apparel, accessories, jewelry, beauty, handbags and products for the home. Time will tell how steep Macy's will go this year, but they're definitely pushing it hard. Walmart The superstore made waves last year when their Green Monday deals surpassed those on Black Friday and Cyber Monday. They lowered the PlayStation 4 "Star Wars: Battlefront" bundle down to $299; it was $349 on Black Friday, according to Forbes. They also slashed prices on the iPad Mini 2, a number of HDTVs, select toys and more. Walmart has yet to release its 2016 Green Monday deals, but we're definitely curious to see what's on the table. Best Buy TVs were front and center at Best Buy on Black Friday this year. It's also worth mentioning that they arguably had the best TV deals around. Will their Green Monday selection be up to par? We'll have to wait and see, but right now they're teasing shoppers with 4K Ultra HD TVs, laptops, smartwatches, fitness trackers and other techy toys. Last year, they knocked $100 to $125 off select iPads, according to Time.com. If history repeats itself, Best Buy might be worth your attention, especially since the Apple store isn't known for slashing prices during the holidays. Amazon Green Monday falls on day nine of Amazon's 12 Days of Deals, which is all about electronics and Amazon devices. So if you've had your eye on an Echo, Dot or Tap, Green Monday might be the time to pull the trigger. The Echo is currently $179, but the price dipped down to $139 on both Black Friday and Cyber Monday. (Both days were pretty much identical in terms of deals.) Amazon's Cyber Monday also boasted up to 40% off Kindle Unlimited Memberships, as well as Plantronics BackBeat PRO Wireless Noise Canceling Headphones with Mic for $110. Target Last year, Target offered some of its best Green Monday deals on apparel, appliances and video game consoles. They upped their 2016 Black Friday deals by throwing gift cards into the mix, which definitely pays off if you're regular Target shopper -- that's on top of the 5% off you get for using a REDcard. If they do the same on Green Monday, it'll make for some competitive deals. Sears, hhgregg, and Kohl's are also expected to get in on the Green Monday action this year. Translation: It's time to put the finishing touches on your shopping list!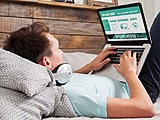 Cyber Monday Deals You Might Have Missed from Amazon
As expected, Amazon's Cyber Monday deals are exactly the same as their Black Friday deals when it comes to their own devices like the Echo. However, there are still some great deals to be had on Amazon today that we might have missed if it wasn't for the Slickdeals community. If you live in an area that has Prime Now, you can get $5 off your order today with the 5OFFNOW coupon code, and you also get a $5 credit for your next order after December 2nd. This coupon expires at 11:59 p.m. PT tonight. The TP-LINK HS100 WiFi-Enabled Smart Plug is on sale for $17.95 (reg. $29.99) when you order with your Alexa-enabled device. Just say "Alexa, order a TP Link Smart Plug" and you should get the discounted price. This Smart plug enables you to control any device connected to it using Alexa voice commands. You can also download a free app to control it remotely. threadID: 9455739 If you're like me and can never keep track of your lightning cables (or keep them away from your dogs), you can get a 10' USB charging cable for $5 today after using the coupon 68NXIKFB. Those needing a carpet cleaner might like the Carpet Basics Power Scrub Deluxe from Hoover for $80. It's been hovering around $150 recently (see what I did there?), so at this price, it's a great deal. It has high ratings and is the #1 best seller in its category on Amazon. threadID: 9425835 The Cyber Monday deal on the Kindle Unlimited membership is pretty good. You can get up to 40% off, so a 12-month membership comes out to $80. You can also do a 6-month membership for $45, or 24 months for $144. threadID: 9454991 One of the most popular items from this year's Amazon Prime Day is back for Cyber Monday. The 6-Quart Instant Pot 1000 Watt 7-in-1 Programmable Pressure Cooker is available for $69 (was $70 on Prime Day, normally sells for $120). They also have the smaller 5 qt model for $49. Amazon has one of the lowest prices we've ever seen for Crest 3D White Whitestrips with Light at $75. That's a $45 savings you'll definitely want to smile about. threadID: 9459275 Other Great Cyber Monday Deals from Amazon Boogie Board 8.5" LCD Writing Tablet (blue or pink) for $14 10-Count Dove Men+Care Body & Face Bar (Extra Fresh) for $6.35 30lb Blue Buffalo Dry Adult Dog Food (Various Flavors) for $40 10-Pack Hanes Men's Ultimate No Show Socks for $7 Amazon Dash Button + $4.99 Credit w/ First Press for $1 81-Ct Tide Pods He Turbo Laundry Detergent for $11 Dewalt 20V Hammer Drill & Impact Driver Combo Kit + 20V Circular Saw for $224 Sabrent Mini Travel USB Optical Mouse for $1.92 Plantronics BackBeat PRO Wireless Noise Canceling Headphones w/ Mic for $110 If you're still contemplating getting an Amazon device, today is probably your last chance to get them at a discounted rate this year. threadID: 9416063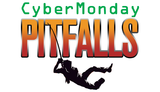 Avoid These Cyber Monday Pitfalls
If you don't find everything on your holiday shopping list this Black Friday — or just don't feel like waiting in line for a doorbuster that may or may not be sold out — there's always Cyber Monday, which often features deals on an even wider selection of products than Black Friday. And since, as the name implies, Cyber Monday shopping happens online, retailers are able to throw a ton of discounts at you, but not all of them are always the best bang-for-the-buck. While you should, of course, always watch out for shipping costs eating into your savings, we've rounded up some other common pitfalls to avoid when sifting through Cyber Monday deals. Quick Guide: Watch out for inflated "regular prices." Be careful of outdated, discontinued, or bare-bones products with similar model numbers. Slow down and do your research — no impulse buying. Bundles aren't always the best deal. Spending more doesn't necessarily save you more. Don't Be Entranced by Percent-Discounts Increasing competition and purchasing options means that retailers are trying everything to grab your attention, and one of the easiest ways for them to do that is to promote a large percent-discount on their products. Any discount larger than 50% looks fantastic, but a practice that's been gaining more popularity with online retailers is artificially inflating the "original price" before marking it back down. Sometimes, this discount is only marginally better than the normal, un-inflated price that's available year-round. A quick search of our Hot Deals Forum can give you a good idea of what qualifies as a truly good price on an item and verify that it is, indeed, a slick deal. And if you're shopping on Amazon, running an item through the price tracking site camelcamelcamel can verify that you're getting the lowest price. Know What You're Getting New products always carry the highest price and best profits for a retailer, which is why advertised low prices are often on outdated or discontinued models. Cross-reference the product's model number on the manufacturer's website to ensure you understand exactly what you're getting. A single digit in a model number could mean the difference between the latest technology and an incompatible, or no longer supported, feature. Other times, a bare-bones model is promoted instead of the full-featured flagship product; it can be hard to tell the difference, but the specs never lie. A good example is this 70-inch Vizio 4K Ultra HD Home Theater Display for $930. The term "Home Theater Display" means there's no built-in tuner or coaxial connection. Not a big deal if you don't use the airwaves, but it's definitely something to note. Don't Let FOMO (Fear Of Missing Out) Get the Best of You Low stock and high demand during Cyber Monday means that you have to act quickly in order to take advantage of popular deals, and it's this hastiness that pushes many people into impulse buys. Take your time to do some research and really make sure you want a particular item, and that it's actually a worthy deal. The holiday season isn't the only time when you can get great discounts, especially if you're looking at electronics — tech and gadgets always see a price drop when next year's models are announced. Build a wish list and use our Deal Alerts to stay on top of any price drops. Do Your Own Math Product bundles may seem like the way to go for across-the-board discounts, but many times retailers are simply doing the math for you. Research the available price for each individual item and confirm that it actually adds up to real savings. A common practice is to use the full retail price when calculating the "savings" in these bundles, and it's an opportunity for retailers to mix-and-match new, outdated or even refurbished items for a greater perceived value. Double-check each product or model number in the bundle to ensure you're not getting stuck with something you don't want — a worthless or unusable bundle item could easily wipe out any potential savings. Be Wary of "Spend More to Save More" Deals Some Cyber Monday sales offer various tiers of discounts where if you spend more, you'll access more savings. The key here is to not focus solely on the absolute dollar amount saved. These multi-level deals sometimes have diminishing percent-discounts as your total spending increases. For example, some retailers will offer coupons where you can save $15 off $30, $30 off $75, or $60 off $150. While you're saving more cash, the percent-discount falls from 50% to 40% as you spend more, and that's only if you can get exactly to the advertised amount. Of course, nothing is priced near $30 or $75 in an effort to have you mix-and-match your total spend to reach the $150 price point. What are some common pitfalls you've come across while navigating the gauntlet of Cyber Monday? Share your thoughts in the comments below!
---