Top Stores for Cyber Monday
---
---
Sort By
Latest Cyber Monday Deals
---
Cyber Monday News & Articles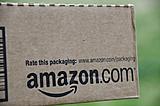 Amazon's Best Cyber Monday Deals
On the whole, Amazon's Black Friday deals have been less than mind-blowing. Now all eyes are on the mega-retailer to see what kind of specials they'll be doling out for Cyber Monday (running from Saturday, November 28 to Saturday, December 5). The good news is that we've got a pretty solid idea of what to expect. Where Amazon's Black Friday Let Us Down Amazon had shoppers buzzing with the announcement that there'd be frequent Lightening Deals running in addition to Black Friday offers and app-exclusive sales. The problem was that a lot of Slickdealers were jaded from Prime Day, when items were selling out faster than they could scoop them up. Where Black Friday was concerned, many worried that great deals would require sitting around clicking the refresh button all day long. Still, Amazon's Black Friday promotions touted tech deals front and center. While some were pretty good (think 50" 1080p LED TVs for $149.99), others were a little meh. For instance, "top-selling" 60" 4K LED TVs for $799.99. (Exactly what brands are we talking here?) Cyber Monday: What to Expect Amazon is rebranding the one-day event, promoting it as Cyber Monday Deals Week. While some deals are recycled from Black Friday, others represent a hodgepodge of seemingly random discounts. For example, 58 percent off digital bathroom scales, and 47 percent off designer duct tape. For the stuff you actually want to get your hands on, there are deals to be had—if you know where to look. Here's a breakdown of the stand-out deals Amazon is offering during Cyber Monday week. Pro Tip: Save an extra $10 off your order if you have a Discover card an add it as your 1-Click payment option. It's only a one-time credit, but it's makes for a great deal when you buy a Fire tablet and get it for $25, for example. Not to mention you get up to 10% cashback fom Discover this quarter as well. If there are any extra oupons to take advantage of, you'll find them here. TECH Amazon Echo for $149 (marked down from $179.99)30 percent off Fire tablet (final price: $34.99)$25 off Amazon Fire TV (final price: $74.99)$20 off Kindle Paperwhite (final price: $99.99)LG Electronics 60" 1080p TV for under $70045 percent off Sony XBR55X850C 55" 4K Ultra HD TV (final price: $1,198)—*As some Slickdealers pointed out, this actually isn't all that better than competitor prices)$100 off Philips Fidelio Noise-Cancelling HeadphonesAt least $100 off select LED and curved Samsung monitors TOOLS 72 percent off Makita XT211M 18V Cordless Combo KitOver half off DEWALT 18-Volt Compact Drill/Driver Kit KIDS GEAR 40 percent off on RECARO Booster Car Seat (app-only deal)Up to 40 percent off select Britax strollers and car seatsUp to 30 percent off Graco Pack 'N Plays, gear and strollers TOYS Up to 50 percent off select toys from Nerf, My Little Pony, Star Wars and more50 percent off select Melissa & Doug toysUp to 40 percent off select board games, Power Wheels toys, and Nickelodeon toys APPAREL & BEAUTY 65 percent off select women's cashmereHalf off Kenneth Cole REACHTION men's shoes55 to 60 percent off select bags from Fossil and Rebecca Minkoff HOUSEHOLD APPLIANCES Over 40 percent off select KitchenAid Professional Stand MixersOver 60 percent off BLACK + DECKER Cordless Dust Buster Hand VacuumUp to 60 percent off select cookware Have you taken advantage of any of Amazon's Cyber Monday deals?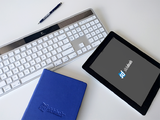 Cyber Monday: Where to Get the Best Deals
We're coming up on one of the biggest shopping events of the year — Black Friday. But if you're not up for braving the in-store crowds, Cyber Monday is a solid alternative that holds its own when it comes to savings. With some retailers kicking off their cyber deals as early as the Sunday after Thanksgiving, knowing where to shop and what to expect can pay off big time. Before hitting the stores, experts advise upping your social media game to snag the best deals. "For example, if you know you want to shop at Target, follow them on Facebook, Twitter and Pinterest, and get their email newsletter," says Michelle Madhok, online shopping expert and founder of SheFinds.com. "There are different deals going out through these different avenues. This way, you'll be sure to get any special coupons or limited-time sales." Social media tips aside, we've rounded up the sites that are known for offering up pretty sweet Cyber Monday deals. Amazon Just as Black Friday is known for electronics (particularly TVs), Cyber Monday is famous for its deals on apparel, accessories and shoes. For these items, Madhok advises keeping an eye on Amazon. "Amazon is really going after the apparel category, which means they have brand names and are competing on price; so it's a good place to check," she says. Last year, we saw Amazon offer 40 percent off Cole Haan for men, 70 percent off select Versace watches, and deep discounts on Kenneth Cole bags. They didn't stop there, extending cyber deals for a full eight days across a variety of categories. Techies rejoiced last year with $100 discounts on Canon PIXMA printers. Select Lenovo laptops were also slashed, as were LeapFrog products for kids (half off!). So far, Amazon has under-delivered in the lead up to their Black Friday sale, but we're expecting their Daily Deals to get better as we get closer to the actual day. Since Cyber Monday is a one-day event, we hopefully don't have to deal with as many forgettable deals as we've seen so far this month. Home Depot Cyber Monday is a big day for tools and home goods. Last year, Home Depot didn't disappoint, spotlighting seriously marked-down items. A Dewalt 156-piece mechanics tool set was advertised for $199 (marked down from $379). Prices on Keurig coffee brewers were also slashed, along with Christmas trees, which were marked down as much as 50 percent off. As the name implies, Cyber Monday is an online shopping event. But racking up hefty shipping costs is sure to wash out any deep savings. With this in mind, you might get the most bang for your buck by opting for Home Depot's in-store pickup option. Walmart Walmart is another retailer turning Cyber Monday into a week-long event. Last year, they featured deals like almost $200 off PlayStation4 bundles and $500 off 55-inch Samsung 4K Ultra HDTVs. There were bargains in other categories as well, including $10 jeans and savings of up to 50 percent off on tablets and toys. The kicker is that Walmart's already-awesome shipping policy increased the savings — shoppers get free shipping on orders of $50 or more. To sidestep the fee, you can also opt for same-day in-store pickup. Target Last year, Target kicked off Cyber Monday deals the Sunday before. If the 2014 season is any indication, we're in store for some great savings. Last year's ad boasted 60 percent off select shoes, apparel and accessories, up to 40 percent off kitchen appliances, and major discounts on select jewelry (60 percent off). All home goods were also slashed by 10 percent. On top of the big savings on toys, shoppers also landed an additional 5 percent off when they used their REDcards. Best Cyber Monday Deals From Last Year To give you an idea of what Cyber Monday deals that were popular last year on Slickdeals, we put together a Top 10 list for you. Here they are ranked by most popular first. Burt's Bees Holiday Pack - $25 + Free shipping (394 up votes)$100 eBay Gift Card - $90 (369 up votes)Target Beauty Box Sale: 8-Piece Women's $10, 6-Piece Men's or Women's $5 + Free Shipping (300 up votes)Domino's - 50% off all pizzas at menu price for Online Orders (265 up votes)Quirky Cyber Monday Sale: Cordies Desktop Cord Manager $1 each + Free Shipping (263 up votes)Straight Talk Moto E 4.3" Prepaid Android Smartphone $10 + Free In-Store Pickup (234 up votes)Krispy Kreme Coupon: Buy One Dozen Original Glazed Doughnuts, Get One Dozen Free (210 up votes)Harry Potter: The Complete 8-Film Collection (Blu-ray) $28 (210 up votes)SanDisk Ultra Fit USB 3.0 Flash Drive 32GB $12.99, 64GB $22.99 @ Amazon (195 up votes)$7 in Dunkin Donuts Cards + Free Medium Beverage $2 (194 up votes) Cyber Monday Shopping Tips In years past, Cyber Monday has sparked some pretty valuable conversations in the Slickdeals community. One common gripe is that selections tend to dwindle fast. For example, Forever 21 offered up to 80 percent off plus free shipping on Cyber Monday a few years back. But Slickdealers warned that the best items sold out quickly, so getting an early jump on cyber deals is a good idea. If there's a particular item you're stalking this season, setting up a Deal Alert is a great set-it-and-forget-it way to keep up with the best prices. This way, newly posted deals are sent directly to your inbox — no hassle. Are there any Cyber Monday retailers we left off the list? We'd love to hear any tricks you've got up your sleeve for saving big this year.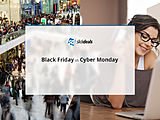 The Difference Between Black Friday and Cyber Monday
With Black Friday creeping up on us, the Slickdeals world is abuzz with new ad scans and rumored deals. But before you cut your Thanksgiving dessert short to cash in on doorbusters, take a second to ask yourself one key question: Are there better deals to be had on Cyber Monday? The answer is that it really all depends on what you're shopping for. Cyber Monday (the Monday after Thanksgiving) has exploded in recent years. Last year, Adweek reported a more than 8 percent uptick in sales compared to 2013. At the same time, Black Friday sales have dropped. Time will tell what this year will bring. For those of us torn between Black Friday and Cyber Monday, here's a breakdown of how these two major shopping events are different. Items to Snag on Cyber Monday Apparel and Accessories: One reason Cyber Monday stands out is because it's associated with storewide deals. On Black Friday, a retailer will typically mark down a specific category (like major appliances or computers, for example). But on Cyber Monday, stores often offer storewide savings. This tidbit is especially handy if you're in the market for apparel. Compared to Black Friday, Cyber Monday usually touts deeper discounts on clothing and accessories. Case in point: On Cyber Monday last year, Aldo marked down already-on-sale shoes, bags and accessories by an extra 50 percent. Similarly, J. Crew slashed prices by 30 to 40 percent off, reported Glamour. Computer Upgrades and Add-Ons: Consumer reporter Matt Granite recently told Slickdeals that while Black Friday generally offers better deals on electronics, computer-specific add-ons and upgrades may actually be cheaper on Cyber Monday. (Things like additional RAM fall into this category.) Home Goods: If you're looking to stock up on items for around the house, Cyber Monday is a great time to do so. Last year, Home Depot marked down Christmas trees by up to 50 percent. Select Keurig coffee brewers were also majorly discounted. Regardless of where you do your Cyber Monday shopping, be mindful of high shipping costs (which may negate any deep discounts). If your shopping cart doesn't meet the free shipping threshold, consider in-store pickup. And who says you have to wait until Monday to snag Cyber Monday deals? According to a 2014 Forbes report, more and more online retailers are kicking off their Cyber Monday deals on Sunday. Others are extending the event into what has now been coined as Cyber Week. Last year, Amazon offered deals for a full eight days. In fact, Amazon is already prepping for this year. We recently reported that the online giant has already begun its countdown to Black Friday, featuring daily deals leading up to Thanksgiving weekend. Things You're Better Off Picking Up on Black Friday Black Friday is the absolute best time of year to buy electronics, especially TVs. Holding off until Cyber Monday increases the risk of losing out. For example, Walmart typically offers great Black Friday deals on select televisions. (Think 64-inch LED Smart HDTVs for under $650.) The catch? You had to be in the store on Thanksgiving evening, and you only had a one-hour window to snag one. Black Friday also wins out for laptops and tablets. (And if you're on the market for an Apple product, the retailer isn't known for Cyber Monday deals.) As far as major appliances go, your best bet is to pull the trigger on Thanksgiving weekend. Last year, everything from refrigerators to dishwashers to washing machines were all majorly discounted for Black Friday. With Thanksgiving only a few weeks away, what's your strategy for saving big — Black Friday or Cyber Monday?
---