Forum Thread
Modern Warfare 2 players mad they'll have to play only against same skill level players....
October 27, 2022

at

02:54 PM
in
News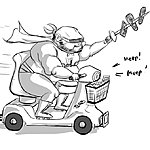 CheapestGamer
900 Views
https://www.msn.com/en-us/enterta...r-AA13rZS4
I ran into so many lopsided mismatches back in the day on Battlefield 1943 where you'd have some "air ace" who never left their warplanes for the whole match. They would rack up double digit kill streaks with ease, causing many players to leave the game.
It's about time a company instituted something like this.